FUNNY TURKEY QUOTES
Gobble up a few funny quotes about turkey (yum!), turkeys (gobble!), and Turkey Day (I ate too much!!)
"I hate turkeys. If you stand in the meat section at the grocery store long enough, you start to get mad at turkeys. There's turkey ham, turkey bologna, turkey pastrami. Some one needs to tell the turkey, 'man, just be yourself.' "
"A two-pound turkey and a fifty-pound cranberry—that's Thanksgiving dinner at Three Mile Island."
"A turkey never voted for an early Christmas."
"I love Thanksgiving turkey... It's the only time in Los Angeles that you see natural breasts."
"Dear Lord, I've been asked, nay commanded, to thank Thee for the Christmas turkey before us... a turkey which was no doubt a lively, intelligent bird... a social being... capable of actual affection... nuzzling its young with almost human-like compassion. Anyway, it's dead and we're gonna eat it."
ADVERTISEMENT
"The best way to thaw a frozen turkey? Blow in it's ear."
"No more turkey, but I'd like another helping of that bread he ate."
"Don't assume you're always going to be understood. I wrote in a column that one should put a cup of liquid in the cavity of a turkey when roasting it. Someone wrote me that 'the turkey tasted great, but the plastic cup melted.' "
"Most turkeys taste better the day after; my mother's tasted better the day before."
FREE AUDIO CLIPS

Chickens and turkeys share much the same fate in today's "factory farms." It's not particularly festive reading, but any compassionate chewer of these fine feathered fowl should know the truth, so check out our article on chicken raising ...
SIMILAR CATEGORIES

Funny Quote subject list

Jokes/Cartoons (General)

PASS 'EM ON!

Do you know someone who would like these funny quotes about turkey? Please forward to them.

SEND ME A
FUNNY TURKEY QUOTE

If you know of a funny turkey quote that I missed, please email it to me. Provide the text of the quote and who said it; and, if you have it, a reference where we can verify the text and the spelling of the person's name (a web page address, Bartlett's, etc.). So... email me a quote. Thanks!

Food Chain Radio

Eat Local, First and Foremost — 12 Oct 2013 — Using a local-food celebration in California as a discussion platform, Michael Olson interviews farmers and local-food advocates on how the purchase of local food has a positive echo effect on the local economy in general. Dollars spent with local entrepreneurs recirculate locally far more than dollars spent at corporate outlets.
Go to page | Download/Listen 42:00

Nutrition Diva

Tips on the Most Nutritious Way to Eat Vegetables — 17 Sep 2013 — The Diva talks about how to get the most out of your veggies. Topics include cooked vs. raw (nutrients destroyed vs. nutrients released), variety, and edibility.
Download/Listen 8:00

Food Sleuth Radio

How Big Food Targets Children — 12 Sep 2013 — Anna Lappe, project director at Food MythBusters, discusses the many ways Big Food aggressively targets children, at home and in schools. She also talks about ways parents and communities can fight back
Go to page | Download/Listen 28:15

MORE

Get more audio clips on food, diet, and nutrition (and many other subjects) in Grinning Planet's biweekly downloadable audio news feed.
AMAZON PURCHASES FROM HERE HELP SUPPORT THIS FREE SITE. THANKS!
Hey, we don't pick
the Google ads! – GP
CLICKS ON OUR ADS AND PURCHASES VIA OUR AMAZON LINKS HELP SUPPORT THIS FREE SITE... THANKS!
View on Amazon.com:
Bloom County
(books, t-shirts, DVDs)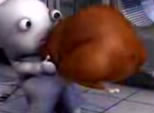 A very short cute animation about why your holiday dinner should not be entrusted to a bunny. From RaymanZone via YouTube. Go there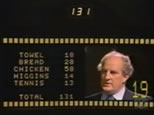 This contestant on the British version of Family Feud has a cranium that is apparently stuff with ... turkey! Via YouTube. Go there