FUNNY JUDGE QUOTES
Our verdict on these judge quotes: funny!
| | | |
| --- | --- | --- |
| | | |
"Judge: a law student who marks his own papers."
"She cried, and the judge wiped her tears with my checkbook."
PRECEDENT, n. In law, a previous decision, rule or practice which, in the absence of a definite statute, has whatever force and authority a judge may choose to give it, thereby greatly simplifying his task of doing as he pleases.
"Criminal court is where bad people are on their best behavior. It's much more dangerous for lawyers and judges in family court, where good people are at their worst."
"While awaiting sentencing, I decided to give stand-up comedy a shot. The judge had suggested I get my act together, and I took him seriously."
"Some people try to get out of jury duty by lying. You don't have to lie. Tell the judge the truth. Tell him you'd make a terrific juror because you can spot guilty people."
"Beauty fades. Dumb is forever."
"I only do one thing at a time; otherwise, I get confused and then I can't trick you."
[During a trial in which Mae West was accused of indecency on stage]
Judge: "Miss West, are you trying to show contempt for this court?"
Mae West: "On the contrary, your honor, I was doin' my best to conceal it."
ADVERTISEMENT
From Judge Dredd
Judge Dredd: "Shoot 'em!"
Ferguson: "I've never fired a gun in my life!"
Judge Dredd: "You haven't? What the-hell kind of criminal are you?"
Ferguson: "A nice criminal!"
[approaching the MegaCity wall]
Ferguson: "C'mon, Dredd, there is no way in. Are you even listening to me? We can't just knock on the wall and say, 'Hello, Cursed Earth Pizza.' "
Judge Dredd: "There is a way in. Ten years ago, two refugees figured it out: Through the city's incinerator, there's a flame burst twice a minute, that means they have only 30 seconds to run through before it flames again."
Ferguson: "These refugees, they made it through, right?"
Judge Dredd: "Actually, they were roasted. But, the theory's sound. Shall we?"
Ilsa: "Bitch!"
Judge Hershey: "Judge Bitch."
AMAZON PURCHASES FROM HERE HELP SUPPORT THIS FREE SITE. THANKS!
Search Amazon.com for more...
FREE AUDIO CLIPS

From My Cousin Vinny
Judge Haller: "Mr. Gambini, didn't I tell you that the next time you appear in my court that you should dress appropriately?"
Vinny Gambini: "You were serious about that?"
Vinny: "Your honor, may I have permission to treat Ms. Vito as a hostile witness?"
Mona Lisa Vito: "You think I'm hostile now, wait 'til you see me tonight."
Judge Haller: "Do you two know each other?"
Vinny: "Yeah, she's my fiancée."
Judge Haller: "Well, that would certainly explain the hostility."
Vinny: "I object to this witness being called at this time. We've been given no prior notice he would testify. No discovery of any tests he's conducted or reports he's prepared. And as the court is aware, the defense is entitled to advance notice of all witnesses who will testify, particularly those who will give scientific evidence, so that we can properly prepare for cross-examination, as well as give the defense an opportunity to have his reports reviewed by a defense expert, who might then be in a position to contradict the veracity of his conclusions."
Judge Haller: "Mr. Gambini?"
Vinny: "Yes, sir?"
Judge Haller: "That is a lucid, intelligent, well-thought-out objection."
Vinny: "Thank you, sir."
Judge Haller: "Overruled."
Vinny: "It is possible that the two yutes..."
Judge Haller: "Uh... did you say 'yutes'?"
Vinny: "Yeah, two yutes."
Judge Haller: "What is a yute?"
Vinny: "Oh, excuse me, your honor... [exaggerated] two youths."
AMAZON PURCHASES FROM HERE HELP SUPPORT THIS FREE SITE. THANKS!
Search Amazon.com for more...
From Liar Liar
Judge Stevens: "Mr. Reede, one more word out of you, and I will hold you in contempt!"
Fletcher: "I hold myself in contempt! Why should you be any different?"
Fletcher: "Your honor, I object!"
Judge: "Why?"
Fletcher: "Because it's devastating to my case!"
Judge: "Overruled."
Fletcher: "Good call!"
AMAZON PURCHASES FROM HERE HELP SUPPORT THIS FREE SITE. THANKS!
Search Amazon.com for more...
From Ally McBeal
Judge Dennis 'Happy' Boyle: "Members of the jury, our witness has a small piece of spinach caught in an incisor. Now, when oral decay starts to build up between the tooth and the gum, bacteria starts to build colonies. Even the most nutritious vegetable can turn into Vietnam."
From Boston Legal
Judge Phillip Stevens: "Except you don't want to argue it, counsel. You want to argue 'not guilt' and have 'insanity' as a fall-back. Two defenses for the price of one."


From Boston Legal
Denny Crane: "Watch it, judge, we're a superpower. Don't make us add you to the axis."
From The Practice
Judge Roberta Kittleson: "Oh, please. A mind is like a wound. If it's too open, you get an infection."
From The Simpsons
Lionel Hutz: "And as for your case, don't you worry. I've argued in front of every judge in the state. Often as a lawyer."
Horace Rumpole [thinking to himself]: "A fair judge, an upright judge—always a terrible danger to the defense!"
From Monty Python
One effeminate high court judge to the other: Objection 'ere, objection there. And that nice policeman giving his evidence so well, lovely speaking voice. Anyway, in the end I just banged me little gavel."
AMAZON PURCHASES FROM HERE HELP SUPPORT THIS FREE SITE. THANKS!
Search Amazon.com for more...
You can get new funny quotes every month
free by email
Know someone who would enjoy
this page of Funny Judge Quotes?
Send page
"I am a judge of cresses," said the peasant, as he was eating hemlock.
"Don't ask a dog to judge between a pillar and a tree."
"A fool judges people by the presents they give him."
"A country can be judged by the quality of its proverbs."
"I was married by a judge. I should have asked for a jury."
"I think fish is nice, but then I think that rain is wet, so who am I to judge?"
"Thomas Jefferson once said, 'We should never judge a president by his age, only by his works.' And ever since he told me that, I stopped worrying."
"Children begin by loving their parents; as they grow older they judge them; sometimes they forgive them."
"To judge from the notions expounded by theologians, one must conclude that God created most men simply with a view to crowding hell."
"Saints should always be judged guilty until they are proved innocent."
"Whoever named it necking was a poor judge of anatomy."
"The man who says he is willing to meet you halfway is usually a poor judge of distance."
"Never judge a book by its movie."
"Billy Graham talks about how he doesn't judge people. I don't either. Some people I am just pissed at."

BIOMASS ONLY LOOKS GREAT IN A FUN-HOUSE MIRROR
The jury is still out on whether US energy policy is 'dumb' or 'really dumb,' but one thing is clear beyond a reasonable doubt: Our big new push towards biofuels will create more problems than it solves. Get our quick take on why: Biomass and Sustainability
SIMILAR CATEGORIES

Funny Quote subject list

Jokes/Cartoons (General)

PASS 'EM ON!

Do you know someone who would like these funny judge quotes? Please forward to them.

SEND ME A
FUNNY JUDGE QUOTE

If you know of a funny judge quote that I missed, please email it to me. Provide the text of the quote and who said it (and, if you have it, a web reference where we can verify the text and the spelling of the person's name, etc.). So... email me a quote. Thanks!

CATEGORY: EMPIRE, FINANCIAL, COLLAPSE — 05.SEP.2014

ExtraEnvironmentalist

Falling Empires — John Michael Greer offers a superb summary of the US as an empire, covering important topics such as .... the US as the first empire that does not call itself one; empire as a means of extracting wealth from outside the empire and transferring it inside the empire; the role of energy in the development of the US empire; the doubletalk of empire; how empires transition to oligarchies and ultimately end; why a new constitutional convention as a path to reclaiming democracy might backfire. ~~ Then Chris Martenson talks about the financial system as the most likely sector to have an empire-threatening catastrophe.
Go to page | Download/listen 2:06:35

GP comment: I have a few minor differences with both Greer and Martenson, but overall, they present a clear and coherent picture of empire and inevitable collapse. Greer may turn out to be right that no one is in charge of the crazy train, but I doubt it. There's too much at stake for those who covet money and power, and the rest of us are mostly just trying to survive our little lives.

Original Show Pub Date: 02.Sep.2014

CATEGORY: AGRICULTURE — 03.SEP.2014

Agroinnovations Podcast

Small-Scale Sustainable Agriculture—$90K per Acre, or Heartache By the Numbers? — Dr. Joe Kovach of Ohio State University describes a small-scale mixed fruit-vegetable polyculture designed to produce steady, high-yields with a good economic return on investment. Labor inputs, pest pressures, weed control, crop selection, retail sales, and marketing are all discussed in some detail. ~~ In part 2, Frank Aragona shares several articles that depict small-scale sustainable agriculture as a financial struggle, even for those with abundant capital and land resources. With story after story of small-scale sustainable producers struggling to make ends meet, he explores whether the permaculture movement is a failure on socio-economic grounds. Some suggestions for moving forward are offered.
Go to page A | Download/listen A 42:20
Go to page B | Download/listen B 34:43

GP comment: Both clips are very insightful for anyone who is contemplating small-scale organic growing—or is already trying to make it work.

Original Show Pub Date: 18.Aug.2014

CATEGORY: CLIMATE, COLLAPSE — 24.SEP.2014

Radio Ecoshock

Near-Term Climate-Driven Human Extinction—Or Not — In the first clip, conservation biologist Guy McPherson lays out his case that runaway feedback mechanisms have already been tripped and will alter the climate so significantly that humans will be unable to survive—and we'll be toast within just a few decades. Psychologist Carolyn Baker agrees and offers tips on how to live a happy life in the meantime. ~~ In part two, environmental writer Scott K. Johnson says it ain't so, that McPherson cherry picks data and extrapolates in inappropriate ways. Podcaster KMO, an excellent deep-thinker on collapse issues, says McPherson seems to be trying to make the data fit his foregone conclusions. Just as "collapse from peak oil" has not happened as precipitously as many predicted, so neither is "collapse from climate chaos" likely to drive human extinction in our lifetimes.
Go to page A | Download/listen A 1:00:00
Go to page B | Download/listen B 1:00:00

GP comment: I agree that McPherson is likely overstating the case, though there are enough possible bad climate scenarios that his message can't be discounted completely. What no one here mentioned is that no countries or politicians—and not even most of the scientists or environmentalists—are advocating the sort of radical climate action that would actually solve the problem. Climate chaos is coming, even if it's not in McPherson's timeframe.

Original Show Pub Date: 17.Sep.2014

MORE

That's just a small sampling of stories from the audio download stream on Grinning Planet. Get more audio clips on many subjects from non-mainstream media sources in Grinning Planet's biweekly downloadable audio news feed.
AMAZON PURCHASES FROM HERE HELP SUPPORT THIS FREE SITE. THANKS!
Hey, we don't pick
the Google ads! – GP
CLICKS ON OUR ADS AND PURCHASES VIA OUR AMAZON LINKS HELP SUPPORT THIS FREE SITE... THANKS!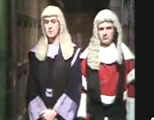 A short, funny Monty Python bit with two over-the-top-effeminate judges.

Watch funny judges video.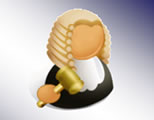 Two funny audio clips from The Onion:
(1) Judge Orders God To Break Up Into Smaller Deities
(2) US Trades Alito To British Supreme Court In Six-Judge Deal

Objection overruled!

Hear here: funny audio about judges.
Or see more ...
Funny Multimedia
Or see ...
Environmental Multimedia