HOW TO TELL IF A JUDGE IS A LITTLE BIT NUTS:

He finds himself in contempt of court after passing gas.

---

He declares a recess, then says, "Who's for dodgeball?"

---

After a conviction, he says, "I now pronounce thee man and jail cell."
Faith Foreman
— Courtland, Alabama
"When I was in traffic court, the judge thought it was cute to bang the gavel, then look around and say, 'Who's there?' Then, when he was instructing the jury, he said 'Happy hour's on me if you get us outta here by 4:00.'"

---

The planet judges the US policy on cattle feed to be a little bit nuts...
Stampede to the next page

Or see funny quotes about nutty judges or more funny cartoons
ADVERTISEMENT
From Ally McBeal

Judge Dennis 'Happy' Boyle: "Members of the jury, our witness has a small piece of spinach caught in an incisor. Now, when oral decay starts to build up between the tooth and the gum, bacteria starts to build colonies. Even the most nutritious vegetable can turn into Vietnam."

From Boston Legal

Judge Phillip Stevens: "Except you don't want to argue it, counsel. You want to argue 'not guilt' and have 'insanity' as a fall-back. Two defenses for the price of one."

From The Practice

Judge Roberta Kittleson: "Oh, please. A mind is like a wound. If it's too open, you get an infection."

AMAZON PURCHASES FROM HERE HELP SUPPORT THIS FREE SITE. THANKS!

Search Amazon.com for more...
FREE AUDIO CLIPS

Hey, we don't pick
the Google ads! – GP
CLICKS ON OUR ADS AND PURCHASES VIA OUR AMAZON LINKS HELP SUPPORT THIS FREE SITE... THANKS!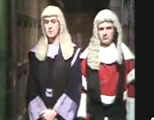 A short, funny Monty Python bit with two over-the-top-effeminate judges.

Watch funny judges video.

Or see more ...
Funny Animations/Videos