FUNNY WAITER QUOTES
Today we're serving up an order of funny waiter quotes. For our tip, your laughs will be plenty!
| | | |
| --- | --- | --- |
| | | |
From Fawlty Towers
Mr. Arrad: "Excuse me."
Basil Fawlty: "Yes?"
Mr. Arrad: "Look, we've been waiting here for about half an hour now; I mean, I gave the waiter our order..."
Basil Fawlty: "Oh, him. He's hopeless, isn't he?"
Mr. Arrad: "Yes, well, I don't wish to complain, but when he does bring something he's got it wrong."
Basil Fawlty: "You think I don't know? I mean, you only have to eat here. We have to live with it. I had to pay his fare all the way from Barcelona, but you can't get the staff, you see. It's a nightmare."
From House of Mouse
Max: "Head waiter is the easiest job. All you do is order the penguins around and read the funny menu."
From The Cowboy Way
Waiter at Waldorf Astoria: "And would you care to order wine with your meal?"
Pepper: "Uh, yah, why don't you bring us a bottle of something or other, uh, not too sweet, American."
Waiter: "'American something or other'—yes, sir, an excellent choice. And would you like glasses, or do you prefer to drink directly from the bottle?"
Pepper: "Well, um, glasses I reckon. And, oh, hey, toss a little ice in mine if you would, my good man."
Waiter: "Ice. Certainly, sir. Nothing could surprise me now."
AMAZON PURCHASES FROM HERE HELP SUPPORT THIS FREE SITE. THANKS!
Search Amazon.com for more...
ADVERTISEMENT
"I never taste the wine first in restaurants, I just ask the waiter to pour."
"The best number for a dinner party is two; myself and a damn good head waiter."
"There are things you just can't do in life. You can't beat the phone company, you can't make a waiter see you until he's ready to see you, and you can't go home again."
"The British tourist is always happy abroad as long as the natives are waiters."
FREE AUDIO CLIPS

John was furious when his steak arrived too rare.
"Waiter," he shouted, "Didn't you hear me say 'well done'?"
"I can't thank you enough, sir," replied the waiter. "I hardly ever get a compliment."
A waiter approached the man studying the menu carefully at the fancy restaurant. "May I take your order, sir?" he asked.
"Well, I was wondering how you prepare your chickens." The man replied.
"Oh, it's nothing too special, sir," said the waiter. "We just tell them straight out that they're going to die."
Epitaph for a dead waiter:
"God finally caught his eye."
"With my wife, I don't get no respect. I made a toast on her birthday to 'the best woman a man ever had.' The waiter joined me."
"I asked the waiter, 'Is this milk fresh?' He said, 'Lady, three hours ago it was grass.' "
"The age of your children is a key factor in how quickly you are served in a restaurant. We once had a waiter in Canada who said, 'Could I get you your check?' and we answered, 'How about the menus first?'"
"I went into a French restaurant and asked the waiter, 'Have you got frog's legs?' He said, 'Yes,' so I said, 'Well hop into the kitchen and get me a cheese sandwich.'"
"A cannibal is a person who walks into a restaurant and orders a waiter."
"Fate is like a strange, unpopular restaurant, filled with odd waiters who bring you things you never asked for and don't always like."
"[The waiters'] eyes sparkled and their pencils flew as she proceeded to eviscerate my wallet—paté, Whitstable oysters, a sole, filet mignon, and a favorite salad of the Nizam of Hyderabad made of shredded five-pound notes."

You tell the waiter you want the fish special, and he insists that you have a side order of mercury. What?? That's crazy! Yes, but you might want to check out our article on mercury in fish to find out which fish have the problem—and why ...
SIMILAR CATEGORIES

Funny Quote subject list

Jokes/Cartoons (General)

PASS 'EM ON!

Do you know someone who would like these funny waiter quotes? Please forward to them.

SEND ME A
FUNNY WAITER QUOTE

If you know of a funny waiter quote that I missed, please email it to me. Provide the text of the quote and who said it (and, if you have it, a web reference where we can verify the text and the spelling of the person's name, etc.). So... email me a quote. Thanks!

CATEGORY: FOOD — 26.AUG.2014

Fresh Air

The Bittersweet Truth About Artificial Flavors — "Flavorings were like gravity or electricity—something that was all around me but that I had never paid any attention to," Stephan Eirik Clark explains. His novel, Sweetness 9—the product of over a decade of research—explores the strange world of food flavorings, where chemicals are used to trick taste buds into thinking they're getting plant-based flavorings. Some of the moral and health issues are explored.
Go to page | Download/listen 26:10

GP comment: Aspartame is to sugar as Mr. Clark's comments are to investigative journalism: The experience is not unpleasant, but it's not the same thing.

Original Show Pub Date: 18.Aug.2014

CATEGORY: FOOD, ORGANICS — 18.AUG.2014

Diet Science

Meta-Study Says Organic Produce Wins — A new meta-study says organic produce beats conventional produce: more nutrients, less toxic residue. Organic has higher levels of nutrients like flavanones, vitamin C, and beta carotene, as well as lower levels of sludge fertilizer toxins like cadmium. This is contrasted to the Stanford study from two years ago, in which the researchers claimed there was no nutritional benefit from eating organic. The new meta-study is much larger.
Go to page | Download/listen 7:00

GP comment: I wonder who paid for that Stanford study? Or for the new one, for that matter.

Original Show Pub Date: 04.Aug.2014

CATEGORY: HEALTH, FOOD — 15.AUG.2014

One Radio Network

Lita Lee on Food, Enzymes, Thyroid Function, and Overall Health — Lita Lee, PhD talks about the importance of proper digestion and assimilation of food, as well as the importance of proper thyroid function, to overall health. Are you eating healthy foods and still not as well as you think you should be? What's wrong with fish oil and most cooking oils? Why can't people be healthy on a vegan diet? Why does everyone need gelatin for joint health? What is the connection between rheumatoid arthritis and thyroid function? Why types of digestive enzymes work best?
Go to page | Download/listen 55:24

GP comment: Interesting material, but Ms. Lee could be a lot clearer in her presentation.

Original Show Pub Date: 17.Jul.2014

MORE

Get more audio clips on food and nutrition (and many other subjects) in Grinning Planet's biweekly downloadable audio news feed.
AMAZON PURCHASES FROM HERE HELP SUPPORT THIS FREE SITE. THANKS!
Hey, we don't pick
the Google ads! – GP
CLICKS ON OUR ADS AND PURCHASES VIA OUR AMAZON LINKS HELP SUPPORT THIS FREE SITE... THANKS!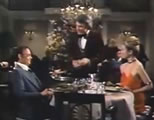 An amusing, classic video short about a waiter who is absent-minded—or is his mind absent altogether?—featuring Steve Martin, Buck Henry, and Teri Garr. It gets off to a slow start, but there's a pretty good payoff at the end. Via YouTube. Watch funny waiter video.


Or see more ...
Funny Animations/Videos