FUNNY WAITER QUOTES
Today we're serving up an order of funny waiter quotes. For our tip, your laughs will be plenty!
| | | |
| --- | --- | --- |
| | | |
From Fawlty Towers
Mr. Arrad: "Excuse me."
Basil Fawlty: "Yes?"
Mr. Arrad: "Look, we've been waiting here for about half an hour now; I mean, I gave the waiter our order..."
Basil Fawlty: "Oh, him. He's hopeless, isn't he?"
Mr. Arrad: "Yes, well, I don't wish to complain, but when he does bring something he's got it wrong."
Basil Fawlty: "You think I don't know? I mean, you only have to eat here. We have to live with it. I had to pay his fare all the way from Barcelona, but you can't get the staff, you see. It's a nightmare."
From House of Mouse
Max: "Head waiter is the easiest job. All you do is order the penguins around and read the funny menu."
From The Cowboy Way
Waiter at Waldorf Astoria: "And would you care to order wine with your meal?"
Pepper: "Uh, yah, why don't you bring us a bottle of something or other, uh, not too sweet, American."
Waiter: "'American something or other'—yes, sir, an excellent choice. And would you like glasses, or do you prefer to drink directly from the bottle?"
Pepper: "Well, um, glasses I reckon. And, oh, hey, toss a little ice in mine if you would, my good man."
Waiter: "Ice. Certainly, sir. Nothing could surprise me now."
AMAZON PURCHASES FROM HERE HELP SUPPORT THIS FREE SITE. THANKS!
Search Amazon.com for more...
ADVERTISEMENT
"I never taste the wine first in restaurants, I just ask the waiter to pour."
"The best number for a dinner party is two; myself and a damn good head waiter."
"There are things you just can't do in life. You can't beat the phone company, you can't make a waiter see you until he's ready to see you, and you can't go home again."
"The British tourist is always happy abroad as long as the natives are waiters."
FREE AUDIO CLIPS

John was furious when his steak arrived too rare.
"Waiter," he shouted, "Didn't you hear me say 'well done'?"
"I can't thank you enough, sir," replied the waiter. "I hardly ever get a compliment."
A waiter approached the man studying the menu carefully at the fancy restaurant. "May I take your order, sir?" he asked.
"Well, I was wondering how you prepare your chickens." The man replied.
"Oh, it's nothing too special, sir," said the waiter. "We just tell them straight out that they're going to die."
Epitaph for a dead waiter:
"God finally caught his eye."
"With my wife, I don't get no respect. I made a toast on her birthday to 'the best woman a man ever had.' The waiter joined me."
"I asked the waiter, 'Is this milk fresh?' He said, 'Lady, three hours ago it was grass.' "
"The age of your children is a key factor in how quickly you are served in a restaurant. We once had a waiter in Canada who said, 'Could I get you your check?' and we answered, 'How about the menus first?'"
"I went into a French restaurant and asked the waiter, 'Have you got frog's legs?' He said, 'Yes,' so I said, 'Well hop into the kitchen and get me a cheese sandwich.'"
"A cannibal is a person who walks into a restaurant and orders a waiter."
"Fate is like a strange, unpopular restaurant, filled with odd waiters who bring you things you never asked for and don't always like."
"[The waiters'] eyes sparkled and their pencils flew as she proceeded to eviscerate my wallet—paté, Whitstable oysters, a sole, filet mignon, and a favorite salad of the Nizam of Hyderabad made of shredded five-pound notes."

You tell the waiter you want the fish special, and he insists that you have a side order of mercury. What?? That's crazy! Yes, but you might want to check out our article on mercury in fish to find out which fish have the problem—and why ...
SIMILAR CATEGORIES

Funny Quote subject list

Jokes/Cartoons (General)

PASS 'EM ON!

Do you know someone who would like these funny waiter quotes? Please forward to them.

SEND ME A
FUNNY WAITER QUOTE

If you know of a funny waiter quote that I missed, please email it to me. Provide the text of the quote and who said it (and, if you have it, a web reference where we can verify the text and the spelling of the person's name, etc.). So... email me a quote. Thanks!

CATEGORY: FOOD, HEALTH — 07.AUG.2014

Diet Science

Gelatin—The Cure for Your Joints and Leaky Gut? — Dee McCaffrey discusses the benefits on consuming gelatin, explaining why it works and what types of gelatin to get. (Hint: It's not Jello, and it's not even Knox.)
Go to page | Download/listen 8:33

GP comment: I tried Knox a couple times. Now I know why it didn't work.

Original Show Pub Date: 28.Jul.2014

CATEGORY: FOOD — 25.JUL.2014

Nutrition Diva

Vitamin E Basics — Nutrition Diva covers Vitamin E—how much do you need, what are its benefits, and what is the best way to get it.
Go to page | Download/listen 8:01

GP comment: Go nuts over nuts and seeds. But read up on soaking and roasting to keep the tannins and lectins down.

Original Show Pub Date: 22.Jul.2014

CATEGORY: FOOD, AGRICULTURE — 07.JUL.2014

The Lifeboat Hour

Reclaiming the Future of Food — Michael Brownlee, founder of Local Food Shift in Colorado, explains what we're not being told about our food. Topics include the unholy alliance between Big Food, Big Ag, and Big Pharma; the systematic suppression of local food options; water issues; radical climate shift and agricultural output.
Go to page | Download/listen 56:01

GP comment: This is generally good, though I find it rather laughable that he promotes agriponics—a growing technology that is solidly in the "industrial agriculture" basket—as part of the solution to food sustainability.

Original Show Pub Date: 06.Jul.2014

MORE

Get more audio clips on food and nutrition (and many other subjects) in Grinning Planet's biweekly downloadable audio news feed.
AMAZON PURCHASES FROM HERE HELP SUPPORT THIS FREE SITE. THANKS!
Hey, we don't pick
the Google ads! – GP
CLICKS ON OUR ADS AND PURCHASES VIA OUR AMAZON LINKS HELP SUPPORT THIS FREE SITE... THANKS!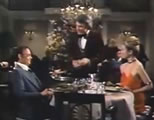 An amusing, classic video short about a waiter who is absent-minded—or is his mind absent altogether?—featuring Steve Martin, Buck Henry, and Teri Garr. It gets off to a slow start, but there's a pretty good payoff at the end. Via YouTube. Watch funny waiter video.


Or see more ...
Funny Animations/Videos