FUNNY NEW YEAR QUOTES
Cheers! In the funny new year, quote your favorite humorists.
"An optimist stays up to see the New Year in. A pessimist waits to make sure the old one leaves."
"The proper behavior all through the holiday season is to be drunk. This drunkenness culminates on New Year's Eve, when you get so drunk you kiss the person you're married to."
"Youth is when you're allowed to stay up late on New Year's Eve. Middle age is when you're forced to."
"New Year's Eve, where auld acquaintance be forgot. Unless, of course, those tests come back positive."
ADVERTISEMENT
"New Year's Resolution: To tolerate fools more gladly, provided this does not encourage them to take up more of my time."
"Now there are more overweight people in America than average-weight people. So overweight people are now average. Which means you've met your New Year's resolution."
"A good resolution is like an old horse, which is often saddled but rarely ridden."
"New Year's Day: Now is the accepted time to make your regular annual good resolutions. Next week you can begin paving Hell with them as usual."
"A New Year's resolution is something that goes in one year and out the other."
FREE AUDIO CLIPS

From Seinfeld
Jerry: "Kramer, these balloons aren't gonna stay filled till New Year's!"
Kramer: "Well, those aren't for New Year's. Those are my everyday balloons."
From The Fresh Prince of Bel-Air
Hilary: "I'm making a New Year's resolution to find a job... right after Easter."
From The Honeymooners
Ralph: "Short visit? Ha! You know what her short visits are. Like the last time she came for a short visit, just for the holidays, Christmas and New Year's. The only trouble is, she came New Year's and stayed 'til Christmas!"
AMAZON PURCHASES FROM HERE HELP SUPPORT THIS FREE SITE. THANKS!
Search Amazon.com for more...
You can get new funny quotes every month
free by email
Know someone who would enjoy
this page of Funny New Year Quotes?
Send page
"Every New Year is the direct descendant, isn't it, of a long line of proven criminals?"
"It was a decent New Year's, but it took a million officers to make it so."
"The only way to spend New Year's Eve is either quietly with friends or in a brothel. Otherwise when the evening ends and people pair off, someone is bound to be left in tears."
"My first word for the New Year was 'exsanguinate.' This was probably not a good omen."

FIRE JUSTIN TIME, HIRE JUSTIN CASE
Most new year's resolutions focus on diet and health. Good idea, but we recommend a more ambitious undertaking: The Resilient Household
SIMILAR CATEGORIES

Funny Quote subject list

Jokes/Cartoons (General)

PASS 'EM ON!

Do you know someone who would like these funny new years quotes? Please forward to them.

SEND ME A
FUNNY NEW YEAR QUOTE

If you know of a funny new year quote that I missed, please email it to me. Provide the text of the quote and who said it (and, if you have it, a web reference where we can verify the text and the spelling of the person's name, etc.). So... email me a quote. Thanks!

Unwelcome Guests

Whistleblowers and Surveillance in 21st Century USA — 02 Mar 2013— The US government has a Whistleblower Protection Act, but this podcast recounts multiple cases where people who blew the whistle on the illegal and unethical activities of the American empire have been ruthlessly punished or prosecuted. ~~ Then Glen Greenwald gives a speech titled "Challenging the US Surveillance State." He begins by reviewing the evidence that all US administrations have systematically abused their technological ability to listen in on US citizens. And as the powers of technology have increased, so has covert spying on the populace.
Ref page: Go to page
Part 1: Download/Listen 59:30
Part 2: Download/Listen 59:30

Fairewinds Energy Education

Zombie Nukes—Undead Power Plants That Feast on Human Money! — 06 Mar 2013 — There are a number of utility-owned nuclear power plants in the United States that are offline and not coming back online anytime soon, but also not scheduled to be shut down. Of course, you can't just abandon a dormant nuclear plant, at least not until the decision has been made to properly shut it down for good. Thus, these zombie plants continue to drain the public's pocketbook—usually through electricity rates—sometimes to the tune of $50 million dollars a month—without generating a single watt of electricity!
Go to page | Download/Listen 22:06

Post Carbon Institute

Joshua Farley on the Political Economy of Ecosystem Services — 07 Mar 2013— Professor Joshua Farley of Vermont University explains why we need to escape the traditional thinking of economists and politicians that says the environment is a subset of the economy. It is, of course, the other way around. For now, as we try to out-clever the system and continue flouting the proper economy-environment relationship—i.e. the laws of nature—we are merely bulldozing the pile of consequences further (and higher) into the future. But that cannot last.
Go to page | Download/Listen 1:20:45

MORE

That's just a small sampling of stories from the audio download stream on Grinning Planet. Get more audio clips on many subjects in Grinning Planet's biweekly downloadable audio news feed.
AMAZON PURCHASES FROM HERE HELP SUPPORT THIS FREE SITE. THANKS!





AMAZON PURCHASES FROM HERE HELP SUPPORT THIS FREE SITE. THANKS!
Hey, we don't pick
the Google ads! – GP
CLICKS ON OUR ADS AND PURCHASES VIA OUR AMAZON LINKS HELP SUPPORT THIS FREE SITE... THANKS!
View on Amazon.com:
This is YOUR
New Year's Resolution!
A 12-Month
Health Mastery Program
Gives you the tools necessary to ensure that you achieve a New Year's resolution that will improve the quality of your life and get the best long-standing results needed. The key is to be proactive with your health and wellness.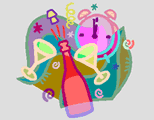 Three fun and funny new year videos to toast your eyeballs. Out with the economic bubbles! In with the celebratory bubbly! Watch funny new years videos.
Or see more ...
Funny Animations/Videos