New Year Funny
Happy new year, funny cartoon fans! Raise your glass and toast this page of New Years funny humor stuff.
HEALTH TIPS FOR THE NEW YEAR:

DIET:


Get back on the straight-and-narrow!


ADDICTIONS:


Give up your bad habits!



STRESS:


Get those kids back in school!

ADVERTISEMENT
"An optimist stays up to see the New Year in. A pessimist waits to make sure the old one leaves."

"A New Year's resolution is something that goes in one year and out the other."

"My first word for the New Year was 'exsanguinate.' This was probably not a good omen."

AMAZON PURCHASES FROM HERE HELP SUPPORT THIS FREE SITE. THANKS!

Search Amazon.com for more...
FREE AUDIO CLIPS

Hey, we don't pick
the Google ads! – GP
CLICKS ON OUR ADS AND PURCHASES VIA OUR AMAZON LINKS HELP SUPPORT THIS FREE SITE... THANKS!
View on Amazon.com:
This is YOUR
New Year's Resolution!
A 12-Month
Health Mastery Program
Gives you the tools necessary to ensure that you achieve a New Year's resolution that will improve the quality of your life and get the best long-standing results needed. The key is to be proactive with your health and wellness.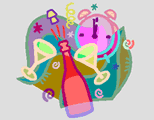 A couple of funny new year videos to toast your eyeballs. Out with the economic bubbles! In with the celebratory bubbly! Watch funny new years videos.
Or see more ...
Funny Animations/Videos