FUNNY DRACULA QUOTES
Good evening. I am Count Dracula. Please honor me by feasting on my funny Dracula quotes.
"If Dracula can't see his reflection in the mirror, how come his hair is always so neatly combed?"
"Fear can sometimes be a useful emotion. For instance, let's say you're an astronaut on the moon and you fear that your partner has been turned into Dracula. The next time he goes out for the moon pieces, wham!, you just slam the door behind him and blast off. He might call you on the radio and say he's not Dracula, but you just say, 'Think again, bat man.' "
"When people ask me if Dean Martin drank, let me put it this way. If Dracula bit Dean in the neck, he'd get a Bloody Mary."
"Count Dracula may not seem like the ideal husband. Of course he's deathly pale, but he's a vegetarian, and they all seem to look like that."
"I wish I had a Kryptonite cross, because then you could keep both Dracula AND Superman away."
ADVERTISEMENT
COUNT DRACULA: "Children of the night, shut up!"
COUNT DRACULA: "I'm going out for a bite to drink."
CINDY SONDHEIM: "We can go to bed, maybe get in a little quickie."
COUNT DRACULA: "No. With you, never a quickie, always a longie."
COUNT DRACULA: "Ah, Cindy Sondheim, you should have lived in an earlier age. Things were simpler, less complicated. Do you know how many women had nervous breakdowns in the fourteenth century? Two."
COUNT DRACULA: "Without me, Transylvania will be as exciting as Bucharest... on a Monday night."
AMAZON PURCHASES FROM HERE HELP SUPPORT THIS FREE SITE. THANKS!
Search Amazon.com for more...
FREE AUDIO CLIPS

LUCARD (DRACULA): "People are my greatest resource. I rarely turn down a chance to meet new blood."
LUCARD (DRACULA): "Stay as long as you like... longer even."
LUCARD (DRACULA): "What a third-rate creature you are, even by zombie standards."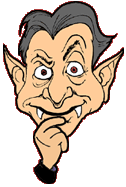 If a fanged, caped Transylvanian count says to you, "I vant to suck your electreecity" ... you will be experiencing true vampire power—the slow draw of electricity your home electronics use when they're off and waiting in "standby mode." Learn what you can do to keep this 'Dracula deficit' in check in our article about Vampire Power.
Or perhaps you ARE Count Dracula and you're concerned that all those high-side-effects prescription drugs that people take may affect YOU when you dine. Check out or article on prescription drugs vs. chemicals.
SIMILAR CATEGORIES

Funny Quote subject list

Jokes/Cartoons (General)

PASS 'EM ON!

Do you know someone who would like these funny quotes about Dracula? Please forward to them.

SEND ME A
FUNNY DRACULA QUOTE

If you know of a funny Count Dracula quote that I missed, please email it to me. Provide the text of the quote and who said it; and, if you have it, a reference where we can verify the text and the spelling of the person's name (a web page address, Bartlett's, etc.). So... email me a quote. Thanks!

ExtraEnvironmentalist

Better Than Normal — 30 Oct 2013 — Society at large dramatically underestimates human potential, placing our imagination within a limited range of possibilities. What are the psychological limits of our species? Is there reliable scientific evidence of supernormal human capabilities? What areas of scientific study could replace the failing aims of a materialist scientific paradigm? Would compelling evidence for special abilities change our beliefs and institutions? Researcher Dean Radin discusses.
Go to page | Download/Listen 1:26:42

Meria Heller Show

Betsy Thompson: What Happens If I...? — 10 Nov 2013 — Author Betsy Thompson discusses the themes in her book What Happens If I.... Life isn't meant to be perfect, it's meant to be informative. The circumstances of our lives are exactly what we need for our particular path of personal growth. The things you are most worried about will continue manifesting in your life—until you can truly let them go. Also discussed are how irritating people can be dealt with as a reflection of yourself and the issue of doing what you love vs. doing what pays.
Go to page | Download/Listen 55:04

11:11 with Simran Singh

Penney Peirce on the Transforming Power of Your Attention — 26 Sep 2013 — Penney Peirce offers a comprehensive guide to developing the "attention skills" necessary to navigate your transformation process, recognizing the radically different intuition age that's unfolding, and acquiring the mindset necessary to live successfully by its new rules. She explains how to move beyond merely coping with current reality to thriving in a world of rapidly expanding possibilities.
Go to page | Download/Listen 56:21

MORE

Get more audio clips on aliens, UFOs, transformation/consciousness (and many other subjects) in Grinning Planet's biweekly downloadable audio news feed.
AMAZON PURCHASES FROM HERE HELP SUPPORT THIS FREE SITE. THANKS!
Hey, we don't pick
the Google ads! – GP
CLICKS ON OUR ADS AND PURCHASES VIA OUR AMAZON LINKS HELP SUPPORT THIS FREE SITE... THANKS!
View on Amazon.com:
Dracula - Dead and Loving It (DVD)
View on Amazon.com: