FUNNY DRACULA QUOTES
Good evening. I am Count Dracula. Please honor me by feasting on my funny Dracula quotes.
"If Dracula can't see his reflection in the mirror, how come his hair is always so neatly combed?"
"Fear can sometimes be a useful emotion. For instance, let's say you're an astronaut on the moon and you fear that your partner has been turned into Dracula. The next time he goes out for the moon pieces, wham!, you just slam the door behind him and blast off. He might call you on the radio and say he's not Dracula, but you just say, 'Think again, bat man.' "
"When people ask me if Dean Martin drank, let me put it this way. If Dracula bit Dean in the neck, he'd get a Bloody Mary."
"Count Dracula may not seem like the ideal husband. Of course he's deathly pale, but he's a vegetarian, and they all seem to look like that."
"I wish I had a Kryptonite cross, because then you could keep both Dracula AND Superman away."
ADVERTISEMENT
COUNT DRACULA: "Children of the night, shut up!"
COUNT DRACULA: "I'm going out for a bite to drink."
CINDY SONDHEIM: "We can go to bed, maybe get in a little quickie."
COUNT DRACULA: "No. With you, never a quickie, always a longie."
COUNT DRACULA: "Ah, Cindy Sondheim, you should have lived in an earlier age. Things were simpler, less complicated. Do you know how many women had nervous breakdowns in the fourteenth century? Two."
COUNT DRACULA: "Without me, Transylvania will be as exciting as Bucharest... on a Monday night."
AMAZON PURCHASES FROM HERE HELP SUPPORT THIS FREE SITE. THANKS!
Search Amazon.com for more...
FREE AUDIO CLIPS

LUCARD (DRACULA): "People are my greatest resource. I rarely turn down a chance to meet new blood."
LUCARD (DRACULA): "Stay as long as you like... longer even."
LUCARD (DRACULA): "What a third-rate creature you are, even by zombie standards."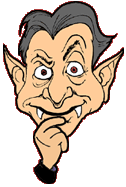 If a fanged, caped Transylvanian count says to you, "I vant to suck your electreecity" ... you will be experiencing true vampire power—the slow draw of electricity your home electronics use when they're off and waiting in "standby mode." Learn what you can do to keep this 'Dracula deficit' in check in our article about Vampire Power.
Or perhaps you ARE Count Dracula and you're concerned that all those high-side-effects prescription drugs that people take may affect YOU when you dine. Check out or article on prescription drugs vs. chemicals.
SIMILAR CATEGORIES

Funny Quote subject list

Jokes/Cartoons (General)

PASS 'EM ON!

Do you know someone who would like these funny quotes about Dracula? Please forward to them.

SEND ME A
FUNNY DRACULA QUOTE

If you know of a funny Count Dracula quote that I missed, please email it to me. Provide the text of the quote and who said it; and, if you have it, a reference where we can verify the text and the spelling of the person's name (a web page address, Bartlett's, etc.). So... email me a quote. Thanks!

Oracle of Mallorca

Wellbeing in a Time of Radical Change — 26 Apr 2013 — A vista is a comprehensive worldview made of your freely chosen beliefs about how things are in the universe, the world, and yourself, along with values to guide your behavior toward your wellbeing and that of your community and world. This show explains how to build them and what they mean for our lives in this time of radical change.
Go to page | Download/Listen 57:04

Awakening to Conscious Co-Creation

The Sun, The Light, and the Consciousness of All — 24 Apr 2013— Greg Sams gives an update on his work with the consciousness of the sun and related concepts. He also talks about the role of light itself and how some of the ancients, including Akhenaten and Zoroaster, knew of these concepts. There is tremendous activity taking place in and around the sun currently, and Sams shares what is being learned.
Go to page | Download/Listen 59:43

Red Ice Radio

Joseph P. Farrell: Fake Terrorism, Covert Wars, and ET Threat Assessment — 02 May 2013 — Joseph P. Farrell pursues research in physics as well as alternative history and science. He discusses the Boston Marathon bombings and what appears to be an internal Gladio-style operation with a huge geopolitical agenda. Then he explains Putin's clash with the "world government" agenda. Later, Farrell talks about hidden meta-conflicts and the creation of a breakaway civilization that is being funded from the money generated by the Ponzi financial system.
Go to page | Download/Listen 53:10

MORE

Get more audio clips on aliens, UFOs, transformation/consciousness (and many other subjects) in Grinning Planet's biweekly downloadable audio news feed.
AMAZON PURCHASES FROM HERE HELP SUPPORT THIS FREE SITE. THANKS!
Hey, we don't pick
the Google ads! – GP
CLICKS ON OUR ADS AND PURCHASES VIA OUR AMAZON LINKS HELP SUPPORT THIS FREE SITE... THANKS!
View on Amazon.com:
Dracula - Dead and Loving It (DVD)
View on Amazon.com: