CATEGORY: HEALTH, FOOD, PESTICIDES — 15.APR.2014

Living on Earth
Study Links Pesticides and Lowered Intelligence —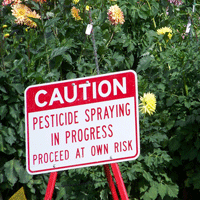 Studies conducted in the Salinas Valley and New York City have found that the effects of pesticides on development in children can be similar to those of lead, including lower IQs and slower mobility. Journalist Susan Freinkel discusses the findings.
Go to page | Download/listen 6:27
GP comment: Freinkel soft-pedals on her recommendations. Forget that "wash the pesticides off" nonsense—washing reduces but does not eliminate pesticide residue. Buy organic, or grow 'em yourself. And for heaven's sake, if you are still using lawn chemicals or "Turfbuilder" type products, STOP!
Original Show Pub Date: 11.Apr.2014
CATEGORY: FOOD — 10.APR.2014

Nutrition Diva
The Carageenan Controversy —
Carrageenan is a seaweed extract widely used in the food industry, mostly as a thickener and gelling agent. You'll find it in ice cream, cottage cheese, non-dairy milks, jelly, pudding, and infant formula. Some scientists have presented evidence that carrageenan is highly inflammatory and toxic to the digestive tract. Equally respected scientists have detailed the reasons that this evidence is flawed and misleading, concluding that there is no valid reason to ban its use. The Diva dives in on the controversy.
Go to page | Download/listen 7:05
GP comment: Probably better to not eat it regularly.
Original Show Pub Date: 19.Mar.2014
CATEGORY: FOOD — 07.APR.2014

Diet Science
The Skinny on Evaporated Cane Sugar — The health food industry routinely—and intentionally—misuses the terms like "evaporated cane sugar" to allow consumers to incorrectly infer that the ingredient is essentially "sugar cane squeezin's" and better for you than white sugar. Dee McCaffery explains the nuances of cane sugar—and why you should beware the "evaporated" moniker.
Go to page | Download/listen 7:49
GP comment: Oh, those rascally corporate foodies, what will they think of next? That said, let's all take personal responsibility for our sugar habits.
Original Show Pub Date: 24.Mar.2014
CATEGORY: FOOD, ORGANICS — 05.APR.2014

Food Sleuth Radio
Chuck Benbrook on the Benefits of Organic and Grass-Fed —
Agricultural nutritionist Chuck Benbrook talks about why organic foods typically have better nutrient profiles than conventional foods; why grass-fed dairy is far superior to grain-fed, regardless or whether it's organic; and why the advent of GMO crop technology has ultimately meant MORE herbicide use, not less.
Go to page | Download/listen 28:15
GP comment: My only complaint here is that it was too short!
Original Show Pub Date: 27.Mar.2014
CATEGORY: FOOD, HEALTH — 04.APR.2014

Food Sleuth Radio
FODMAP—Change Your Carby Food, Change Your Bloaty Life — Patsy Catsos discusses the FODMAP diet—which is really more of a "problem-food elimination scheme." Many people have a gut imbalance that causes certain types of sugars, alcohols, and fibers to ferment in the large intestine, causing problems that range from simple bloating and discomfort to full-blown bowel disease. By eliminating the whole complement of fermentable foods and then reintroducing them one at a time to monitor symptom reoccurrence, a person may be able to design a permanent diet that allows their gut to heal and their life to return to normal.
Go to page | Download/listen 28:15
GP comment: Problems with inappropriate fermentation of foods in the lower gut is no doubt a problem for a great many people. Just don't forget that it may combine with other gut issues and make the diagnosis and cure less than simple.
Original Show Pub Date: 20.Mar.2014
CATEGORY: FOOD — 31.MAR.2014

Food Chain Radio
The Modern Diet and the Jungle Effect — Dr. Daphne Miller once had a patient. The person was originally from a jungle area south of the border but had lived in the US for many years, acquiring the subtle ill health effects of modern living. When the patient returned to her jungle home for an extended visit, all the nagging health complaints that had crept up on her vanished. The patient—and the doctor—wanted to know why.
Go to page | Download/listen 42:37
GP comment: Two words: Industrial food.
Original Show Pub Date: 22.Mar.2014
CATEGORY: FOOD — 24.MAR.2014

Nutrition Diva
Farm-Raised vs. Wild-Caught Fish —
Eating at least two servings of fish or shellfish per week appears to reduce the risk of heart disease, delay the onset of Alzheimer's and dementia, and (if you're pregnant) make your baby smarter and healthier. Although meat, poultry, and fish are all good sources of protein, seafood is low in saturated fat and high in omega-3 fats. But when you get to the fish counter, does it make a difference whether you buy wild-caught or farm-raised fish?
Go to page | Download/listen 9:13
GP comment: She blows past a couple of standard industry canards and loopholes and, shockingly, does not include radiation when discussion contamination issues. But she pulls it out at the end by recommending the useful Seafood Watch guide.
Original Show Pub Date: 04.Mar.2014
CATEGORY: GMOs, CORPORATIONS — 20.MAR.2014

TUC Radio
The Safe Food Movement vs. the Agrochemical Giants — Campaigns attempting to label genetically engineered food have swept the US, from California to Washington and on to Connecticut, Maine, Alaska, Oregon and Vermont. But the right to know about the food we put into our bodies is always challenged by a powerful and extremely well funded lobby that represents the interests of biotech/chemical corporations such as Monsanto, Dow, DuPont, Syngenta, Bayer, and BASF, as well as junk-food manufacturers such as Kraft Foods, Pepsico, and Coca Cola. Vandana Shiva and Andy Kimbrell update us on the evidence against genetically modified foods and the war with the corporations that profit from them.
Go to page | Download/listen 29:00
Go to page | Download/listen 29:00
GP comment: This is very good overall, though I do find it rather amusing that environmentalists worry about "super-weeds," which by definition are only a problem for industrial agriculture. True, their rise does cause use of more toxic pesticides, but super-weeds are really a small sidebar compared to other GMO issues.
Original Show Pub Date: 05.Mar.2014
CATEGORY: DIET, NUTRITION — 19.MAR.2014

Diet Science
"Calories In, Calories Out" Formula is Flawed — Dee McCaffrey explains that the "Calories In vs. Calories Out" concept of weight loss is flawed because it ignores the dysregulation of metabolism-related hormones that is driven by many food additives and overloads of simple carbs.
Go to page | Download/listen 9:28
GP comment: An unmentioned aspect of this is the use of healthy fats to buffer glycemic overload of high-carb meals.
Original Show Pub Date: 10.Mar.2014
CATEGORY: FOOD — 15.MAR.2014

Diet Science
A Predictably Cheesy Move by Kraft — Kraft has pledged to eliminate the artificial preservative (sorbic acid) they use in some of their sliced "cheese products." But will the new preservative really be any better?
Go to page | Download/listen 8:31
GP comment: If you're eating "cheese food slices" and you're worried about the preservative, I think you've missed the point.
Original Show Pub Date: 03.Mar.2014
CATEGORY: GMOs, AGRICULTURE — 06.MAR.2014

Food Chain Radio
GMOs and "The Stomach Study" — Howard Vlieger, an independent crop and livestock nutrition consultant, discusses the troubling results of his study on the long term consumption of GMOs on the stomachs of pigs.
Go to page | Download/listen 42:36
GP comment: Vlieger is a well informed commentator on the ills of GMOs, though his message gets a little lost here because of the awkward interviewing style of the host.
Original Show Pub Date: 16.Feb.2014
CATEGORY: FOOD, HEALTH — 26.FEB.2014

Diet Science
Chocolate, Tea, and Berries Found to Reduce Insulin Resistance — New research has found diets containing compounds found in chocolate, tea, and berries can help protect people against diabetes and other diseases.
Go to page | Download/listen 5:15
GP comment: Surprise, surprise—a study has found phytonutrients to help improve the body's functions.
Original Show Pub Date: 17.Feb.2014
CATEGORY: FOOD — 24.FEB.2014

Food Sleuth Radio
Drug-Resistant Bacteria in 50% of Raw Chicken — Urvashi Rangan of Consumer Reports discusses a recent study that found resistant bacteria on 50% of raw chicken samples from supermarkets nationwide. Topics include corporate practices that lead to contamination and drug-resistant bacteria, including overuse of antibiotics in animals; how organic chicken fared against conventional chicken in the tests; and ways to improve food safety.
Go to page | Download/listen 28:15
GP comment: Glad to see Consumer Reports is finally recognizing the consumer advantages of going green.
Original Show Pub Date: 30.Jan.2014
CATEGORY: FOOD — 21.FEB.2014

Nutrition Diva
Does Coconut Oil Raise Your Cholesterol? — Despite reports of coconut oil's "miraculous" powers, there is scant evidence that coconut oil will melt off the pounds, balance your hormones, boost your immune system, or raise your IQ. On the other hand, coconut oil is a very stable oil. It doesn't easily oxidize, spoil, or go rancid, and it has a high smoke point and does not produce harmful chemicals when heated. But that's because coconut oil is a highly saturated fat. Does that mean coconut oil will raise cholesterol levels and increase heart disease risk?
Go to page | Download/listen 7:06
GP comment: Her conclusion is right: Coconut oil is a good choice as part of a suite of go-to oils.
Original Show Pub Date: 12.Feb.2014
CATEGORY: FOOD — 07.FEB.2014

Nutrition Diva
Does Juicing or Blending Destroy Beneficial Fiber? — Smoothies are all the rage, but how does liquefying fruits, vegetables, or even grains affect their nutritional benefits? Nutrition Diva gets to the qnswer at the bottom of the glass.
Go to page | Download/listen 7:58
GP comment: The Diva handles the question expertly, but I guess I have to ask, what ever happened to just eating great salads using raw, fresh super-veggies?
Original Show Pub Date: 05.Feb.2014
CATEGORY: FOOD, AGRICULTURE — 06.FEB.2014

Progressive Commentary Hour
"Organic Cannot Feed the World" is the Century's Biggest Lie —
David Montgomery discusses a variety of farming related issues, including soil health, topsoil loss, monoculture vs. polyculture farming, and the role of failing agricultural models in the collapse of civilizations. Jeffrey Smith discusses the role of genetically modified crops in making our agricultural system—and us—ill. Though GMOs are still going strong, we may be on the verge of a tipping point, as natural foods companies join the Non-GMO Project labeling campaign.
Go to page | Download/listen 58:08
GP comment: You can rid your own diet of GMOs by following the steps at the Non-GMO Shopping Guide.
Original Show Pub Date: 03.Feb.2014
CATEGORY: FOOD, HEALTH — 01.FEB.2014

Nutrition Diva
Does Dairy Weaken Your Bones? — The milk industry would have us believe that dairy is essential for good bone health. Some in the alternative health community think milk is fit only for baby cows and, specifically, that it actually diminishes calcium deposition in bones. Which is it?
Go to page | Download/listen 7:20
GP comment: My info says that magnsium deficiency, not calcium deficiency, is the biggest problem with bone loss.
Original Show Pub Date: 29.Jan.2014
CATEGORY: FOOD, HEALTH — 25.JAN.2014

Diet Science
Study Shows Chocolate Can Help Reduce Body Fat — Dee McCaffrey talks about a new study that shows eating chocolate can reduce your body fat. Of course, there are some catches.
Go to page | Download/listen 6:58
GP comment: It's good that she recommends dark (minimally sweetened), organic chocolate, but her practice of putting cacao nibs in her smoothie could reduce digestion and uptake of the chocolate's nutrients since the chocolate would bypass salivary interaction.
Original Show Pub Date: 16.Dec.2013
CATEGORY: HEALTH, FOOD, NUTRITION — 13.JAN.2014

Diet Science
The Healing Power of Carrot Juice — Dee McCaffrey talks about the many healing properties of carrot juice. The orange nectar includes live enzymes and antioxidant compounds called carotenes; promotes clean livers; builds bones and blood; and helps your eyesight.
Go to page | Download/Listen 8:27
GP comment: Their site recommends the Champion juicer. Had one; didn't like it. Got an Omega—much better because it puts less froth in the juice.
Original Show Pub Date: 06.Jan.2014
CATEGORY: FOOD, GMOs, ORGANIC — 12.JAN.2014

Food Chain Radio
Is "Natural" a Food Con? — Consumers spend an estimated $40 billion a year
on foods labeled "natural." What does that even mean? Is it regulated? Can consumers trust the labels? Stephen Gardner of the Center for Science in the Public Interest discusses these topics and his organization's legal actions against food manufacturers that label products "natural" when they contain ingredients that the general public does not consider natural.
Go to page | Download/Listen 42.32
GP comment: The "natural" label is always a distant second-best to organic. And as is made clear here, in some cases "natural" on the label is indeed a con. Beware especially when something contains any of the following ingredients and they are not labeled organic or non-GMO: soy; corn or high fructose corn syrup; sugar; cottonseed oil; summer squash and zucchini; milk.
Original Show Pub Date: 07.Dec.2013
CATEGORY: FOOD — 10.JAN.2014

Diet Science
Low-Heat Pasteurization vs. Raw Milk — Dee McCaffrey talks about the various approaches to milk, from raw to low-heat pasteurization to ultra-pasteurized, as well as organic and grass-fed.
Go to page | Download/Listen 7:54
GP comment: With Fukushima radiation continuing to be a problem, I'd love to know if anyone has assayed milk products for contamination. Milk was a big problem after Chernobyl.
Original Show Pub Date: 23.De.2013
CATEGORIES: FOOD, ENVIRONMENT, ANIMAL WELFARE — 06.JAN.2014

Sea Change Radio
Meat—From Livestock to Lab-Stock? — "Cruelty-free" products abound in our 21st Century market place, from cosmetics to fake fur. But can you imagine a cruelty-free filet mignon? Food journalist Tom Levitt discusses recent advances in lab-grown meat.
Go to page | Download/Listen 30:00
GP comment: This is good—a balanced, sober assessment of the status and potential of lab-grown meat to eventually reduce the environmental problems and animal suffering associated with livestock operations.
Original Show Pub Date: 10.Dec.2013

Nutrition Diva
Chocolate vs. Carob — 22 Nov 2013 — What is carob? Is it related to chocolate? How do its nutritional characteristics compare to chocolate? Nutrition Diva serves up answers.
Go to page | Download/Listen 6:00
(GP comment: Not mentioned here is that chocolate is highly acidic whereas carob is alkalizing, which for some people means it will be easier on the intestinal tract and body overall)

Nutrition Diva
Ways to Reduce Food Waste — 05 Nov 2013 — The production and distribution of food is significant source of environmental pollution and resource usage. Reducing food waste helps reduce these impacts. The Diva offers numerous tips for reducing food waste, including: plan meals before you go grocery shopping; and strategize ways to easily identify and eat leftovers in the fridge.
Go to page | Download/Listen 9:09
(GP comment: She also identifies composting as a way to get value out of unusable food, but she should have mentioned growing more of your own food, too.)

Living On Earth
GMO Study Retracted—Censorship or Caution? — 06 Dec 2013 — A French study in 2012 led by Gilles-Eric Seralini found animals fed Monsanto's Roundup Ready corn had increased mortality and more tumors than a control group. Amid heavy industry criticism from industry, the journal that published the research has retracted the study from its archives. Michael Hansen, a senior scientist at Consumer's Union, explains why he thinks the retraction was unwarranted and amounts to scientific censorship.
Go to page | Download/Listen 7:16

Nutrition Diva
How Much Protein Can the Body Absorb? — 16 Oct 2013 — The idea that the body can only utilize a certain amount of protein at one sitting has become widely accepted nutrition lore. But is there any validity to the claim? It all comes down to what exactly you mean by "utilizing" protein.
Go to page | Download/Listen 7:00

Food Chain Radio
Eat Local, First and Foremost — 12 Oct 2013 — Using a local-food celebration in California as a discussion platform, Michael Olson interviews farmers and local-food advocates on how the purchase of local food has a positive echo effect on the local economy in general. Dollars spent with local entrepreneurs recirculate locally far more than dollars spent at corporate outlets.
Go to page | Download/Listen 42:00
Nutrition Diva

Are Grains Killing Your Brain? — 08 Oct 2013 — A new book claims that grains are not a healthy part of anyone's diet, and in fact, they may be causing brain disease. Not so fast, says the Diva.
Go to page | Download/Listen 8:00

One Radio Network
GMOs and Glyphosate—Slow Poison Over Time — 19 Sep 2013 — Scientist Stephanie Seneff discusses the biochemistry of glyphosate and explains why it is so damaging to human health. The GMO content of foods is bad enough, but glyphosate—the herbicide that goes hand-in-hand with most GMO crops—adds another level of contamination, one that messes with the body's sulfate usage and liver function, among other things.
Go to page | Download/Listen 1:07:05

TUC Radio
Vandana Shiva on Genetically Engineered Food and the Militarization of Agriculture — 01 Oct 2013 — Vandana Shiva has spent decades challenging GMO corporations and scientists, dedicating her life to the protection of "seed sovereignty" and the practice of non-chemical, non-GMO agriculture. Here she discusses efforts to promote biodiversity conservation by supporting local farmers and rescuing, conserving, and distributing plants that are being pushed to extinction by industrial agriculture.
Part 1: Go to page | Download/Listen 29:00
Part 2: Go to page | Download/Listen 29:00

Nutrition Diva
Tips on the Most Nutritious Way to Eat Vegetables — 17 Sep 2013 — The Diva talks about how to get the most out of your veggies. Topics include cooked vs. raw (nutrients destroyed vs. nutrients released), variety, and edibility.
Download/Listen 8:00

Food Sleuth Radio
How Big Food Targets Children — 12 Sep 2013 — Anna Lappe, project director at Food MythBusters, discusses the many ways Big Food aggressively targets children, at home and in schools. She also talks about ways parents and communities can fight back
Go to page | Download/Listen 28:15
Nutrition Diva

Red Wine, Beef, and Cholesterol — 20 Aug 2013 — The press release for a new study declares that drinking red wine when eating beef reduces the LDL cholesterol from the meat. Too bad the studied cohort did not eat any beef. This is what happens when you let marketing departments present science.
Download/Listen 6:52

Red Pill Tales
The Abominable Ways of Biotech — 10 Aug 2013— This is an excellent collage of GMO-related news, interviews, and music. Also covered are the health effects of glyphosate, the main ingredient in Monsanto's widely used RoundUp herbicide. This is fun and informative!
Go to page | Download/Listen 49:15
Food Chain Radio

Playing Chicken with Organic Eggs — 17 Aug 2013— The US government says that to make eggs safe, it must implement a rule preventing egg-laying chickens from ranging free outdoors. Are eggs from properly raised outdoor hens really unsafe? Or is this just an attempt to provide cover to industrial growers trying to duck the USDA organic standard, which (technically) requires pasturing. Guests are Christian and Stephanie Alexandre of Eco-Dairy Farm; and Mark Kastel, cofounder and farm policy analyst at the Cornucopia Institute.
Go to page | Download/Listen 45:00

Diet Science
Skipping Breakfast Can Be Hazardous to Your Health — 12 Aug 2013— A new study suggests that eating breakfast is essential to good metabolic health.
Go to page | Download/Listen 5:29
Nutrition Diva

Juicing—Healthy Habit or Blood Sugar Bomb? — 13 Aug 2013— Lots of people are juicing for health, and it can be a good way to get more vitamins, minerals, enzymes, and antioxidants. But depending on how you are juicing—and how much juice you are consuming—your juice-fest could be doing a number on your blood sugar.
Go to page | Download/Listen 8:23

NPR
"Escaped GMO Wheat" Mystery Deepens — 17 Jul 2013 — When a farmer in Oregon sprayed a field with the weedkiller Roundup, some clumps of green wheat stalks kept growing. They turned out to be from a GMO variety. But there are no approved GMO wheat varieties being grown in the US, and no one can agree on the how the seeds got into the farmer's field. Worse still, some scientists believe that there's a chance that genetically modified wheat is still in the seed supply.
Go to page | Download/Listen 4:05
(GP comment: All GMOs will eventually escape their designed boundaries. Monsanto knows this; so do the regulators.)
Nutrition Diva

Are You Getting Enough Iodine? — 10 Jul 2013— Common table salt is a good source of iodine—IF you buy and use iodized salt. Manufacturers of processed foods, however, are not required to use iodized salt and often do not. Sea salt does not contain iodine either. The best salt solution is to cook at home with ingredients you control. Kelp is also an excellent source of iodine.
Go to page | Download/Listen 6:50

Diet Science
New Study Indicates GMO Feed Causes Digestive Issues — 08 Jul 2013 — A new study finds that pigs fed a diet of genetically modified corn and soy suffer health effects compared to pigs fed non-GMO diets. All other conditions for the pigs were controlled, making this a high quality study. The main effect on the pigs was gastrointestinal inflammation.
Go to page | Download/Listen 6:49

Unwelcome Guests
GMOs, Glyphosate, and Human Health Risks — 15 Jun 2013 — Anti-GMO guru Jeffrey Smith interviews scientist Stephanie Seneff about a study detailing the health risks of glyphosate (Roundup), the most common herbicide used with genetically modified crops. Her recent paper implicates roundup in gastrointestinal problems, which are linked to a huge range of diseases, including obesity, depression, cancer, diabetes, heart disease, autism, Parkisons, and Alzheimers. This two-parter concludes with a radio adaptation of the 2009 film, Percy Schmeiser—David versus Monsanto, which tells the story of a Canadian canola grower who undertook an epic legal battle with Monsanto.
Ref page: Go to page
Part 1: Download/Listen 1:00:00
Part 2: Download/Listen 1:00:00
Electric Politics

How Processed Food Took Over the American Meal — 21 Jun 2013 — It's fair to say that there's more we don't know about modern food than what we do know, and that we don't know about the potential effects of thousands of additives routinely incorporated into processed comestibles. Melanie Warner, author of Pandora's Lunchbox, offers a shocking assessment of what you get when you eat industrial "applications"—that is, the processed food you can buy in the store but can't cook from ingredients available in your own kitchen.
Go to page | Download/Listen 41:43

Nutrition Diva
Nutrition Tips for Men — Jun 2013 — The Diva covers the nutritional strategies that best support men's health.
Download/Listen 6:30

One Radio Network
New Study Documents Health Problems in GMO-Fed Animals — 18 Jun 2013— Dr. Judy Carman and investigative farmer Howard Vlieger discuss a new study that shows health problems in animals given feed containing genetically modified (GM) crops. The results report reproductive and digestive problems in pigs fed a diet containing GM soy and corn, confirming what many farmers have seen in their operations. Part of the discussion centers on how direct consumption of GMOs (say, by eating conventional corn chips) or indirect consumption of GMOs (say, be eating meat from GM-fed animal) may affect humans.
Go to page | Download/Listen 1:06:59

Food Chain Radio
Organic—To Test or Not to Test? — 08 Jun 2013 — Organic food sales are growing fast, soon to surpass $100 billion per year. Occasionally, some organic food purveyors have been found to be cheating on the organic standards, taking advantage of the chaotic rise of organic—and taking advantage of consumers. Some monitoring or organic farms and processors is already done, but should more be done? What are the pros and cons of more stringent testing?
Go to page | Download/Listen 42:31
Nutrition Diva

Have We Bred the Nutrition Out of Our Food? — 04 Jun 2013— Monica Reinagel examines the claim that modern varieties have reduced the nutritional content of our food. While that may be true in some cases, the higher palatability of many modern varieties means that we eat higher quantities of them, so total nutritional intake is likely to still be fine.
Go to page | Download/Listen 6:17
Food Sleuth Radio

Will Daniel on Produce Pathogens and Organic Integrity — 16 May 2013 — Will Daniel, senior vice president of operations and organic integrity with Earthbound Farm, discusses food safety issues affecting leafy greens, including the steps large organic producers must take to ensure that their products reach consumers with zero problems.
Go to page | Download/Listen 28:15
Democracy Now

Michael Pollan on Food and Cooking—Fire, Water, Air, and Earth — 06 May 2013 — Michael Pollan's new book is "Cooked—A Natural History of Transformation." Pollan argues that regaining control of your cooking is the single most important step anyone can take to help make our food system—and their lives—healthier and more sustainable. "There is a deliberate effort [by corporations] to undermine food culture to sell us processed food," Pollan says. He adds, "Slow, [good] food is about recovering that space around the family and keeping the influence of food manufacturers outside of the house. ... The family meal is very important. It's the nursery of democracy."
Watch | Download/Listen 48:53

One Radio Network
GMO Safety—Don't Believe the Industry Science — 26 Mar 2013 — Howard Vlieger reviews new information on RNA and DNA damage from GMOs. In an Australian study, formaldehyde was found in Roundup-Ready corn. He recounts some of the negative findings in independent studies of GMOs and reminds us that when our leaders say the science indicates GMOs to be "safe," they are referencing GMO-industry-sponsored science, which surprise-surprise, always finds GMOs to be safe. Mothers Across America is a new anti-GMO organization that people can join to fight the GMO scourge.
Go to page | Download/Listen 1:01:52
Nutrition Diva

Is Carnitine in Red Meat Putting You at Risk for Heart Disease? — 16 Apr 2013 — Carnitine is found in most meats, especially red meat. Its metabolic pathway can, under some conditions, produce compounds that contribute to heart disease. But as the Nutrition Diva points out, there are many factors that determine whether red meat should play a role in your diet.
Go to page | Download/Listen 7:06

Democracy Now
New Extra-Legal Protection for GMO Companies Outrages Food Safety Advocates — 02 Apr 2013 — President Obama and Congress have outraged food activists by approving a spending bill with a controversial rider that critics have dubbed the "Monsanto Protection Act." The rider says the government must allow the planting of genetically modified crops even if courts rule they pose health risks. Gregory Jaffe, director of the Biotechnology Project at the Center for Science in the Public Interest, and Wenonah Hauter, executive director of Food & Water Watch, debate the provision and the broader issues of genetically modified foods.
Watch 1 | Watch 2 | Download/Listen 44:39
(GP comment: Apparently, CSPI has been captured by the GM industry. Their position that the science so far says "GMOs are safe" is ignorant and ignoble.)

The Wringer
Alexis Baden-Mayer of OCA on Labeling GMOs — 28 Mar 2013— First, an excerpt from the film Genetic Roulette explains the four steps you can take to avoid GMOs in your diet. Then Alexis Baden-Mayer of the Organic Consumers Association offers the latest on GMOs, explains why they are toxic, and offers suggestions on what we can do to get GMOs labeled this year.
Go to page | Download/Listen 1:00:00

Food Sleuth Radio
The Threat of Genetically Engineered Salmon to Wild Fisheries, Coastal Economies, and Ecosystems — 14 Mar 2013 — Anne Mosness, food policy analyst and former commercial fishing boat captain, discusses the threat of genetically engineered salmon—the first US-approved GE food animal—to wild salmon fisheries and ecosystems, as well as to the economic well being of wild-catch fishermen.
Go to page | Download/Listen 28:15
Radio EcoShock

Rehabbing the Food Bank with a Better Foundation — 10 Apr 2013 — Nick Saul is author of The Stop—How the Fight for Good Food Transformed a Community and Inspired a Movement. The book describes how he and others shifted the depressing food-bank mentality in their Toronto community to a model of food empowerment.
Go to page | Download/Listen 22:00

Food Chain Radio
New Food Rules from the Government and Monsanto May Overwhelm Some Farmers — 23 Mar 2013 — In the continuing march towards food oblivion, the US government and its Monsanto-spawned food safety chief, the notorious Michael Taylor, have a new 1000+ page document out on the street to tell food purveyors all about the new things they must do if they want to keep being part of the food biz. Oh, and by the way, reserve a few million bucks for fines if you screw up.
Go to page | Download/Listen 45:00
Food Chain Radio

Soy, Diet, and Health — 02 Mar 2013 — Pharmacist Ben Fuchs discusses the ubiquity of soy in processed foods and the health dangers that can arise from too much soy or soy in the wrong form. Topics include the extent to which soy has become a major dietary ingredient; what impact eating so much soy—or any one food—might have on the development of the human body; and whether always eating soy could be stimulating early sexual maturity in some children.
Go to page | Download/Listen 42:35

Diet Science
Cows Fed Flaxseed—Guess What Happens Next! — 25 Feb 2013 — The brains in the food-science industry have come up with a new one: feeding dairy cows flax seeds to boost the omega-3 content of the milk. Omega-3 essential fatty acids are good, so neat! ...right? Wrong—and nutritionist Dee McCaffrey explains why.
Go to page | Download/Listen 7:41
Nutrition Diva

Surprise! In Moderation, These Foods are Heart-Healthy — 19 Feb 2013— Foods like almonds, salmon, dark chocolate, and red wine are often recommended as "heart-healthy foods." But here are five more that you might be surprised to find are good for the ol' ticker; in fact, these food are typically excluded from a cardio-conscious diet. They include lean beef, beer, coffee, and potatoes. We'll save the fifth one as a surprise—and you WILL find it surprising!
Go to page | Download/Listen 6:48

TUC Radio
Sandor Katz: The Essential Role of Beneficial Bacteria — 20 Feb 2013— Sandor Katz offers an eloquent defense of the much-maligned microorganisms in our lives, without which our lives would actually not be possible. He briefly reviews the ubiquity of bacteria in nature and spends the majority of the talk discussing the value of fermented foods, from sourdough bread to yogurt to vinegar. He also explains the mystery of why your attempts to use commercial yogurt as a one-time starter for your own yogurt-making efforts are doomed to failure.
Go to page | Download/Listen 29:02
Living on Earth

The Fight for GMO Labeling is Accelerating — 01 Feb 2013 — Three months ago, Prop 37, a California ballot measure to mandate the labeling of GMO foods was defeated, partly due to fierce lobbying from the food industry. But similar initiatives are underway in other states, including Vermont, New Mexico, and Washington. Now it looks as though some big players in the food industry may be less opposed to a federal labeling law because it would avoid a patchwork of state laws. Trudy Bialic of PCC Natural Markets explains.
Go to page | Download/Listen 6:16

Food Sleuth Radio
Antibiotic Resistant Bacteria Found in Supermarket Pork Chops and Ground Pork — 17 Jan 2013 — Michael Hansen of Consumers Union discusses their report showing that pork chops and ground pork in US supermarkets are often contaminated with antibiotic resistant bacteria. Importantly, he notes that this is largely a problem of the industrial meat industry, and that buying organic is the best assurance that the risk of contamination is minimized. .
Go to page | Download/Listen 28:15

Nutrition Diva
Is Modern Wheat Making Us Sick? — 15 Jan 2013 — Some sources say that wheat bread can spike blood sugar levels even more than consuming a candy bar. The argument is that today's wheat has been modified to a point where the body does not recognize it as something natural and so it goes into a fat-storing panic mode. Is this true? Are wheat alternatives like spelt better?
Go to page | Download/Listen 7:12
Food Chain Radio

Kindly Raised Meat—Just for the Elite? — 05 Jan 2013— Custom butcher Rian Rinn and EcoFarm board member Thomas Wittman discuss the goal of getting more people to value and seek out non-CAFO meat. Topics include ...an overview of the meat trade; why some are looking to reestablish trade in local meats; and local vs. CAFO when it comes to how animals are killed and processed for sale.
Go to page | Download/Listen 45:46

Nutrition Diva
Artificially Sweetened Soft Drinks, Weight Gain, and Cancer — 18 Dec 2012— People often ask about diet sodas. Many see them as a harmless substitute for sugar-sweetened beverages. Others are deeply distrustful of the artificial sweeteners they contain—and there are plenty of scary rumors circulating on the internet to bolster these suspicions. Monica Reinagel discusses the latest research.
Go to page | Download/Listen 7:05

Nutrition Diva
Good Mold, Bad Mold — 04 Dec 2012— Mmmm.... Cheese.... But beyond a limited number of foods that actually rely on mold for their delicious existence, molds on foods and beverages (or their containers) are to be avoided. Here are some warning signs to look for, and some guidelines for dealing with suspicious leftovers.
Go to page | Download/Listen 6:15

Living on Earth
Mechanically Tenderized Meat—A New Frontier in Pathogen Problems — 14 Dec 2012— To make cheaper cuts of beef less tough, processors mechanically tenderize the beef with small needles or blades. Sarah Klein from the Center for Science in the Public Interest worries that the practice can insert dangerous pathogens like E-coli into the interior of the meat, which, depending on how you cook your steak, may not get hot enough to kill the germs. But Christy Bratcher, professor of meat science at Auburn University and spokesperson for the meat industry on the issue, says mechanically tenderized beef is safe as long as it is cooked to appropriate temperatures.
Go to page | Download/Listen 8:51

Nutrition Diva
Does Drinking Soda Thin Your Bones? — 13 Nov 2012— There are lots of reasons to avoid sodas, and the potential for bone thinning may be one of them.
Go to page | Download/Listen 8:04

Nutrition Diva
DHA and Your Brain — 20 Nov 2012— DHA is a type of omega-3 essential fatty acid that's important for healthy brain function. Lately, it's been proposed as a possible treatment for ADHD and as a hedge against Alzheimer's disease. DHA is indeed nutritionally important, but the data don't yes support DHA as a treatment for these diseases.
Go to page | Download/Listen 6:04

The Lifeboat Hour
If You Don't Like GMOs, Stop Buying Products That Support Them — 18 Nov 2012 — Michael Ruppert reads a list of companies and the amounts they contributed to defeat California's Proposition 37, which would have be the first GMO labeling law in the US. It is essential that we understand who the enemy is and withdraw our financial support from the products and companies that were on the wrong side of Prop 37.
Download/Listen 5:29
Diet Science

All Hale Kale! — 22 Nov 2012 — Dee McCaffrey discusses kale—nutrition facts, including antioxidant and anti-cancer properties; varieties of kale; and good ways to use kale in meals.
Go to page | Download/Listen 7:00

(GP comment: Wanna live long and prosper? Eat your (raw) veggies!)

Diet Science
The Powerful Anti-Oxidant Qualities of Turmeric — 19 Nov 2012 — Turmeric, a commonly used Indian spice and a key ingredient in curry powder, has powerful antioxidant properties. Dee McCaffrey talks about the spice, the important derivative curcumin, and the best forms to ingest.
Go to page | Download/Listen 6:25

Diet Science
The Unfortunate News About Carageenan — 26 Nov 2012 — Carageenan is a common food additive made from seaweed. It's used in many organic and "natural" foods. But it turns out carageenan is something to avoid.
Go to page | Download/Listen 7:20

Sea Change Radio
Frederick Kaufman: The Fix Is In On Food — 20 Nov 2012 — Frederick Kaufman discusses the factors that go into fluctuating food prices around the world, the corrupting influence of the food-commodities market, how our global food pricing system mirrors the widening gap between the haves and the have-nots, and the potential impact of geopolitical and weather trends on the availability of food.
Go to page | Download/Listen 29:59

One Radio Network
GMOs and Glyphosate Disrupting Digestive Function in Entire Food Chain — 06 Nov 2012 — Howard Vlieger began studying GMO crops in 1994 and has worked with some of the leading independent scientists evaluating GMOs. He says there is more research to be done, but the trend in the evidence against GMOs and its partner pesticide, glyphosate, is damning, showing that at all levels, from soil contamination to bovine intestinal degradation to human health effects, GMO crops are a negative factor in food. GMOs are also giving rise to "super weeds" and causing problems with pollinators. It's getting very hard to totally avoid GMOs in your food, though bans in some countries may be a turning point for the eventual fall of Frankenfood.
Go to page | Download/Listen 1:17:52

One Radio Network
Jim Riddle on How the Organic Standard Applies to the Food You Eat — 01 Nov 2012 — Organics expert Jim Riddle talks about the USDA organic standard and how it compares to the previous voluntary organic standards. He also clears up some myths, misconceptions, and questions about organic: Does the organic label ensure no GMOs? How can organic foods be contaminated with GMOs or pesticides? How can farmers become organically certified at minimal cost?
Go to page | Download/Listen 55:16

Nutrition Diva
Whole Grains—Hype or Health? — 30 Oct 2012 — The Whole Grains Council urges us to increase consumption of whole grains for better health. Of course, the Whole Grain Council is a front organization for companies that sell whole grain products. So is "health through whole grains" just hype? Well, partly....
Go to page | Download/Listen 7:12

Food Chain Radio
Federal Mandates Pose Challenge for School Lunch Chefs — 03 Nov 2012 — School lunch chef Jamie Smith and nutritionist Jill Troderman explain how the US government's No Hungry Kids Act, while well-intended, had thrown some curveballs at school chefs, even those who want to cook health-smart meals for picky kids. And where does the parental role fit into the equation?
Go to page | Download/Listen 42:42

Food Chain Radio
Who Says GMOs Are Safe? — 20 Oct 2012 — Does the US government say GMOs are safe to eat? No! What they say is that the makers of GMO crops have told them GMOs are safe, and it's up to Monsanto and other GMO companies to ensure the safety. Wheh! As long as someone is an honest watchdog! (Yes, sarcasm.) Michael Hansen of Consumers Union explains.
Go to page | Download/Listen 43:00

Nutrition Diva
Fat Levels in a Healthy Diet — 09 Oct 2012 — What is a healthy level of fat in a diet? Well, it depends on the type of fat. And it depends on what is being left out and replaced with fats.
Go to page | Download/Listen 6:41

Corbett Report
The GMO Agenda — 02 Oct 2012— Anthony Gucciardi of Natural Society discusses the GMO agenda that is changing the very genome of the foods that we are eating. He discusses the health effects of GMOs, how people can fight back against GMO foods, and natural alternatives that can help reverse the effects of the genetic damage that is already being caused by these foods.
Go to page | Download/Listen 45:45

InfoWars
Whole Foods Dancing on Monsanto's GMO Tightrope — 03 Oct 2012 — A controversial video of an undercover investigation into the presence of GMO foods at "organic" grocery leader Whole Foods Market was pulled from YouTube just days after its release, sparking a reaction throughout the health conscious blogosphere and alternative media. Aaron Dykes discusses this and other political aspects of the battle over openness and labeling of foods with genetically modified ingredients.
Watch | Download/Listen 19:10

TUC Radio
The Pathology of GMOs — 09 Oct 2012 — A quiet, unwelcome revolution has happened in our food supply over the last 15 years as industrial agribusiness has inserted more and more GMO components into our food. Don Huber, professor of plant pathology, speaks out on the dangers of genetically modified plants and a related pesticide, glyphosate.
Part 1: Go to page | Download/Listen 29:00
Part 2: Go to page | Download/Listen 29:00

Diet Science
Zaaappp! — What's Wrong With the Microwave? — 10 Sep 2012 — The evidence is mounting that microwaves aren't a good way to cook food, or even to reheat food, or even to heat water for tea. It has to do with the way the microwave energy changes the nature of the molecules in the substance being heated.
Go to page | Download/Listen 6:47

KOPN Food Sleuth
Choosing the Right Probiotic — 06 Sep 2012— Food scientist Mary Ellen Sanders, an expert in dairy probiotics and food cultures, explains the benefits of probiotics and offers tips for consumers trying to choose the right gut bacteria for the job. She also addresses the question of pill-form probiotics vs. foods like yogurt and kefir.
Go to page | Download/Listen 28:15

TUC Radio
The False Promise of Genetically Engineered Food — 19 Sep 2102— Under the Obama administration, approvals for new GMO plants have been on a fast track, despite the growing number of family farmers, medical professionals, and plant scientists who warn of health risks from foods derived from GMO plants and animals. Winonah Hauter, executive director of Food & Water Watch, explains what's at stake—overall and in the fight to start labeling GMOs in California.
Go to page | Download/Listen 28:58

The Gary Null Show
GMO Dangers—The Laboratory Evidence — 24 Sep 2012 — Gary Null plays clips from an interview with independent French scientists who studied RoundUp Ready corn. The scientists explain how both the Roundup pesticide and the genetically modified corn itself cause tumors and other health effects in lab animals. The corn used in the tests was the same corn found in many US and some European foods.
Download/listen to this segment 12:52

Food Sleuth Radio
Proposition 37 and the Fight Against GMOs — 20 Sep 2012— Stacy Malkan of California Right to Know explains why genetically modified foods are a problem for consumers; why California's Prop 37 is the first step to GMO labeling for the entire US (and, ultimately, to a ban on GMOs); and how consumers can be GMO-free (even without labeling) in the face of more and more GMO-containing foods appearing on the market.
Go to page | Download/Listen 28:15

One Radio Network
The Many Reasons Why Organic Food Is Far Superior — 10 Sep 2012 — In the face of the recent mainstream media reporting that organic food wasn't really any better than conventional, soil expert George Altgelt discusses the reasons that organically grown food actually is far better for you than conventionally grown food.
Go to page | Download/Listen 1:05:09

Diet Science
Why Keeping the Body Alkaline Is So Important — 03 Sep 2012 — Did you know that if our blood changes only one degree in its alkalinity, we die! This week Dee McCaffrey talks about why it's so important for our bodies to be alkaline while, unfortunately, the Standard American Diet (SAD) is very acidic. She also explains why sodas are among the worst acidic offenders.
Go to page | Download/Listen 7:48

Uprising
Food Crisis is Born of Poverty, not Production or Population — 11 Sep 2012 — The number of Americans suffering from hunger or food insecurity is growing, now standing at 17 million. , according to a Department of Agriculture report released last week. Recent warnings by three United Nations agencies point to a spike in global food prices in what could be a repeat of the 2008 food crisis. Raj Patel argues that the world is producing more calories per person today than ever before, concluding that the food problem is a matter of distribution rather than production.
Go to page | Download/Listen 16:12

Diet Science
Benefits of Juicing 101 — 20 Aug 2012 — Dee McCaffrey discusses juicing: What mix of fruits and vegetables works best? And why does juicing provide a boost beyond just eating veggies?
Go to page | Download/Listen 6:32

Guns & Butter
Jeffrey Smith on the Continuing GMO Nightmare — 15 Aug 2012 — Jeffrey Smith gives his usual excellent review of the GMO nightmare, including... problems with the process of gene insertion; genetic mutations and gut problems associated with GMOs; how a chain of GMO-pesticide-related nutrient deficiency propagates up the food chain, ending with humans; the clear reproductive anomalies seen in lab animals tested with GMOs; why we should dismiss Monsanto's claims that Roundup is a biodegradable pesticide; the "mystery organism" created by Monsanto's Roundup-ready Franken-technology.
Go to page | Download/Listen 59:51
(GP comment: Are you still eating non-organic soy, corn, and canola? See the Non-GMO Shopping Guide.)

Diet Science
The Antioxidant Power of Whole Grains — 23 Jul 2012 — Wholes grains are known for their helpful fiber content. But it turns out they also are high in antioxidants. Forget about refined flours, though.
Go to page | Download/Listen 6:12

KOPN Food Sleuth
Food Stamp Follies—Follow the Money — 05 Jul 2012 — As more Americans are slipping into the economic stratum that needs food stamps, big banks like JP Morgan are increasing the profits they make from running the food stamp (SNAP) program. Worse still, food stamps are often used to by sodas and other non-nutritive "food"; thus, taxpayers are subsidizing bad health and feeding the bottom lines of the agribusiness giants that sell junk food.
Go to page | Download/Listen 28:15

Diet Science
Updated Guide to Pesticide Residues — 09 Jul 2012 — According to an independent study by the Environmental Working Group, 68% of US produce items are contaminated with pesticide residues. The most contaminated items—including apples, celery, blueberries, cucumbers, grapes, lettuce, peaches, and strawberries—should always be bought organic. There's much more to know—find out at EWG's site.
Go to page | Download/Listen 5:42

Food Chain Radio
Walmart—The King of Cheap Food — 14 Jul 2012 — Wal-Mart now sells to US citizens more than one-fifth of their food, which is more than the combined sales of its three largest competitors. Tracie McMillan, author of The American Way of Eating, explores how WalMart got so big selling such cheap food.
Go to page | Download/Listen 45:28

Colbert Report
Thought for Food—Super-Mocha-Latte Coffin Edition — 16 July 2012 — Stephen Colbert finds the funny side of two coffee-related stories: A funeral home has decided a Starbucks employees, and another company has decided that your vehicle needs a coffee maker.
Watch | Download/Listen 4:17

Shift Shapers
GMO Review—From Consumer Rights to Corporate Malfeasance — 24 Jun 2012 — Shouldn't consumers be able to look at a food label and tell if the product contains genetically modified ingredients? Shouldn't we be upset that top executives from the biotech industry have written (and still write) GMO regulatory policy via the corp-gov revolving door? Shouldn't we be alarmed at the suppression of strong evidence that GMOs cause health issues in animals? Voices heard in this roundup include Jeffrey Smith, Mike Adams, and Pamm Larry.
Go to page | Download/Listen 58:20

Diet Science
Amazing Avocados — 02 Jul 2012 — Dee McCaffrey discusses new scientific findings about the virtues of avocados for good health and, surprisingly, weight loss.
Go to page | Download/Listen 7:45

KOPN Food Sleuth
Lunch Wars and the School Food Revolution — 14 Jun 2012 — Author and "angry mom" Amy Kalafa discusses the challenges and opportunities for improving the food available in schools. Topics include getting local food into schools, fighting budget constraints, giving junk food the boot, and how parents can get involved.
Go to page | Download/Listen 28:15
(GP comment: This may seem off-season, but it will take motivated parents time to research, learn, and formulate an action plan for the next school season.)

KOPN Food Sleuth
Bill Freese on the Science and Regulation of GMOs — 21 Jun 2012 — Bill Freese, a science policy analyst for the Center for Food Safety, discusses the science and regulation of genetically engineered (GE/GMO) crops, the failed promises of GE crops, and new 2,4-D-resistant crops awaiting government approval.
Go to page | Download/Listen 28:15

Diet Science
This Is Your Brain On Sugar — 04 Jun 2012 — A new study shows that rates have degraded memory and brain function when refined sugars with fructose are added to their diets. That includes regular sugar and high fructose corn syrup, but not whole fruits.
Go to page | Download/Listen 7:10

Diet Science
What Is Nutritional Yeast? — 11 Jun 2012 — Dee McCaffrey talks about nutritional yeast—what it is, how it's made, and what's so good about it.
Go to page | Download/Listen 7:32

CounterSpin
'Just Label It' a Major Battle in California — 08 Jun 2012 — Most people feel like there's a right to know what's in the food we eat. There is now a big push in California to label genetically modified foods, and the industry isn't happy about it. Alexis Baden-Mayer of the Organic Consumers Association explains.
Download/listen to this segment 8:42

One Radio Network
Russell Jaffe, M.D. on the Health Rewards of a Whole-Foods Diet — 21 May 2012 — Dr. Jaffe's venture into preventative and integrative medicine began when he set out to disprove their value, only to see for himself that holistic forms of care are more effective and compassionate. The imbalances we are experiencing largely come from high-tech living. We must increase the intake of essential nutrients by eating more whole, non-processed foods. It's also essential to maintain a healthy gut. By "treating through eating," we can reverse chronic illnesses such as fibromyalgia and chronic fatigue.
Go to page | Download/Listen 1:03:03

KOPN Food Sleuth
GMOs 101 — 31 May 2012 — Patty Lovera of Food and Water Watch explains how genetically modified organisms (GMOs) are used in agriculture and food production, how consumers can choose grocery items that are GMO-free, and how we can support the effort to get companies to put labels on GMO-containing foods.
Go to page | Download/Listen 28:15

NPR
Antibiotic-Free Meat Business Is Booming, Thanks To Chipotle — 31 May 2012 — When Chipotle's founder switched from industrial pork to antibiotic-free, free-range pork, the price went up. But nonetheless, sales doubled, as customers noted the superior taste of the meat and voted with their pocketbooks on non-antibiotic, free-range animal husbandry. Now many big food services are getting into the act, creating a demand surge.
Go to page | Download/Listen 7:05

Diet Science
The Health Benefits of Chocolate — 14 May 2012 — Dee McCaffrey covers the health benefits of chocolate—in particular, it's strong anti-oxidant properties. But the quantity per day, the percentage of cacao, and amount of sugar in your chocolate are all important considerations.
Go to page | Download/Listen 7:34
Related GP article:
-- Chocolate and Health

Nutrition Diva
Is the Sugar in Fruit a Problem for Dieters? — 16 May 2012 — A popular TV personality has been putting out a lot of claims about the adverse impact fructose has on weight management. The Diva explains why this self-proclaimed dieting expert is bananas.
Go to page | Download/Listen 9:01

Free Speech Radio News
Obama's Plan for Food Crisis in West Africa Pushes GMOs — 18 May 2012 — President Obama announced a sweeping initiative to address the ongoing food and water crisis in West Africa, but critics are concerned about an increased reliance on multinational corporations, genetically modified crops, patented seeds, and chemical pesticides.
Go to page | Download/Listen 4:33
Red Ice Radio

Dr. William Davis: Why Wheat is Making People Ill — 29 Apr 2012 — Cardiologist William Davis explains why eating "healthy whole grains" is only less bad than eating refined-grain products. Modern wheat strains, though highly productive, have increased the proportion of compounds that raise blood sugar too high, act as an opiate, and stimulate appetite— regardless of whether the wheat is organic, multi-grain, whole grain or sprouted. By going wheat free, thousands of his patients have beaten digestive disorders, weight problems, joint pain, and heart disease.
Go to page | Download/Listen 58:52

KOPN Food Sleuth
Helping the Nation's Young Food Producers — 26 May 2012 — Lindsey Lusher Shute reviews a number of new initiatives designed to preserve farmland and help motivated young people be successful in farming endeavors. pairing young farmers with older mentor farmers and dormant farms; ensuring access to capital; and real estate agreements that keep farmlands as farms.
Go to page | Download/Listen 28:15

Sea Change Radio
Know Your Fair-Trade Food — 08 May 2012 — Rodney North of Equal Exchange, the first organization that promoted socially responsible goods as "fair trade," updates us on fair trade issues. ~~ Then Evan Gillespie discusses the push for energy reform in California, including a solar bill of rights.
Go to page | Download/Listen 30:00

Nutrition Diva
EFA Deathmatch—Omega-6 vs. Omega-3 — 18 Apr 2012 — The question of omega-3 essential fatty acids vs. omega-6 EFAs is tricky but essential—there are few nutritional issues more important to basic health. In this clip, Monica Reinagel does an excellent job of explaining why it matters, and why a recent report on the topic is bafflingly bad.
Go to page | Download/Listen 7:56
Colbert Report

Thought for Food—Bug Food Coloring, Hot-Dog-Stuffed Crust & Drugged Poultry — 17 Apr 2012 — Funnyman Stephen Colbert covers three recent food-related news items: Starbucks admitted it uses pulverized bugs to color its strawberry frappuccinos; a British Pizza Hut has introduced a hot-dog-stuffed pizza crust; and some chicken feed includes caffeine and Prozac.
Download/Listen 6:02

You Bet Your Garden
Watermelons, Peppers, Pears, Kiwis, and More — 14 Apr 2012 — Topics this time include... tips for growing watermelons and peppers; pruning pear trees and thinning the fruits; worm composting vs. compost tea; how to grow kiwis anywhere in the US.
Download/Listen 52:15
More YBYG

Coast To Coast / KSFO
The Food Conspiracy—And How to Escape Its Health Traps — 03 Apr 2012 — James Colquhoun and Daniel Vitalis discuss the profit motives and methods of Big Food and Big Pharma; the importance of a high nutrient-to-calorie ratio; strategies for everyday detoxification; and the most important changes you can make in your diet.
C2C REF PAGE: C2C show info page
PART 1: Download/Listen 1:00:00
PART 2: Download/Listen 1:00:00
Note:
MP3s mirror KSFO's full hours; meat typically runs from 10:00-29:00 and 38:00-58:00.

Diet Science
Milk From Conventionally Raised Cows Linked to Hormone-Driven Cancers in Humans — 02 Apr 2012 — A new Harvard study links excess hormones in milk from conventionally raised cows to certain types of human cancers. The hormones are not the ones added intentionally by the farmers; they are hormones the cows themselves are overproducing in response to the unnatural conditions they experience in factory farms. Milk from grass-fed cows and organically raised cows did not have the dangerous levels of hormones, and neither did raw milk.
Go to page | Download/Listen 7:43

Sea Change Radio
GMOs—Unlabeled Experimental Foods — 03 Apr 2012 — Charles Margulis thinks American consumers have the right to know when they are eating genetically modified organisms (or, as he calls them, unlabeled experimental foods). He discusses the rise of GMOs, the movement pushing for more regulation of GMOs, and the substantial resistance that proponents of GMO labeling have encountered.
Go to page | Download/Listen 29:30
KOPN Food Sleuth

Why Organic is Superior to Conventional — 29 Mar 2012 — Jim Riddle compares organic agriculture and food to the processes and products from the industrial agriculture sector. Subtopics include pesticides, health, and organic standards.
Go to page | Download/Listen 28:00

NPR
The 26-Ingredient School Lunch Burger—Really? — 02 Apr 2012 — Mystery meat is just one of the problems with the fare available in the typical school cafeteria. But some schools are trying to get back to basics—which includes actually preparing food on-site rather than just reheating processed foods.
Go to page | Download/Listen 8:08

Nutrition Diva
Carob vs. Chocolate — 29 Feb 2012 — Carob is sometimes used as a substitute for chocolate. Is this appropriate? What are the nutritional differences between the two?
Go to page | Download/Listen 6:30
Diet Science

Stevia—Natural, No Calories, and Healing? — 05 Mar 2012 — The natural sweetener stevia has no sugars and, hence, no calories, but it is also packed with a number of important nutrients. New evidence suggests that stevia has the ability to heal the cells of the pancreas and provide other health benefits.
Go to page | Download/Listen 6:58

Biodynamics Now
Fake CSAs? — 05 Mar 2012 — Are new "box services"—services that aggregate products from multiple farms and offer weekly subscriptions to customers—really CSAs? Shouldn't the farms that feed the box services always be known to the customers? Should the "CSA" label be limited to single-farm direct-to-consumer services?
Download/Listen 1:10:16
More BN Shows

Colbert Report
Stephen Colbert on Food Trends — 06 Mar 2012 — Funny-man Colbert ponders the end of king-size Snickers bars and the rising popularity of second breakfast, a la hobbits and mainstream media trolls.
Watch | Download/Listen 4:35

One Radio Network
The War on Supplements — 06 Mar 2012 — Scott Tips of the National Health Federation discusses a bill in congress intended to push back against FDA actions that would make regulatory procedures for supplements extremely arduous and costly, forcing many supplements off store shelves.
Go to page | Download/Listen 57:19

Living on Earth
Eco-Conscious Cooking 101 — 24 Feb 2012 — Culinary schools are starting to add courses in eco-conscious cooking to their curricula—how to take advantage of local foods, seasonal foods, and edible landscapes surrounding the restaurant.
Go to page | Download/Listen 8:22
(GP comment: Good trend, but how is organic food not part of this story?)

Nutrition Diva
How Important Is a Varied Diet? — 07 Feb 2012 — A varied diet—one rich is many different types of foods—offers a few advantages. There is, however, one potential downside.
Go to page | Download/Listen 6:28

NPR
Arsenic Found In Rice Products — 02 Mar 2012 — Researchers recently found surprisingly high levels of arsenic in rice. Most of the arsenic is there because it was naturally in the environment where the rice was grown. Still, moderating intake of products that have higher concentrations of arsenic is advisable.
Go to page | Download/Listen 3:38
KOPN Food Sleuth

Dealing with Food Waste — 26 Jan 2012 — Nora Goldstein, editor of BioCycle, a magazine devoted to composting, renewable energy and sustainability, discusses food waste. The hierarchy of food-waste reduction is to first divert usable food to alternate streams where it can be consumed by humans, and less palatable but non-spoiled foodstuffs can go to animal feed streams. The rest needs to go to composting operations. And what is one to do with leftover meat scraps? She also explains why it's a myth that it's a good idea to put yard waste in landfills as a way to generate energy.
Go to page | Download/Listen 28:15

KOPN Food Sleuth
The Non-GMO Project — 09 Feb 2012 — With Monsanto and other agribusiness purveyors of GMO-containing foods blocking GMO labeling in the US, the Non-GMO Project is trying the other route—labeling foods that don't have genetically modified ingredients. Megan Westgate explains the goals of the project and also offers some basic tips on avoiding GMO-containing foods.
Go to page | Download/Listen 28:18

TUC Radio
Family Farmers v. Monsanto—Will the Courts Reign in the GMO Death Star? — 07 Feb 2012 — Dan Ravicher, attorney for the Organic Seed Growers & Trade Association and others, is representing over 300,000 individuals in an effort to block Monsanto from suing farmers whose land was contaminated by pollen or seed from genetically modified plantings by their neighbors. Here, he summarizes the issue and the case.
Go to page | Download/Listen 29:01
(GP comment: That's right, rather than the organic and non-GMO farmers being compensated by Monsanto for GM contamination of their fields, they are sued by Monsanto for theft of intellectual property. Easily the most evil company on the planet.)

Gary Null Show
Agent Orange: From Chemical Warfare in Vietnam to a Farm Field Near You — 08 Feb 2012 — (1) Gary Null reviews recent health, democracy, and freedom news, including lawlessness in the corp-gov axis and why you should get some chocolate every day. ~~ (2) Fred Wilcox reviews the legacy of Agent Orange and one of it's troublesome chemical components, 2, 4-D. The really bad news: The US Gov is on the verge of approving a new GM corn plant that is resistant to 2, 4-D, which will mean a huge increase in how much of the chemical is used.
Download/Listen 1:01:08

Diet Science
Agave Nectar—Sweet, But Not So Natural — 06 Feb 2012 — Purveyors of health food have touted agave nectar as a good natural sweetener. But the process for making agave nectar is rather akin to how high-fructose corn syrup is made, and agave nectar is actually sweeter that HFCS.
Go to page | Download/Listen 6:58

Unwelcome Guests
The Slow Down Diet—Whole-Person Digestion and Weight Loss — 11 Feb 2012 — Marc David makes the case that good nutrition and successful dieting are more about how we eat than what we eat. In particular, stress sends the wrong signals to our digestive process, making us feel unsatisfied by meals and reducing the effectiveness of digestion and nutrient dispersal.
Go to page | Download/Listen 59:30

Nutrition Diva
Nutrition Traps — 23 Jan 2012 — Monica Reinagel explores three of the top "nutrition traps": assuming "natural" and "organic" snacks are healthy; overeating whole grains; worrying too much about occasional binges and not enough about everyday behavior.
Part 1: Go to page | Download/Listen 6:21
Part 2: Go to page | Download/Listen 4:37
Part 3: Go to page | Download/Listen 4:37
Coast To Coast / KSFO

Meet Monsanto's Michael Taylor, the Person Responsible for the Most Food-Related Deaths in History — 28 Jan 2012 — GMO guru Jeffrey Smith reviews the many ills of GMOs in our food supply (which he seems to be able to do repeatedly and yet add a fresh feel each time). Near the end of the conversation, he tells the story of Michael Taylor, the Mon-satan-o demon who has passed repeatedly through the corp-gov revolving door and had the most influence of anyone on the US's deadly GMO policy.
C2C show info page | Download/Listen 45:38

Food Chain Radio
US Food Supply Permeated by Unlabeled GMO Ingredients — 14 Jan 2012 — Pamm Larry of LableGMOs.org and Thomas Wittman of the Genetic Engineering Blog discuss genetically modified organisms in the US food supply. Topics include how GM foods are made, why US foods are so contaminated with GM, whether these modified genes are safe to eat, and labeling of GMO foods.
Download/Listen 42:56
More Food Chain Radio

KOPN Food Sleuth
Alaska Wild Salmon and the Threat of Farm-Raised Fish — 12 Jan 2012 — Ann Mosness, a commercial fisherwoman and food/fisheries activist, discusses Alaska wild caught salmon, the families dependent on truly sustainable fishing, and the threats of farm-raised and genetically modified fish.
Go to page | Download/Listen 28:15
AD CLICKS AND AMAZON PURCHASES FROM HERE HELP SUPPORT THIS FREE SITE. THANKS!
Search Amazon.com ....