MOST RECENT AUDIO view by topic
CATEGORY: FOOD, ORGANICS — 30.JAN.2015

One Radio Network
Keeping Food Clean—Overseeing the Organic Food Industry —
Mark Kastel of The Cornucopia Institute talks about agribusiness' constant attempts to weaken the USDA organic standard—and what we can do about it. Topics include ... big companies trying to do organic on-the-cheap; Eden Foods and other food companies using excellent business ethics; the scorecard on the Cornucopia website that lets you research your favorite organic companies; carageenan, yes or no; why Chipotle took pork off the menu in 1/3 of its restaurants; why monocropping hurts soil; long term effects of GMO foods on human health; how buying organic protects you from the worst issues in the food industry.
Go to page | Download/listen 59:36
GP comment: The Cornucopia Institute and the Organic Consumers Association—not to be confused with its evil name-twin the Organic Trade Association—are among the few things that keep the agribusiness juggernaut from crushing the value of the USDA organic standard (which is already a lower standard than it should be!).
Original Show Pub Date: 20.Jan.2015
CATEGORY: EMPIRE, FINANCIAL — 30.JAN.2015

One Radio Network
Powerful Counterforces and Ugly Days Ahead for the American Empire — Geopolitics analyst Jim Willie discusses world events in the context of the monetary wars that continue to unfold. Topics include ... the three major factions who run the world; dollar losing market share; Germany actively looking for credible ways to exit the Euro Zone; global currency reset is real and in motion; large amounts of gold in Russia and China, but not the US; The Vatican has vast assets going back over a thousand years; oil price is all about derivatives, not supply and demand; Putin kicked the Rothschilds out of Russia a few years ago.
Go to page | Download/listen 57:39
GP comment: A lot of what Willie says sounds dead-on. But he's one of those guys who has "deep sources." IMO, such sources are often going to be operating in the mode of using otherwise bona fide analysts like Willie to spread disinformation. In this case, I'm thinking of Willie's discussion of the powerful "Eastern white hats" that are poised to take down the Western black hats and restore peace and ecological balance to the planet. Uh, huh. Sounds like a classic "external savior meme" to me—that is, we who are worried about totalitarianism and might otherwise rise up can relax and feel reassured that heroic forces will save us.
Original Show Pub Date: 26.Jan.2015 ~~ Original Story Title: Jim Willie - The End of the American Empire---Big, Powerful, Nasty & Ugly Days Ahead
CATEGORY: ENERGY, FINANCIAL, COLLAPSE — 30.JAN.2015

Peak Prosperity
Gail Tverberg: Beginning of the End For Oil Production —
Gail "the Actuary" Tverberg discusses the recent sharp down-trend in the price of oil, the unfolding collapse in the shale-oil industry, and why this is ushering in a permanent turndown in oil production. Sees the global economy caught between the Scylla and Charybdis of too-low or too-high oil prices, with central banking games and Wall Street derivatives the highly combustible factors that will light a brush fire that will burn through the companies in the oil industry and eventually blow up the rest of the financial world too.
Go to page | Download/listen 44:20
GP comment: I found this a bit dense and difficult to stay interested in, but there is some good info here.
Original Show Pub Date: 17.Jan.2015 ~~ Original story title: Gail Tverberg: This Is The Beginning Of The End For Oil Production --- Why the shale collapse is ushering in a permanent turndown
CATEGORY: EMPIRE — 28.JAN.2015

Unwelcome Guests
Dispatches from Weimar America —
This show features various authors and activists talking about state surveillance and unchecked power in the US. First, Mark Crispin Miller discusses Project Censored's "forbidden bookshelf" project, which aims to republish in electronic form books that governments have tried to suppress. Then Alfred McCoy explains the extent of the surveillance systems underway, saying they far exceed the Snowden disclosures. Naomi Wolf explains why the Snowden story may be something other than what we think it is. Heidi Boghosian talks about the death of democracy", followed by Chris Hedges offering a personal reflection on the psychology of the super-rich. Finally, we get a radio adaptation of "The Strange Case of Phillip Marshall," a CIA insider who publicly questioned the official story of 9-11. He and his family then died in what has been officially called a murder-suicide.
Go to page A | Download/listen A 1:00:00
Go to page B | Download/listen B 1:00:00
GP comment: Lots of really good stuff here. On the Snowden question, he made the public aware of (at least part of) the illegal government spying on citizens that's been going on. Now, if the public does not rise up and put a stop to it, then those doing the current illegal spying will know they have carte blanche to do whatever they want in the future. Whether they put Snowden up to it because they wanted the question answered or whether Snowden is a legitimate whistleblower is far less important than whether Big Brother gets the green light.
Original Show Pub Date: 27.Dec.2014
CATEGORY: HEALTH — 28.JAN.2015

Life Matters
Anit-Inflammatory Properties of Glycine — Because most of us don't cook bones and cartilage into soup as previous generations did, we're missing essential nutrients, glycine among them. Dr. Joel Brind talks explains why the amino acid glycine is essential to regulating your body's inflammation. He recommends glycine supplementation, and talks about a study that suggests this can also be helpful for those facing type II diabetes.
Watch | Download/listen 23:33
GP comment: Pretty interesting. I've had some success with one specific form of magnesium that include glycine. Now I know why.
Original Show Pub Date: 14.Apr.2014
CATEGORY: FOOD, GMOs — 28.JAN.2015

Corbett Report
Food—Can DIY Conquer "OMG!"? —

The problems of the industrial food system are obvious: food safety scandals, the death of family farming, food supply insecurity, the revolving door between corporate lobbyists and government regulators, and many more. The solution should be equally obvious: rolling up our sleeves and getting in the garden. James Corbett reviews some of the evidence against the industrial food model and then explores growing your own as a simple, natural solution to one of our most fundamental problems.
Go to page | Download/listen 55:38
GP comment: This is a good primer for those who are relatively new to these issues. If you've been grappling with the issue of industrial food for a while, you probably won't hear much new here. See GP's page for gardening and agriculture audio for additional shows on those topics.
Original Show Pub Date: 14.Jan.2015 ~~ Original story title: Episode 299 -- Solutions: Guerrilla Gardening
CATEGORY: FUNNY — 28.JAN.2015

Fresh Air
Early On, Comedian John Cleese Says, He Had Good Timing But Little Else —
John Cleese co-founded the Monty Python comedy troupe and co-wrote and co-starred in the hilarious TV series Fawlty Towers and iconic Python movies like "Holy Grail" and "Life of Brian." Here he talks about his childhood, education, and his early years in show business, as well as some of the successes that came later. Classic comedy clips pepper the show.
Go to page | Download/listen 38:36
GP comment: Cleese is probably one of the top 10 comedians of all time. But this is still mostly for fans of Cleese, Monty Python, and Fawlty Towers.
Original Show Pub Date: 16.Dec.2014
CATEGORY: EMPIRE, MEDIA — 24.JAN.2015

Democracy Now
Scoring the Fight For Truth—One Loss (Barrett Brown), One Win (Robert MacLean) — Barrett Brown, an activist-journalist has been given a five-year prison term and ordered to pay nearly $900,000 in restitution and fines. His crime? Publishing hacked emails showing bad corporate ethics. Supporters say Brown has been unfairly targeted for investigating the highly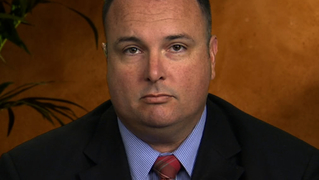 secretive world of private intelligence and military contractors. ~~ In July 2003, after being stymied by official channels, federal Air Marshal Robert MacLean revealed to MSNBC that the Department of Homeland Security had decided to stop assigning air marshals to certain long-distance flights in order to save money, despite warnings of a potential plot to hijack US airplanes. Three years later, after admitting to being the story's source, he was fired. Based on this case, the US Supreme Court has upheld 7-2 the right of federal employees to become whistleblowers.
Watch A | Watch B | Download/listen 22:28
GP comment: You have to admire Brown's steely sense of humor: After his sentencing on Thursday, Brown released a satirical statement that read, in part: "Good news! The US government decided today that because I did such a good job investigating the cyber-industrial complex, they're now going to send me to investigate the prison-industrial complex."
Original Show Pub Date: 23.Jan.2015 ~~ Original story titles: Barrett Brown Sentenced to 5 Years in Prison After Reporting on Hacked Private Intelligence Firms + In Victory for Govít Whistleblowers, Supreme Court Sides with Fired TSA Air Marshal Who Spoke Out
CATEGORY: FOOD, HEALTH — 24.JAN.2015

Susun Weed
Coffee—A Surprisingly Healthy Brew — Herbalist and alternative health guru Susun Weed talks about the many benefits of coffee. There are a few potential downsides, she says, but for most people, the data overwhelmingly show that coffee and caffeine help reduce risk in just about every major disease category.
Go to page A | Download/listen A 31:41
Go to page B | Download/listen B 33:58
GP comment: I was actually surprised there weren't more cautions against coffee consumption here. But I love coffee, so YEAY! I do have to wonder, though, how much of the protective effect is merely counterbalancing other bad habits. Nonetheless, since we are indeed creatures of (bad) habit, carry on with the slurping! Weed does add that while the coffee itself is good, the other things some of us put in it are ... not so much.
Original Show Pub Date: Aug.2013
CATEGORY: EMPIRE, FINANCIAL — 23.JAN.2015

Legalise Freedom
The Grand Manipulation —
Trends forecaster Gerald Celente talks about where things are and where they are going. Topics include ... globally depressed economic activity; wealth concentration; insufficient demand for current production; the bankster takeover; the two different sets of rules for free speech; we're in a permanent War on Terror now, and a more serious global conflict is coming. He thinks the current political parties and leaders are beyond redemption, though he thinks a new, completely unaffiliated party is worth trying. He says four words killed capitalism: Too Big To Fail.
Go to page | Download/listen 29:11
GP comment: Celente has said most of this before, but he's always worth a listen. One point of disagreement: I don't see how a third party makes it when the Republicrat duopoly controls the election rules.
Original Show Pub Date: 16.Jan.2015
CATEGORY: ENVIRONMENT — 23.JAN.2015

Sea Change Radio
Smarter Cities —
Many planners agree that a more centralized population is a good thing for long-term environmental responsibility. But as people all over the world continue to flock to urban centers, the challenge of creating sustainable cities becomes more pressing. How can cities be improved to ensure that their billions of residents have energy-efficient transportation, housing, waste-stream management, as well as clean air and water? Ecological urban planner Melanie Nutter walks us through some of the emerging policies and practices to promote smart, sustainable, resilient cities.
Go to page | Download/listen 29:00
GP comment: Nutter has good ideas, and they seem to be fairly successful in San Francisco. But the success largely depends on the target city being highly prosperous in general and green-minded specifically. Many of these programs simply would not sell politically or economically in, say, Atlanta. I'm not saying Atlantans shouldn't get on board with such ideas; just that it's not likely to happen on nearly the same scale as it has in SF.
Original Show Pub Date: 13.Jan.2015
CATEGORY: EMPIRE — 22.JAN.2014

Democracy Now
Obama's SOTU—Contradictions and Missed Opportunities —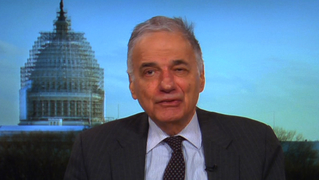 Ralph Nader points out some of the many inconsistencies in Obama's State of the Union speech; for instance: Obama stressed civil liberties but was silent on renewal of the odious PATRIOT Act; he said there should be more domestic oil and gas production but also warned of climate change, which would be worsened by that production; Obama stressed workers rights and unions but then emphasized the need to fast track approval of the anti-worker Trans-Pacific Partnership trade act. Nader also criticized Obama for ignoring issues like commercial fraud on Medicare and Medicaid; a DoD audit; and corporate tax evasion.
Watch | Download/listen 3:58
GP comment: And, as Nader points out, Obama—almost unbelievably—talks again about closing down Gitmo, after six years of broken promises on that very issue. No doubt he has a bridge (to tomorrow) he'd like to sell us.
Original Show Pub Date: 21.Jan.2014
CATEGORY: ENERGY — 21.JAN.2015

Radio EcoShock / Legalise Freedom
A "Renewable World" Built on Fossil Fuels is Not a Renewable World —
The message for green-energy lovers and haters alike is simple: We can't keep this crazy civilization running just on the sun and wind, let alone on high doses of fossil fuels. When we stop being able to milk the billion year-pile of concentrated solar energy in the form of oil, gas, and coal, something WILL change. Energy expert David Fridley of the Lawrence Berkeley National Lab and the Post Carbon Institute talks about the energy dilemma, diving deep into the specifics. Topics/points include ... Our energy matrix cannot be renewable until the renewable-energy technologies and sources can replicate themselves. Wind turbines, solar panels, and electric cars are all hobbled by the limitations of fossil fuel inputs for their creation and maintenance as well as by the specialized minerals needed for their creation. He acknowledges the psychology of the American energy consumer as a key problem, referencing former Energy Department Secretary James Schlesinger's axiom that the American people only have two modes: complacency or panic.
Go to page | Download/listen 1:00:00
GP comment: This is one of the best reviews I've ever heard of the problems we face as demand for energy keeps rising but technology finds itself unable to compensate for the peak in global net energy. Must-listening!
Original Show Pub Date: 14.Jan.2015 ~~ Original story title: Green Dreams - Future or Fantasy?
CATEGORY: EMPIRE — 21.JAN.2015

Guns and Butter
The Deep State and the Paris Attacks — Michel Chossudovsky looks at the circumstances and backstory of the Charlie Hebdo attack, with an eye towards poking holes in the official story. Interesting factors include the "suicide" of a French detective a few hours after being debriefed on the attacks; whether the supposed perpetrators were in some way involved with French intelligence agencies; the hypocrisy of the French government decrying attacks on press freedom while engaging in suppression of reporting themselves. Chossudovsky also talks about state-sponsored terrorism by the major Western powers; the larger geopolitical game as it pertains to France and the US; and the new inquisitorial age, where the general public does not question the need to eliminate those labeled "enemy" at any cost, using any means.
Go to page | Download/listen 59:52
GP comment: Chossudovsky reaches a bit on some of his speculations, but there are many points that need consideration here, no matter how odious the implications are.
Original Show Pub Date: 14.Jan.2015 ~~ Original story title: "Who Was Behind the Paris Attacks?" with Michel Chossudovsky
CATEGORY: EMPIRE — 21.JAN.2015

Class War Films
Let Your Life Be a Friction to Stop the Machine —
The folks behind Class War Films are on a mission to expose, explain, attack, and dismantle the myth of American Exceptionalism and the mask of Predatory Capitalism. In less than half an hour, they do an astonishingly good job of just that, from the false egalitarian vocalizations of the Founding Fathers, through the rise of bankster/corporate hegemony, to today's "global war on terror" and useless mainstream-media parrots and squawkers.
Watch | Download/listen 22:51
GP comment: Try to watch this one—cool graphics. From 2012, but still perfectly relevant.
Original Show Pub Date: 2012
CATEGORY: HEALTH — 21.JAN.2015

One Radio Network
The Skinny Gut Diet — When it comes to digestive disorders, Brenda Watson has dedicated her career to helping people achieve lasting health through improved digestive function. Topics here include ... doing alimentary detective work; true fermented vegetables vs. canned; solutions for constipation; how gut bacteria can drive weight issues; the importance of gut microbe variety; probiotic recommendations and the "with food" vs. "away from food" question.
Go to page | Download/listen 1:01:58
GP comment: She's good, but for me, too much time was spent on "fat bacteria." I'm an ectomoprh!
Original Show Pub Date: 13.Jan.2015
CATEGORY: EMPIRE, FINANCIAL — 18.JAN.2015

Off-the-Grid News
Cash, Bank Accounts, Homes ... and the World of Government Seizure —
Ten years ago, the Supreme Court declared economic development to be a legitimate reason for a government to eminent-domain and repurpose private property. Since then, many states have passed laws forbidding seizure for that reason, but abusive practices are still happening. Phil Applebaum of the Institute for Justice discusses the case of a small Indiana town where the mayor proposed taking over an entire housing neighborhood for an unspecified future development plan. ~~ In part B, Larry Salzman, also of the Institute for Justice, talks about how banking rules apply to cash deposits. If you run a cash-oriented business and think you're safe from scrutiny or seizure if your deposits are always under the $10,000 threshold for banks having to report deposits, think again.
Go to page A | Download/listen A 20:53
Go to page B | Download/listen B 23:40
GP comment: This may not be widely applicable—yet. But it's always good to keep an eye on government overreach.
Original Show Pub Date: 15.Jan.2015 & 09.Jan.2015 ~~ Original story titles: How The IRS Can Secretly Drain Your Bank Account + Why Your Home Isn't Safe From Government Seizure
CATEGORY: ENVIRONMENT — 18.JAN.2015

Living on Earth
Climate and the Collapse of Western Civilization — Science historians Naomi Oreskes of Harvard and Erik Conway of CalTech have taken current climate science and extrapolated it into an apocalyptic new science fiction book, The Collapse of Western Civilization—A View From the Future. Oreskes discusses how democracy, the free market, and science are all failing to protect our future.
Go to page | Download/listen 16:28
GP comment: This dance doesn't include much climate apocalypso, but Oreskes ably lays out the inside-the-envelope view on climate status and action. In reality, any progress made on transitioning out of fossil fuels will come too slowly to make a difference in our future climate. But it will make a difference in many other environmental areas, so it's still worth doing.
Original Show Pub Date: 16.Jan.2015
CATEGORY: NUCLEAR, ENVIRONMENT — 18.JAN.2015

Fairewinds Energy Education
Debate: Should Nuclear Energy Be Expanded to Help Create a More Sustainable Future? — Given the seriousness of the climate challenge—of the need to get to a zero-carbon future—does nuclear need to play an expanded role in the world's energy matrix? This was the question that Hofstra University posed to a debate panel in late 2014. Arnie Gundersen of Fairewinds was among the debaters who discussed the environmental, fiscal, and policy issues pertaining to the expansion of nuclear energy.
Watch | Download/listen 1:31:10
GP comment: Even if one assumed sufficient additional nuclear capacity could be brought online in time to make a difference for climate mitigation—it can't—the answer is still "hell no." Gundersen had a couple of great lines; here is one: Nuclear proponents have faith that humans are smart enough to figure out how to store radioactive nuclear waste for a quarter million years. Alternative energy proponents have faith that humans are smart enough to figure out how to store electricity overnight.
Original Show Pub Date: 20.Nov.2014
CATEGORY: COLLAPSE, EMPIRE — 15.JAN.2015

The Lifeboat Hour
Dmitry Orlov on Collapse, US-Russia, Oil, and What We Can Expect in 2015 —
WRT the various stages of collapse, Dmitry Orlov vets the US: (1) financial collapse is "baked in"; (2) commercial collapse is slowly unfolding, with a high real-unemployment rate; (3) political collapse is already happening, at least in terms of loss of democracy; (4) unfolding cultural collapse is reflected in the general lack of community in the US and the smoldering dysfunction between race-based groups. He sees an emerging Asian bloc centered on Russia and China cooperation. Orlov also talks about the large jump in numbers of people paying attention to the truth of what's going on via his blog and other alternatives to mainstream media. Other topics include the energy-money game going on between the US, Europe, and Russia; why Grand Chessboard master Zbigniew Brzezinski is punking US interests for his own agenda; and the (non) likelihood of a major conflict between the US and Russia.
Go to page | Download/listen 53:28
GP comment: He clearly gives a pro-Russia slant, but his details seem convincing enough.
Original Show Pub Date: 11.Jan.2015
MORE AUDIO
See all most recent audio