MOST RECENT AUDIO view by topic
RSS (PODCAST FEED) NOW AVAILABLE

Grinning Planet audio is now available as a podcast via rss, for those who prefer such an approach. The feed validates at W3C so it should work with all standard feed readers. iTunes compatibility is as yet untested -- thanks in advance to anyone who wants to report back on that.
CATEGORY: INTERNET — 24.APR.2014

Uprising
Pushing Back Against the Commercialization of Everything on the Internet —
Astra Taylor, author of The People's Platform: Taking Back Power and Culture in the Digital Age, discusses the relentless commercialization of everything on the internet, from pay-to-play fees and boost-your-ranking fees to the commoditization of people's surfing and purchasing habits. Do major companies like Google, Facebook, and Amazon claim a level playing field but in reality foster a system that gives the advantage to large corporations? Do information aggregators like Wikipedia offer a true "people's voice" or do they merely serve as a conduit for information from traditional sources?
Go to page | Download/listen 36:43
GP comment: Her valuations of mainstream journalists and Wikipedia are far too high. Why assign higher value to a talented but co-opted journalist than to an non-co-opted amateur? And has she not read the Wiki-bureaucracy horror stories? Still, overall, lots of good points here
Original Show Pub Date: 23.Apr.2014
CATEGORY: FINANCIAL — 24.APR.2014

The Keiser Report
The Wealth-Harvesting Rentier Class — Max Keiser and Stacy Herbert explain how the rentier class is rising from the dead to harvest the increasingly-unable-to-afford-a-house middle classers as well as their student-debt-encumbered young.
Watch | Download/listen 12:47
GP comment: It's a little unfair to tar-and-feather all landlords as being part of the parasitic overlord class. But the larger point is, if the system reinforces the principle that having money makes you money, it ensures that most people will be financially exploited.
Original Show Pub Date: 22.Apr.2014
CATEGORY: SPECIES — 24.APR.2014

Living on Earth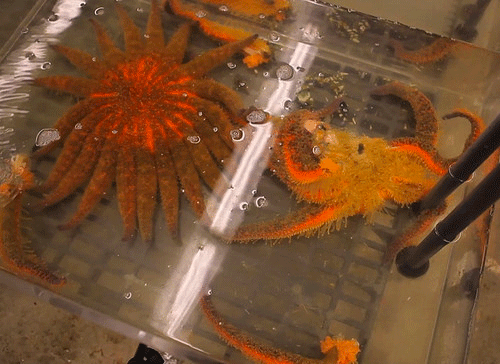 Mysterious Disease Attacking West Coast Sea Stars — A strange malady is infecting many species of starfish up and down the US west coast. It causes lesions and incites the sea stars to rip themselves apart. Katie Campbell reports on the biologists who are trying to unravel what's going on with this macabre mystery.
Go to page | Download/listen 4:55
GP comment: Detached arms crawling away.... Macabre indeed.
Original Show Pub Date: 11.Apr.2014
CATEGORY: ENVIRONMENT (CHEMICALS) — 24.APR.2014

Democracy Now
Toms River—How a Small Town Fought Back Against a Corporate Giant and Its Toxic Dumping — Environmental reporter Dan Fagin discuss the topic of his book, Toms River: A Story of Science and Salvation, which tells the story of how a small New Jersey town fought back against industrial pollution and astronomical rates of childhood cancer and ultimately won one of the largest legal settlements in US history. Regarding chemical pollution in general, Fagin says that we collect massive amounts of data but we donít look for patterns that point to contamination and health problems: "People are dying because we do not do effective public health surveillance in this country."
Watch | Download/listen 24:41
GP comment: We don't look for those patterns because the corp-gov state has an interest in them remaining hidden, and most ordinary people are too busy with their lives to worry about it—until fate brings tragedy to their door.
Original Show Pub Date: 23.Apr.2014
CATEGORY: ENERGY, SPECIES — 23.APR.2014

Living on Earth
Hydropower Overload In China —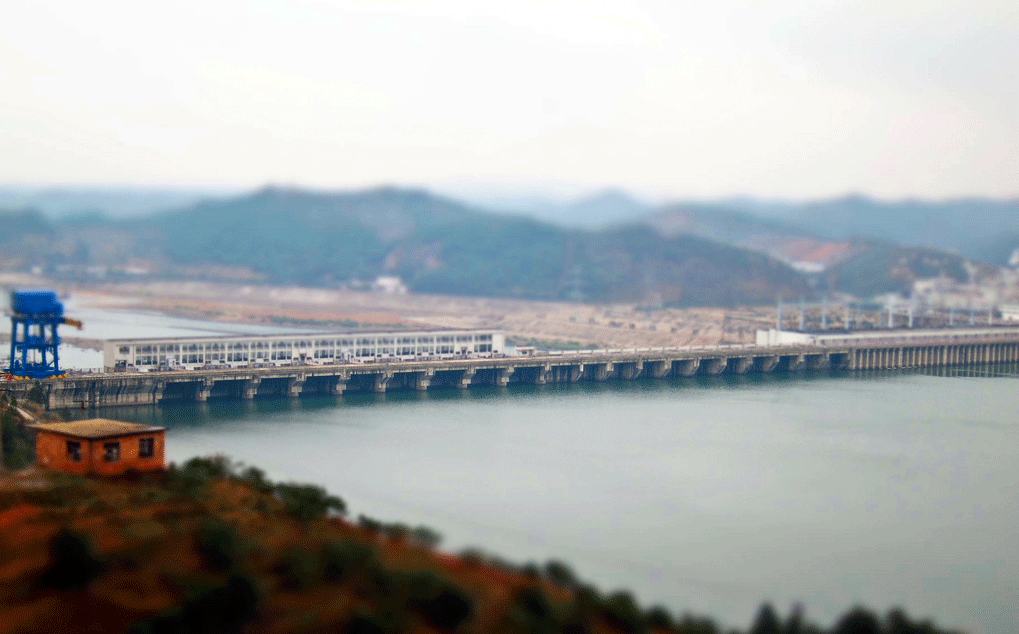 For the past 65 years, China has built nearly two dams per day, and wants to expand its hydroelectric capacity. Jennifer Turner, director of the China Environment Forum, explains how China's plan to ramp up dam installation in Yunnan Province raises the risks for this biodiversity hotspot in Southwest China, and how hydro power in China is often paired with coal power.
Go to page | Download/listen 6:46
GP comment: Hard believe that number is right—it works out to 47,450 dams. Perhaps they counted beaver dams, too.
Original Show Pub Date: 11.Apr.2014
CATEGORY: EMPIRE, COOL AND COSMIC — 23.APR.2014

Red Ice Radio
Catherine Austin Fitts on Massive Stealing and the Breakaway Society — Catherine Austin Fitts says The Powers That Be have been stealing from us—$40 trillion and counting, by her estimate. What are they doing with all that money? Her guess is that much of it has been funneled into black programs and secret technology budgets, and offers a number of possibilities implied by such a scenario.
Go to page | Download/listen 57:02
GP comment: Interesting, but the idea that the money is being funneled into a secret breakaway high-tech operation is HIGHLY speculative. Occam's Razor suggests that the reason for the stealing might be as simple as "elite sociopaths love being rich and powerful."
Original Show Pub Date: 11.Apr.2014
CATEGORY: HEALTH — 23.APR.2014

What Women Must Know
Functional Medicine—Best of Both Worlds — Dr. Dicken Weatherby is a functional medicine practitioner. He has created online training programs in his system of functional diagnosis and has trained thousands of practitioners worldwide. Here he discusses the wide variety of ailments that can be better diagnosed and addressed by combining Western diagnostic tools with Eastern health wisdom.
Go to page | Download/listen 53:39
GP comment: Yes, no point in throwing out appropriate technology just to be an unhealthy purist.
Original Show Pub Date: 10.Apr.2014
CATEGORY: PRIVACY — 23.APR.2014

Making Contact
Shh! — Life in a State of Surveillance — Who's watching you? Nowadays it seems everyone wants to get their hands on our personal data. From the FBI to the welfare department, to some of the country's biggest retailers. In this edition, a closer look at the world of surveillance from three different perspectives.
Go to page | Download/listen 30:00
GP comment: "I always fee like, somebody's watching me." -- Rockwell
Original Show Pub Date: 16.Apr.2014
CATEGORY: ENVIRONMENT (CLIMATE) — 22.APR.2014

Radio EcoShock
The Green Scare—Religion and Anti-Environmentalism — Are big fundamentalist churches selling out to the big bucks of Big Oil and Big Coal and helping the fossil fools derail
climate action? Rev. Michael Dowd explains why junk-science-thumping preachers are at odds with the core tenets of Christianity and are actually doing evil. ~~ Also discussed: A new report from UNEP shows alternative energy growth strong but slightly down in 2013.
Go to page | Download/listen 1:00:00
GP comment: The conversation about intentional deception being ironically evil is reasonable to have, but climate shift has blown past any potential good outcome from carbon taxes. And he doesn't even get that topic right: a tax-SHIFT that penalizes pollution and liberates earned income is the only acceptable form of carbon tax. That said, there are some important concepts in this clip.
Original Show Pub Date: 16.Apr.2014
CATEGORY: HEALTH, CHEMICALS — 22.APR.2014

Against the Grain
Flame Retardants and Other Synthetic Chemicals Are Ubiquitous —
We may not realize it, but most of us consume small amounts of toxic flame retardants and other chemicals on a daily basis. California has just overturned the mandate that flame retardants be used on foam, but the chemicals remain in much of our existing furniture. Chemist Arlene Blum, who is partially responsible for the change, discusses the use of flame retardants in everything from sofas and mattresses to baby products. ~~ Then environmental historian Nancy Langston talks about how synthetic chemicals can trigger cancer and other illnesses in humans.
Go to page | Download/listen 54:59
GP comment: The chemical companies, as usual, are the bad guys here. However, lawmakers who ignore the law of unintended consequences should be held accountable, too.
Original Show Pub Date: 07.Apr.2014
CATEGORY: ENVIRONMENT (POLLUTION) — 22.APR.2014

Democracy Now
Four Years After BP Disaster, Ousted Regulator Warns US at Risk of Another Spill —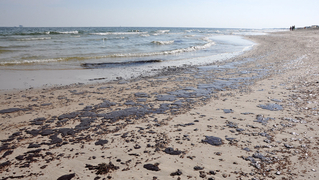 Four years ago, BP's Deepwater Horizon drilling platform exploded and killed 11 workers, causing more than 200 million gallons of oil to spew into the Gulf of Mexico. Now, the Environmental Protection Agency has lifted a ban that excluded BP from new federal oil contracts. Elizabeth Birnbaum, who was forced out as director of the Minerals Management Service shortly after the Deepwater Horizon blowout, explains that little has changed in the way drilling is practiced and warns that there is a real risk of another offshore oil blowout. ~~ Then Jaclyn Lopez of the Center for Biological Diversity comments on the impact to Gulf wildlife.
Watch | Download/listen 16:17
GP comment: There are two essential moments here: (1) A reminder that the Obama Administration has ignored recommendations that would require stronger blow-out preventers; (2) the news that not only is the US military exempt from marine-mammal protection laws (for national security reasons, apparently), so is the US energy industry (for private profit reasons, apparently).
Original Show Pub Date: 21.Apr.2014
CATEGORY: ENVIRONMENT (POLLUTION) — 22.APR.2014

NPR
Telltale Rainbow Sheens Show Thousands Of Oil Spills Across The Gulf — Under the Clean Water Act, when a company spills any amount of oil in the water, it must file a report with the National Response Center run by the Coast Guard. But when Jonathan Henderson checked, he found many small spills in the Gulf region were not making that list. So environmental groups formed the Gulf Monitoring Consortium to get a better count on spills.
Go to page | Download/listen 3:57
GP comment: Industry likes self-regulating and self-reporting for a reason—they get away with shit.
Original Show Pub Date: 19.Apr.2014
CATEGORY: FUN — 21.APR.2014

On The Media
Robot Humor —
We often think of robots as tools to make our lives easier. But what if they could also make our lives funnier? Part A discusses the difference in joke-telling styles between robots and humans. In Part B, comedian Myq Kaplan, co-author of The Humor Code: A Global Search for What Makes Things Funny, talks about joke-generating bots and the principles of humor.
Go to page | Download/listen 6:07
Go to page | Download/listen 8:01
GP comment: Why did the robot cross the road? To get to the humorously illogical non sequiter on the other side.
Original Show Pub Date: 18.Apr.2014
CATEGORY: EMPIRE — 21.APR.2014

Global Research News Hour
Psychological Barriers to 9-11 Truth — There are major scientific problems with the official explanation of 9/11/2001, leading many people to call for a reinvestigation of the evidence. Most people, however, resist any suggestion that the truth of 9/11 is something other than the official narrative, let alone that rogue elements inside the US government may have actually facilitated the strike for political purposes. Even when people's opinions are provably inconsistent with new evidence, they still seem to feel entitled to those opinions. Laurie Manwell of the University of Guelph discusses research on the general psychological resistance many people in the US have to assertions that are inconsistent with their already-arrived-at conclusions, 9/11 or otherwise. Then Richard Gage of Architects and Engineers for 9/11 Truth talks about his tour across Canada and the opinions on 9/11 he has encountered.
Go to page | Download/listen 59:04
GP comment: It is quite astonishing how delusional and misinformed many otherwise intelligent people are.
Original Show Pub Date: 03.Apr.2014
CATEGORY: GARDENING — 21.APR.2014

You Bet Your Garden
Aquaponics, Best Compost Ingredients, New Trees, more —
Sylvia Bernstein, author of Aquaponic Gardening: A Step-By-Step Guide to Raising Vegetables and Fish Together, discusses the pros, cons, and details of including fish in your gardening mix. ~~ Mike McGrath's topics include ... dealing with strange bagworms and wayward, A/C-invading slugs; timing corn gluten meal to combat crabgrass; the proper way to plant and mulch a new tree; what things are best to include—and exclude—from your compost pile.
Go to page | Download/listen 54:00
GP comment: Go ghoti!
Original Show Pub Date: 19.Apr.2014
CATEGORY: EMPIRE, MEDIA, ENERGY — 21.APR.2014

C-Realm Podcast
Ilargi on Ukraine, Energy, China, Central Banks, and Media — KMO welcomes Ilargi of The Automatic Earth to talk about the sorry state of watchdog journalism; the unhelpful rhetoric of American politicians and pundits around Vladimir Putin's actions with regard to Ukraine; the media's failure to examine the US role in bringing down the Yanakovish government or the role of energy politics in the region; and the fragility of the Chinese economy given its dependence on a shadow banking system which has provided it with a vital life-line of credit. Highlights include... Russians know Putin and their government are not perfect, but that doesn't mean they want the US to come in or to go back to the days of Yeltsin, who was a tool of Western predatory capitalists and Russian oligarchs. On the topic of media, they discuss the trend towards news stories being written by computer algorithms. KMO offers the insight that most mainstream media stories are written by people BEHAVING like algorithms. On the never-ending stimulus programs and central bank money printing, Ilargi says we're no longer spending our children's futures, we're spending our children's grandchildren's futures.
Go to page | Download/listen 1:00:00
GP comment: Ilargi is not a smooth speaker, but there are enough nuggets of wisdom in this one to give it a good recommendation.
Original Show Pub Date: 16.Apr.2014
CATEGORY: COOL AND COSMIC — 19.APR.2014

On The Media
Robot World —
The word 'robot' first appeared in 1920 in Karel Capek's play, Rossum's Universal Robots. Since then, intelligent machines have starred countless times in novels and films. Professor Jay P. Telotte talks about the ways our fears and fascinations with robots are reflected in culture. ~~ Despite the technological leaps made in the realm of artificial intelligence, people often object to the idea that the minds of machines can ever replicate the minds of humans. But for engineers, the proof is in the processing. Stanford professor Jerry Kaplan talks about how the people who make robots view the field of AI.
Go to page | Download/listen 7:12
Go to page | Download/listen 13:08
GP comment: Man: "I think. I think I am. Therefore, I am. I think..." // Overlord: "Of course you are, my bright little star. I've miles And miles Of files, Pretty files, of your forefather's fruit; And now to suit, Our great computer, Your magnetic ink." — Moody Blues, In The Beginning
Original Show Pub Date: 18.Apr.2014
CATEGORY: HISTORY, EMPIRE — 19.APR.2014

Guns and Butter
Ukrainian Crisis In Historical Context — Webster Tarpley reviews the history of Ukraine, which was formed in nexus between WWI German occupation of the region and the Bolshevik revolution that resulted in the formation of the USSR. Tarpley discusses the parallel of today's situation with Germany in 1917 using the Ukraine region as a strategic pawn against Russia.
Go to page | Download/listen 59:50
GP comment: This starts out a little overly detailed but overall is adds important historical context to our analysis of the Ukraine situation.
Original Show Pub Date: 16.Apr.2014
CATEGORY: HEALTH — 19.APR.2014

Nutrition Diva
Soil-Based Organisms —
Soil-based organisms are beneficial bacteria that some people believe are more helpful than the bacteria in probiotic foods like yogurt. Are they better? And are these products safe?
Go to page | Download/listen 8:46
GP comment: I've done two trials with Primal Defense, the original SBO probiotic. The first time—about 8-10 years ago—was helpful. The second time, more recently, was not—I think because they had changed their formula to be less SBOs and more traditional probiotics. As for Prescript-Assist, which is mentioned in the clip, I tried it recently with no noticable benefit.
Original Show Pub Date: 01.Apr.2014
CATEGORY: MUSIC — 19.APR.2014

Sunrise Ocean Bender
Is It Secret? — The first third of this set is somewhat drony prog and neo-prog—not bad, but not particularly noteworthy. Then we get a three-song set of very nice accessible prog—recent releases that are throwbacks to the classic short prog-psyc sound of the 1970s. These tracks are "Altar Hexes" by White Candles, "Paper Sky" by Ian Skelly, and "The Brook Horse" by Barrett Elmore. This hattrick is immediately followed by a long Floydian instrumental, a la "Echos"—"Slumbers Gate" by Sky Picnic. Unfortunately, things head for deep space after that—so deep that static is all I could hear.
Page for full track listing | Download/listen 1:58:20
GP comment: Recommendable overall, but you can pretty much cut out after the first half ends with "Slumber's Gate."
Original Show Pub Date: 27.Feb.2014
IN MEMORIAM — 18.APR.2014

Grinning Planet
Michael C. Ruppert — 1951-2014 —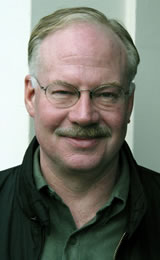 Earlier this week, Michael C. Ruppert, one of the most featured commentators on Grinning Planet in the last decade, was found dead of a gunshot wound, apparently self-inflicted. For those of us who understand the high level of irritation Mike Ruppert caused The Powers That Be, it is tempting to think "they finally killed him" and just made it APPEAR as though he committed suicide. They certainly do that on a regular basis to people who are causing them problems. But a quick read through ... Read more ... or check out a selection of Ruppert audio and video
MORE AUDIO
See all most recent audio