MOST RECENT AUDIO view by topic
CATEGORY: EMPIRE — 23.OCT.2014

Democracy Now
Noam Chomsky Blasts Israel and US —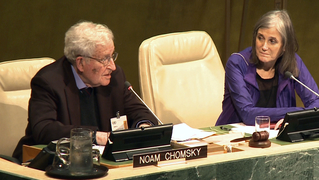 Noam Chomsky recently spoke in the hall of the UN General Assembly at an event sponsored by the United Nations Committee on the Exercise of the Inalienable Rights of the Palestinian People. His topics included the false memes of the Israeli position; Obama's continuation of bad US policy; the media attention to the relatively few Israeli casualties and general avoidance of discussion of Palestinian casualties; Israeli maneuvers to skirt international rulings.
Watch A | Watch B | Download/listen 50:55
GP comment: One of the topics Chomsky orates ably on.
Original Show Pub Date: 22.Oct.2014 ~~ Original story titles: In U.N. Speech, Noam Chomsky Blasts United States for Supporting Israel, Blocking Palestinian State + Noam Chomsky at United Nations: It Would Be Nice if the United States Lived up to International Law
CATEGORY: ENVIRONMENT, SPECIES — 23.OCT.2014

Resistance Radio
Has Capitalism Captured the Environmental Movement? — Tom Butler of the Northeast Wilderness Trust talks with Derrick Jensen about the problematic trend among mainstream environmental groups trying to steer capitalism in a better direction. The problem with that approach is that capitalists, when push comes to shove, will always prioritize corporate profits over natural preservation. Even more troubling is the shift in the framing of environmental issues, where the comfort, convenience, and continuation of modern life is a given, and any sacrifice along those lines to preserve species or protect the biosphere is not even up for discussion.
Go to page | Download/listen 50:59
GP comment: This is a good talk, though the general tack is that this problem is mostly one of evil corporatists, venal politicians, and a lackey media. There are those aspects, for sure, but the general populace has fully embraced the benefits of modern industrial society, regardless of the environmental costs, and the gains in comfort and convenience will not be given up willingly, no matter how right the goals.
Original Show Pub Date: 19.Oct.2014
CATEGORY: EMPIRE — 21.OCT.2014

On The Media
Not In The Supreme Court's Backyard —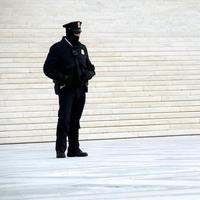 The Supreme Court has often determined that free speech is sacrosanct. However, when it comes to free speech around the Supreme Court building, apparently the concept does not apply. New York Times Supreme Court correspondent Adam Liptak talks about the court's determination in keeping protesters off its plaza.
Go to page | Download/listen 7:48
GP comment: Bob Garfield sums it up perfectly: "Wuhhhh?" In today's America, TPTB are fine with free speech as long as it's done where they say you can do it and says nothing that truly threatens their power.
Original Show Pub Date: 17.Oct.2014
CATEGORY: ENVIRONMENT (CLIMATE, POLLUTION) — 21.OCT.2014

Sea Change Radio
Can Ozone Success Be Parlayed into GHG Success? —
Durwood Zaelke was a key advocate decades ago in the fight to instate policies that would preserve the ozone layer. Those efforts were very successful and are often lauded as a sign that nations CAN come together to solve difficult environmental problems that are global in scope. Zaelke is still working on ozone protection, but his organization's mission has broadened to include combating climate change. Zaelke contrasts the ozone protection effort with the climate protection effort.
Go to page | Download/listen 30:00
GP comment: Sorry, but they can't be compared. Though ozone depletion was an equally serious threat, it was relatively easy to solve; corporations lost little revenue; consumers barely noticed the difference in product function and availability; and, most importantly, no one had to seriously modify their lifestyle. None of those characteristics apply to the climate problem.
Original Show Pub Date: 16.Sep.2014 ~~ Original title: Durwood Zaelke and the Ozone Keepers
CATEGORY: ENERGY, ENVIRONMENT (POLLUTION) — 20.OCT.2014

Living on Earth
Companies Pulling Out of Canadian Tar Sands Oil —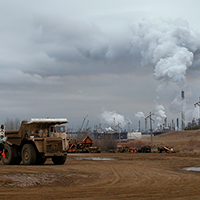 With crude prices sharply down and the future of the Keystone XL pipeline in doubt, energy companies have become dubious about investing in oil projects based in the Alberta Tar Sands. OnEarth writer Brian Palmer discusses the problems facing the industry.
Go to page | Download/listen 8:35
GP comment: (1) He hints at it, but Palmer does not explicitly mention the Achilles heel of the tar sands: low net energy. (2) I suspect the oil companies would be a lot less in favor of the XL Pipeline if they were required to pay for it and incorporate all of its costs into the price of their products (or in cuts to shareholder dividends).
Original Show Pub Date: 17.Oct.2014
CATEGORY: SPECIES — 20.OCT.2014

Living on Earth
The Status of Japanese Whaling —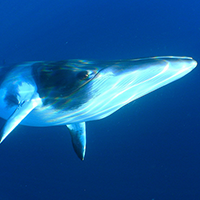 There's a global moratorium on commercial whaling, but Japan continues to kill thousands under the guise of "research". Dr. Phillip Clapham of NOAA's National Marine Mammal Laboratory discusses Japan's motives for this continued flouting of international rules, as well as the status of a number of whale species.
Go to page | Download/listen 7:16
GP comment: Japan needs to go back and watch Star Trek IV.
Original Show Pub Date: 17.Oct.2014
CATEGORY: COLLAPSE, ENVIRONMENT (CLIMATE) — 20.OCT.2014

C-Realm Podcast
No Matter What — KMO talks to Global Catastrophic Risk Institute researcher David Denkenberger about the technical feasibility of feeding everyone on earth in the aftermath of a calamity the wipes out conventional agriculture. The potential collapse scenarios include nuclear winter based on nuclear war or a massive volcanic eruption; a plague (natural or manmade); a catastrophic mistake in a high-impact technology; or even artificial intelligence taking over. Denkenberger is careful to distinguish technical feasibility from political or economic feasibility. Then KMO shares some thoughts on the incompatibility of capitalism and environmental stewardship from the Socialist Equality Party and with a brief clip from a conversation between Laura Flanders and Gar Alperovitz. He closes with some unconventional thoughts on technology from sci-fi author Karl Shroeder.
Go to page | Download/listen 59:55
GP comment: This is generally good, but I'll offer two points: Whereas the capitalist model is inconsistent with sustainability, the socialist model is inconsistent with human nature. Similarly, it's silly to blame climate change on capitalism without recognizing the human characteristics that are equally to blame at the hoi polloi level—and that are equally difficult to change.
Original Show Pub Date: 08.Oct 2014
CATEGORY: MEDIA, FINANCIAL — 17.OCT.2014

The Keiser Report
Rebranding Unearned Income as a Good Thing —
Max Keiser and Stacy Herbert are joined by politically astute actor Alec Baldwin and comedian/actor Russell Brand for a rollicking conversation about the media, ultra-low interest rates, revolution, and elites. Observations include: The rule of law no longer applies. The wealthy now not only laud their ability to make money without working, they denigration those who must toil to earn a living. Though it's easy to target our anger towards mainstream media's talking heads, they are merely playing roles designed to tap into the disenfranchisement felt by many people.
Watch | Download/listen 25:48
GP comment: Fun, with some decent insights.
Original Show Pub Date: 11.Oct.2014 ~~ Original Story Title: Meeting of Megaminds, E665
CATEGORY: MEDIA, EMPIRE — 16.OCT.2014

Democracy Now
Can Journalism Keep the Homeland Security-Industrial Complex in Check? —

New York Times investigative reporter James Risen is at the center of one of the most significant press freedom cases in decades. In 2006, Risen won a Pulitzer Prize for his reporting about warrantless wiretapping of Americans by the National Security Agency. He has since been pursued by both the Bush and Obama administrations in a six-year leak investigation for information he published in his book, State of War: The Secret History of the CIA and the Bush Administration. Risen talks about how the story broke and the suppression exerted by the government and the Times, as well as the significance of the continuing efforts by whistleblowers and reporters to expose illegal government activities in the face of unrelenting harassment and prosecution by the government.
Watch A | Watch B | Download/listen 43:43
GP comment: There are still a few actual investigative journalists at the major US papers, but they face huge barriers to truth-telling, even from their own organizations.
Original Show Pub Date: 14.Oct.2014 ~~ Original Story Titles: James Risen Prepared to Pay Any Price to Report on War on Terror Amid Crackdown on Whistleblowers; James Risen on NSA Whistleblower Edward Snowden: He Sparked a New National Debate on Surveillance
CATEGORY: ENVIRONMENT (COAL, WETLANDS) — 16.OCT.2014

Living on Earth
Coal Dust Poses Wetland Threat —
With recent proposals to bring coal by rail through the Pacific Northwest for export to Asia, some scientists worry that coal dust containing mercury might contaminate Washington's wetlands, threatening wildlife. Reporter Ashley Ahearn treks through marshes and muck near railways with USGS scientists as they look for coal's potential impacts on wetland ecosystems.
Go to page | Download/listen 4:55
GP comment: As anyone from the coal regions of Appalachia knows, coal dust is a serious pollutant.
Original Show Pub Date: 10.Oct.2014
CATEGORY: AGRICULTURE, ENVIRONMENT (GMOs) — 16.OCT.2014

Food Sleuth Radio
Failed Promises and Real Risks of GMO Crops — Raymon Seidler is a former senior scientist at the Environmental Protection Agency. Decades ago, he led the first team to study the environmental and health impacts of newly introduced GMO crops. He explains how we have ignored risks in favor of broad market penetration; in particular, plans for containing the unintended contamination of organic and non-GMO crops with GMO genetic material have been utterly inadequate. Pesticide use has also risen, not fallen as the industry promised.
Go to page | Download/listen 28:15
GP comment: He's right—we should stop talking about labeling GMOs and begin the conversation about banning them.
Original Show Pub Date: 02.Oct.2014
CATEGORY: COOL AND COSMIC — 14.OCT.2014

True Divine Nature
Matt Kahn: Understanding Ego —
Matt Kahn discusses our ego and how it leads us to be "allergic" to our surroundings, to other people, and sometimes even to ourselves. By recognizing our behaviors that are born of ego and adjusting them, we can change the dynamic of our personal interactions, our lives, and the lives of others. As more and more people adopt such behavior, it will all ultimately lead to a re-tuning of humanity.
Watch | Download/listen 59:41
GP comment: Kahn presents some interesting concepts, and he's witty too. But it's a bit hard to accept that the idiotic behavior of people in general is something to embrace in a non-judgmental, supportive manner. (Hmm, which part of my ego did that just come from?...)
Original Show Pub Date: 30.Sep.2014
CATEGORY: NUCLEAR, ENERGY — 14.OCT.2014

Green Power And Wellness
Nuclear—Still Not Ready to Just Die Already — Harvey Wasserman and guests talk about some of the latest nuclear issues, including... A study shows a 37% increase in childhood leukemia for families living near nuclear power plants. The US nuclear and fossil-fuel power industries are running a propaganda campaign to subvert progress on renewables and grab more taxpayer subsidies to help with costs on outmoded nuclear power plants. Nuclear is not a greenhouse gas solution if the fuel cycle and nuclear-plant life cycle are considered. Thorium reactors are not "inherently safe." Renewable portfolio standards are starting to have a positive impact.
Go to page | Download/listen 58:17
GP comment: The nuclear industry—surpassed in evil only by Monsanto.
Original Show Pub Date: 30.Sep.2014
CATEGORY: ENERGY, ENVIRONMENT (POLLUTION, CLIMATE) — 14.OCT.2014

Living on Earth
China Still Burning Plenty of Coal as Fracking Ramps Up — Among China's energy efficiency initiatives is a program that replaces outdated coal-fired power plants with more modern—but larger—coal-fired plants. This has led to an overall increase in CO2 emissions as more coal is burned. ~~ Partly in response to the unprecedented air pollution crisis caused largely by burning coal, China is looking to its massive natural gas reserves for energy. But Mother Jones reporter James West says that fracking is bringing its own environmental problems to China.
Go to page A | Download/listen A 5:00
Go to page B | Download/listen B 10:30
GP comment: One of the few correct points made by climate obstructionists is that there is no game without China making significant reductions. Of course, no one else is able to make significant reductions either. That's what political spin is for.
Original Show Pub Date: 10.Oct.2014 ~~ Original story titles: China's Energy Efficiency Program Still Promotes Global Warming ~~ China's Great Frack Forward
CATEGORY: ENVIRONMENT (CLIMATE) — 14.OCT.2014

Living on Earth
In Hotter (Sea) Water —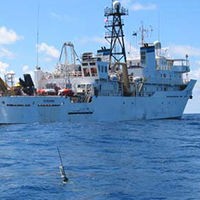 As the climate warms, atmospheric temperatures don't tell the full story—much of the heat increase is being absorbed by the oceans. Scientists are increasingly concerned about the impact on ocean health. Paul Durack of the Lawrence Livermore National Laboratory discusses new measurements that say mainstream estimates of ocean warming are off by more than 25 percent.
Go to page | Download/listen 6:14
GP comment: Warmer water, less oxygen, lots of problems.
Original Show Pub Date: 10.Oct.2014
CATEGORY: EMPIRE — 14.OCT.2014

Making Contact
Not My War—The Military Deserters' Dilemma — More than 150,000 people sign up for the US military every year. Their reasons for joining vary widely, from those hoping for financial help through college, to others looking to follow in the footsteps of parents or grandparents. But some who join up become disillusioned with the enterprise of war and ultimately desert. In this radio adaptation of parts of two films, we hear several stories from deserters.
Go to page | Download/listen 29:00
GP comment: More info on the lies told by the government w.r.t. its various wars would have made this piece more convincing.
Original Show Pub Date: 02.Spe.2014
CATEGORY: HISTORY — 13.OCT.2014

Democracy Now
The Secret History of Efforts to Mend US-Cuba Ties —

Authors Peter Kornbluh and William LeoGrande discuss recently declassified documents that expose the secret history of dialogue between the United States and Cuba. Among the revelations are details of how then-US Secretary of State Henry Kissinger considered launching airstrikes against Cuba after Fidel Castro sent troops to support independence fighters in Angola in 1976. In the years that followed, administrations have quietly used secret US emissaries to engage in discussions with Cuba. But back in the world where all that matters is results, the Obama administration recently extended the more than 50-year embargo against Cuba for another year.
Watch | Download/listen 24:27
GP comment: Continuation of the Cuban embargo is a stain on the soul of the US. And BTW, the "domestic resistance" to normalizing ties with Cuba would be more properly characterized as the "ex-Cuban-capitalists-in-Florida resistance."
Original Show Pub Date: 02.Oct.2014
CATEGORY: ENERGY, COLLAPSE — 13.OCT.2014

Post Carbon Inst / KCPW The Rundown
Heinberg: The Growth Model is Failing — Richard Heinberg says that the growth model is failing because of (1) failure of energy supplies to keep up with demand; (2) inability of consumers and businesses to accept more debt; (3) worsening environmental impacts related to energy extraction and industrial activity. There won't be any momentous collapse, but the trend towards contraction, stagnation, and depression will continue until change is forced upon us. Heinberg advises adoption of the Transition Town model.
Go to page | Download/listen 25:00
GP comment: Heinberg portion begins at 6:00.
Original Show Pub Date: 26.Sep.2014
CATEGORY: HEALTH — 13.OCT.2014

Radio Parallax
Big Ag Holds Fast (and Loose) on Antibiotics in Meat Animals — Despite protests from the medical industry, which says antibiotic effectiveness is being degraded, the industrial meat growers show no sign of giving up their practice of overusing pharmaceuticals in their animal-raising practices. Other health-news topics include the cost of drugs; statins vs. diet and exercise; vitamins and supplements.
Go to page | Download/listen 20:00
GP comment: Humans overuse antibiotics too, just not as badly.
Original Show Pub Date: 11.Sep.2014 Original Title: The latest sham in efforts to remove antibiotics from our meat
CATEGORY: EMPIRE, MEDIA — 10.OCT.2014

C-Realm Podcast
Ferguson Rorschach — KMO talks with freelance writer and blogger Brian Kaller, who grew up in a town next to Ferguson, Missouri, about how the news and images out of Ferguson seemed to provide confirmation for disparate and sometimes contradictory narratives about the forces at work in American culture. Everyone saw what they wanted or expected to see, and few voices showed any hint of doubt, even while their reporting demonstrated near total ignorance of the story's setting.
Go to page | Download/listen 59:54
GP comment: This turned out to be surprisingly good—far more than just a rehashing of the Ferguson story through one more person's lens; rather, an apt mapping of media and public responses to the problems in Ferguson to the larger problems in the US.
Original Show Pub Date: 01.Oct.2014
CATEGORY: ENVIRONMENT, SPECIES — 10.OCT.2014

Living on Earth
Obama Creates the World's Largest Ocean Reserve — President Obama expanded the Pacific Remote Islands National Marine Monument, protecting nearly half a million square miles of Pacific Ocean from commercial exploitation. Elliott Norse of the Marine Conservation Institute talks about the impact of the reserve on the ecosystem and the precedent it sets for global conservation.
Go to page | Download/listen 6:40
GP comment: A decent action. All presidents do this sort of thing. It's an easy green credit, much easier than taking meaningful action on issues like nuclear, chemicals, GMOs, sprawl, peak oil....
Original Show Pub Date: 03.Oct.2014
CATEGORY: AGRICULTURE, LABOR ISSUES — 10.OCT.2014

Agroinnovations Podcast
Market Cooperatives and Worker-Owned Permaculture — Luis Sierra of the California Center for Cooperative Development explains the concept of a cooperative as well as the rationale for creating co-ops. He also delves into existing cooperative models and their history in the state of California. He describes some of the pitfalls a cooperative can face in its creation and operation. In part 2, Sierra talks about the difference between a worker cooperative and a service cooperative, and provides historical examples of agricultural worker cooperatives. Why has the worker cooperative model been so sparsely adopted in the agricultural sector? How can people interested in agricultural co-ops make them work? Are social organization and enterprise management the holy grail of scalable permaculture?
Go to page A | Download/listen A 31:56
Go to page B | Download/listen B 28:01
GP comment: Agriculture aside for a moment.... We can see that capitalism—the elevation of money as the top force in civilization—is a disastrous model. But we can also see that socialism, despite its promise, does not work well with human nature. The proper alternative is the for-profit cooperative model—a system that incentivizes, empowers, and rewards the active participants in the enterprise but eliminates the parasitic financial overlord.
Original Show Pub Date: 15.Sep.2014
CATEGORY: ENVIRONMENT (POLLUTION) — 08.OCT.2014

Quirks and Quarks
"Microbead" Plastic Pollution Plagues the St. Lawrence River — Microplastic beads, often found in industrial and household products like cosmetics and cleaners, are known to pollute ocean water. Now the beads have been found in the sediments of the St. Lawrence for the first time. Anthony Ricciardi, a biologist at McGill University, explains why it was surprising to find this type of pollution in a river, especially in the sediment, and what the impact on river life is.
Go to page | Download/listen 8:50
GP comment: Well, crap. If it's in the St. Lawrence River, you know its in ALL the rivers in North America.
Original Show Pub Date: 04.Oct.2014
MORE AUDIO
See all most recent audio