MOST RECENT AUDIO view by topic
SCHEDULE NOTE
For the remainder of the vacation, gardening, and harvesting season, I will be publishing GP audio on a more sporadic basis. New audio content will always be published on this page, but an easy way to automatically know new content is available is to monitor the GP podcast with a free RSS reader like FeedDemon. If you crave more audio content than I am currently providing, you can check out my favorite sources directly on the GP audio and video programs page. Thank you for your interest and support!
-- Mark
CATEGORY: ENVIRONMENT (WATER), SPECIES — 28.AUG.2014

Resistance Radio
The Colorado River—Past, Present, and Future — Gary Wockner coordinates the Save the Colorado River Campaign, whose mission is to protect and restore the Colorado River and its tributaries from the source to the sea. Topics include the history of the river; water rights and farms vs. cities; impact of dams and water rights on species; and opportunities for improving the river's future.
Go to page | Download/listen 39:45
GP comment: The chance of a major hydroelectric dam coming down to benefit species is zero (and, from an overall environmental perspective, should be zero). It's good that their "dam talk" acknowledges that reality.
Original Show Pub Date: 24.Aug.2014
CATEGORY: HISTORY — 28.AUG.2014

Dan Carlin's Hardcore History
Blueprint for Armageddon IV — It's 1916, and machine guns, barbed wire, and millions upon millions of artillery shells create titanic meat grinders at the battles of Verdun and the Somme. Dan Carlin recounts the strategies of the generals and the horrors on the battlefields. There's never been a human experience like it, and it changes a generation.
Go to page | Download/listen A 3:55:51
GP comment: The experiences of the soldiers in WWI were truly horrific. The main change in today's warfare is that the horror is much less evenly distributed between the two sides.
Original Show Pub Date: 17.Aug.2014
CATEGORY: NUCLEAR — 27.AUG.2014

Corbett Report
Studies Show That Even Limited Nuclear War Leads to Global Famine —
Steven Starr, the Senior Scientist at Physicians for Social Responsibility, discusses his work on the environmental impact of nuclear warfare, including an examination of his recent article, "The Lethality of Nuclear Weapons." From climate and ozone disruption to famine, electronic failures, and the risk of nuclear reactor meltdowns—science clearly says that nuclear war can have no winner.
Go to page A | Download/listen A 40:18
GP comment: Starr offers a number of impacts that I had not considered before, which only strengthens my belief that there is no such thing as a "survivable nuclear war."
Original Show Pub Date: 09.Aug.2014
CATEGORY: FINANCIAL, EMPIRE — 27.AUG.2014

The Keiser Report
Crime in Modern Times—A Return to Les Miserables — Max Keiser and Stacy Herbert discuss how some looters are more equal than others: A black kid gets taken out for stealing cigarettes while a rich white female shoplifter gets a slap on the wrist. And then there is the uber-criminal, Jamie Dimon, who gets to keep secret his mortgage fraud deal with the Department of Justice, with no admission of guilt and no damage to his reputation. ~~ In the second half, Max interviews journalist Matt Taibbi about the injustice that follows the wealth divide and how Ferguson, Missouri plays into that.
Watch | Download/listen A 25:45
GP comment: Over-the-top snarky, but mostly right.
Original Show Pub Date: 26.Aug.2014
CATEGORY: COOL AND COSMIC — 26.AUG.2014

11:11 with Simran Singh
The Five Dharma Types —
What is your dharma? What is your purpose in life? There is something that you do better than anyone else on the planet. Discover that, and everything follows from there! Have you ever wondered why, despite great obstacles, some people achieve success, while others, though given everything, seem to squander it away? Or why some people, despite having very little, radiate joy; while others appear miserable though surrounded by opulence? The answer is dharma—knowing your soul's purpose and living it is the key to creating a fulfilling life. Guest: Simon Chokoisky.
Go to page | Download/listen 54:05
GP comment: Note that "slacker" is not a dharma type.
Original Show Pub Date: 17.Jul.2014
CATEGORY: FOOD — 26.AUG.2014

Fresh Air
The Bittersweet Truth About Artificial Flavors — "Flavorings were like gravity or electricity—something that was all around me but that I had never paid any attention to," Stephan Eirik Clark explains. His novel, Sweetness 9—the product of over a decade of research—explores the strange world of food flavorings, where chemicals are used to trick taste buds into thinking they're getting plant-based flavorings. Some of the moral and health issues are explored.
Go to page | Download/listen 26:10
GP comment: Aspartame is to sugar as Mr. Clark's comments are to investigative journalism: The experience is not unpleasant, but it's not the same thing.
Original Show Pub Date: 18.Aug.2014
CATEGORY: HEALTH — 26.AUG.2014

Fresh Air
Why We Feel Terrible After Too Many Drinks — To understand why drinking can make us feel so good—and so bad—you have to know a little about biochemistry, says journalist Adam Rogers, author of Proof: The Science of Booze. Rogers talks about the myths and realities of hangovers, including how hangovers can be an inflammatory response, like the flu.
Go to page | Download/listen 11:05
GP comment: Don' ferget about the dain bramage.
Original Show Pub Date: 18.Aug.2014
CATEGORY: MEDIA, EMPIRE — 25.AUG.2014

CounterSpin
Risen v. Obama — First Amendment Rights vs. The Iron Fist —
Will New York Times reporter James Risen go to jail for refusing to testify against a source? Risen's case is seen by many as a clear-cut example of how the Obama administration's war on whistleblowers is also a war on journalists and journalism. Media watchdog Jeff Cohen talks about the state of the case and the activist pushback.
Go to page | Download/listen 10:54
GP comment: Now the Obama administration is pursuing cases against whistleblowers even when the facts are old and irrelevant to current operations.
Original Show Pub Date: 22.Aug.2014
CATEGORY: GARDENING, POLLUTION — 25.AUG.2014

You Bet Your Garden
Is Your Lawn Causing Water Pollution? —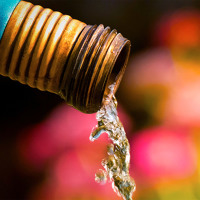 Mike McGrath's topics include .... adequate soil calcium combats tomato blossom end rot; weather and care factors in cherry production; crepe myrtle conundrums; outdoor potted plants approach the doom of winter; tips for new trees. In the question of the week, McGrath talks about runoff from lawn fertilizer, a problem that recently made Toledo's water undrinkable. Find out how to not be part of the problem when you feed your lawn.
Go to page | Download/listen 52:58
GP comment: After all, it's just a lawn. Stop the madness!
Original Show Pub Date: 23.Aug.2014
CATEGORY: EMPIRE — 22.AUG.2014

C-Realm Podcast
Futures Near and Far —
KMO speaks with "military science fiction" novelist Linda Nagata. The themes include eroding civil liberties; cybernetics and nanotechnology; the growing power of defense contractors; and the coercions of empire. As an example of the interstection of fiction and reality, the soldiers in Nagata's novel The Bohr Maker wear powered exoskeletons, which are more advanced versions of systems actually in development by Lockheed Martin.
Go to page | Download/listen 59:55
GP comment: Insect-bots and super-soldiers and Big Brother cops, oh my! Unfortunately, we are already part-way there.
Original Show Pub Date: 20.Aug.2014
CATEGORY: NUCLEAR, HISTORY — 22.AUG.2014

Corbett Report
Confronting the Myths of Hiroshima and Nagasaki —
Gary Kohls, MD discusses his recent article, "The Hiroshima Myth and the Glorification of American Militarism." Topics include the manufacturing of the "necessity" of the bombings of Hiroshima and Nagasaki; the avoidance of firebombing Hiroshima and Nagasaki so they could be preserved as "whole cities" when they were hit with nukes; the real reasons that the nuclear annihilation of these cities took place; why the official narrative was so carefully crafted, and how to push back against it with the facts.
Go to page | Download/listen 42:38
GP comment: Preserving some cities from one type of bombing to keep them as a control case for studying another type of bombing---sceince gone mad.
Original Show Pub Date: 04.Aug.2014
CATEGORY: EMPIRE — 22.AUG.2014

Dan Carlin---Common Sense
Dan Carlin on the Ferguson/Iraq Trendlines — Dan Carlin examines the larger trends indicated by the violence in Ferguson and Iraq. Topics include the 450-fold increase in federal funding for militarization of local police forces over the last two decades; explosions of violence based on long-standing issues, not a single event; slow normalization of public attitudes (acceptance) towards over-policing; the continuing degradation of right to free speech and assembly; ISIS visuals should be horrifying even to Islamists; US intervention almost always causes problems; Ferguson as a template for a larger global cauldron boiling over.
Go to page | Download/listen 58:00
GP comment: Americans are smart enough to know that a US military presence in US cities means bad things. Are they smart enough to see that militarization of local police is little different?
Original Show Pub Date: 20.Aug.2014
CATEGORY: EMPIRE — 21.AUG.2014

Uprising
Iraq—Meet the New Rebel Boss, Same as the Old Rebel Boss —
Freelance foreign correspondent Reese Erlich has traveled widely across the Middle East and has just returned from Iraq. He comments on a number of stories from the area, including the apparent beheading of missing journalist James Foley; the battles for the Mosul Dam and the ISIS-held city of Tikrit in Iraq; what Americans think the US role in the current Iraq mess should be; and the political spin the US puts on their latest rebel allies and enemies, who seem to routinely fall in and out of favor with Uncle.
Go to page | Download/listen 12:56
GP comment: Get this straight—the US will NEVER leave Iraq, regardless of the lies politicians keep offering to the contrary. Well, let me qualify that: The US will never leave Iraq as long as there is oil there.
Original Show Pub Date: 20.Aug.2014
CATEGORY: SPECIES — 21.AUG.2014

Resistance Radio
Sorry, Charlie—Fish Aren't So Dumb After All — Animal behavioralist Culum Brown discusses the fascinating learning and memory aspects of fish ecology. Fish can remember and apply previous experiences to improve their success in areas such as food gathering and interactions with other species.
Go to page | Download/listen 50:00
GP comment: Even in the lowly fish, the moronic phrase "they're just dumb animals" does not apply.
Original Show Pub Date: 10.Aug.2014
CATEGORY: ENERGY — 21.AUG.2014

NPR
Oklahoma Wind Power Companies Run Into Headwinds —
Oklahoma is the nation's fourth-largest generator of wind energy. But wind developers in the northeast corner of the state, where the Tallgrass Prairie Preserve lies, are up against stiff opposition from an unlikely pair of allies: environmentalists and oil interests.
Go to page | Download/listen 3:54
GP comment: Environmentalists need to stop letting the perfect be the enemy of the good.
Original Show Pub Date: 18.Aug.2014
CATEGORY: SPECIES — 21.AUG.2014

NPR
Glass-Free Menagerie New Zoo Concept Gets Rid Of Enclosures — For animal lovers, zoos can be a mixed bag. It's amazing to be in shouting distance of magnificent wild animals, but it's hard not to get the feeling that great apes, big cats, and other creatures don't really love being behind bars, walls, and windows. Now, a Danish architectural firm is working with the Givskud Zoo and safari park in Denmark to eliminate the walls and create what they're calling Zootopia.
Go to page | Download/listen 4:01
GP comment: Or we could stop destroying the animals' natural habitats.
Original Show Pub Date: 09.Aug.2014
CATEGORY: ENERGY, ENVIRONMENT, FINANCIAL — 20.AUG.2014

Post Carbon Institute
Humans—Are We the Borg? ... Or Merely Delusional? —
In an hour and a half, ecological economist Nate Hagens offers up a grand tour of how the human-dominated planet works, or more accurately, mis-works. It all comes down to bad programming—science shows that we humans are predisposed to making bad choices; or at least making choices that bolster short-term, selfish desires at the expense of long-term, altruistic interests. Energy, or an increasing lack thereof relative to our needs, is the hammer that will force us to recognize reality and make increasingly hard choices.
Watch | Download/listen 1:30:00
GP comment: Must listening. And Hagens is kind enough to explain how we "aware humans" can navigate the seemingly impossible mission ahead.
Original Show Pub Date: 29.Jul.2014
CATEGORY: EMPIRE, FINANCIAL — 18.AUG.2014

The Keiser Report
End of the No-Alternative-To-Dollar Era? —
Max Keiser draws a line through numerous data points, including Iraq, IS, American military sales, wars for oil, and free marketeers. The empire is fraying at the edges. ~~ Michael Hudson explains why he thinks the alternatives to the US dollar—like the new BRICs central bank—are quickly undermining the hegemony of the dollar. Other topics include the US financial Ponzi system; Warren Buffett and other corporate raiders taking large publicly held companies back to private ownership; the class war in Europe.
Watch | Download/listen 25:46
GP comment: If the dollar does continue to slip—in real terms, not just in rhetoric—we will be living in very interesting times, and it won't be pretty.
Original Show Pub Date: 16.Aug.2014
CATEGORY: FOOD, ORGANICS — 18.AUG.2014

Diet Science
Meta-Study Says Organic Produce Wins — A new meta-study says organic produce beats conventional produce: more nutrients, less toxic residue. Organic has higher levels of nutrients like flavanones, vitamin C, and beta carotene, as well as lower levels of sludge fertilizer toxins like cadmium. This is contrasted to the Stanford study from two years ago, in which the researchers claimed there was no nutritional benefit from eating organic. The new meta-study is much larger.
Go to page | Download/listen 7:00
GP comment: I wonder who paid for that Stanford study? Or for the new one, for that matter.
Original Show Pub Date: 04.Aug.2014
CATEGORY: EMPIRE — 18.AUG.2014

On The Media
Changing Rules for Cameras in the Interrogation Room —
A new Justice Department policy requires the FBI, the Drug Enforcement Administration, and several other federal law enforcement agencies to videotape interrogations with suspects held in custody. It's a change generally lauded by all sides of the adversarial process. But UCLA law professor Jennifer Mnookin has a couple of concerns.
Go to page | Download/listen 6:48
GP comment: The concern about making sure the camera does not sometimes get turned off is important.
Original Show Pub Date: 15.Aug.2014
CATEGORY: HEALTH — 18.AUG.2014

On The Media
No, Ebola is NOT Coming to the US — The ebola outbreak in West Africa is unprecedented in size and geographic scope. But contrary to what the media suggests, it is definitely not coming to the United States. Dr. Daniel Bausch, an expert on the ebola virus, explains the nature of ebola and what the media keeps missing.
Go to page | Download/listen 5:15
GP comment: Central bankers are the main plague in the US.
Original Show Pub Date: 15.Aug.2014
CATEGORY: ELITES, COLLAPSE — 16.AUG.2014

Against the Grain
Exit Right—Visions of Super-Soveriegn Enclaves — There are various visions for gated communities of elites who want to escape the restrictions and taxation of the nation-state---an existance outside of the sovereign territory of any country. Historian Raymond Craib talks about visions for various libertarian enclaves, from the failed attempt to build the Republic of Minerva on a coral reef in the South Pacific, to the Seasteading Institute's plan to construct a floating city off San Francisco.
Go to page | Download/listen 54:00
GP comment: On a square-footage basis, at-sea is far more difficult and expensive than on-land. Elites are not prone to self-deprivation, and their resources are not unlimited, so it's highly unlikely they'll ever realize their "mobile offshore base."
Original Show Pub Date: 13.Aug.2014 (originally aired 24.Feb.2014)
CATEGORY: EMPIRE, MEDIA — 15.AUG.2014

Democracy Now
US Humanitarianism Only Applies to Oil-Rich Areas —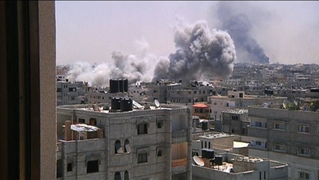 Glenn Greenwald reviews news headlines related to US military action in Iraq over the past two decades, concluding that the premise of humanitarian intervention is an outright sham. Greenwald also provides detail on the far-reaching technical and analytic relationship between the US National Security Agency and its Israeli counterpart regarding mutually agreed upon geographic targets. Then he talks about NPR's recent (horrible/dishonest) reporting on the impact of NSA whistleblower Edward Snowden.
Watch A | Watch B
Download/listen 15:27
GP comment: NPR listeners and Fox News listeners have two things in common: They are convinced they are more informed than anyone else on the planet, and they are both quite wrong.
Original Show Pub Date: 13.Aug.2014
CATEGORY: HEALTH, FOOD — 15.AUG.2014

One Radio Network
Lita Lee on Food, Enzymes, Thyroid Function, and Overall Health —
Lita Lee, PhD talks about the importance of proper digestion and assimilation of food, as well as the importance of proper thyroid function, to overall health. Are you eating healthy foods and still not as well as you think you should be? What's wrong with fish oil and most cooking oils? Why can't people be healthy on a vegan diet? Why does everyone need gelatin for joint health? What is the connection between rheumatoid arthritis and thyroid function? Why types of digestive enzymes work best?
Go to page | Download/listen 55:24
GP comment: Interesting material, but Ms. Lee could be a lot clearer in her presentation.
Original Show Pub Date: 17.Jul.2014
MORE AUDIO
See all most recent audio