MOST RECENT AUDIO view by topic
RSS (PODCAST FEED) NOW AVAILABLE

Grinning Planet audio is now available as a podcast via rss, for those who prefer such an approach. The feed validates at W3C so it should work with all standard feed readers. iTunes compatibility is as yet untested -- thanks in advance to anyone who wants to report back on that.
CATEGORY: MEDIA — 17.APR.2014

On The Media
Muzzled! —
Every year the Thomas Jefferson Center for the Protection of Free Expression issues the "Jefferson Muzzles" awards. These are booby prizes, awarded to individuals and institutions who act against Mr. Jefferson's admonition that freedom of speech "cannot be limited without being lost." This year's winners include the US Justice Department, for overzealous (and illicit) pursuit of whistleblowers; the North Carolina General Assembly, for suppressing reportage related to public protest; and a high school principle, for cutting off a salutatorian's speech.
Go to page | Download/listen 6:29
GP comment: George Carlin rolls in his grave.
Original Show Pub Date: 11.Apr.2014
CATEGORY: ENVIRONMENT (CLIMATE) — 17.APR.2014

Living on Earth
The Growing Threat From Methane — Methane is many times more powerful as a greenhouse gas than carbon dioxide. Evidence from prehistory suggests methane was a major factor in Earth's largest extinction, and current global warming projections warn of ballooning methane emissions in the future. The White House has launched plans to reduce methane emissions from US sources.
Go to page | Download/listen 6:23
GP comment: This is a decent short history of the relevance of methane to climate change. But regardless of what politicians say, the world will not be any more successful at (or truly interested in) controlling methane than it was at curbing CO2. In fact, methane from a tipping-point event or runaway feedback loop is the most likely scenario for catastrophic, rapid climate shift.
Original Show Pub Date: 11.Apr.2014
CATEGORY: GARDENING — 17.APR.2014

You Bet Your Garden
Did This Miserable Winter Wipeout Mildew and Blight? —
Mike McGrath's answers this time cover two important questions: Did the super-cold of the last winter help gardeners by killing off pathogens and pests? How do you know if the compost available at your local municipal composting facility contains lawn-pesticide residues or weed seeds? Other topics include crop rotation vs. crop interplanting and tips on begonias, daffodil variations, and roses.
Go to page | Download/listen 52:58
GP comment: Fewer pests should be the LEAST the weatherman can offer after three months of polar vortex.
Original Show Pub Date: 11.Apr.2014
CATEGORY: MUSIC — 17.APR.2014

The Vinyl Experience
Hall of Fame —
A nice set of songs featuring this year's Rock 'n' Roll hall of Fame inductees. Top tracks are ... Cat Stevens - "Peace Train" // The Beatles - "You've Got To Hide Your Love Away" // Linda Ronstadt/Stone Ponies - "Different Drum" // Nirvana - "Lithium" // Bruce Springsteen & The E Street Band - "The E Street Shuffle" // Andrew Loog Oldham Orchestra - "The Last Time" // Peter Gabriel - "DIY" // Kiss - "Love Gun" // Daryl Hall, John Oates, David Ruffin, Eddie Kendrick - "Apollo Medley (live)".
Page for full track listing | Download/listen 56:37
GP comment: (Mostly) great songs. My only complaint is that a few of the vinyl tracks are marred by surface noise and other quality problems. Frankly, in those cases, I'd rather have the CD Experience.
Original Show Pub Date: 11.Apr.2014
CATEGORY: EMPIRE — 16.APR.2014

Uprising
Jeremy Scahill on JSOC, Drones, and the Dingbat Factory —
Investigative journalist Jeremy Scahill discusses the tragedy of the US drone wars—a tragedy for those who suffer the "collateral damage" of the strikes, and a tragedy for the US because this amoral approach to war creates such antipathy against the country as a whole. He also discusses the outing of JSOC (the Joint Special Operations Command), a previously low-profile DoD outfit that is now globally recognized as another US "wet works" operation. He also laments the inanity of opinion among many in the US—apparently the output of a dingbat factory.
Go to page | Download/listen 48:54
GP comment: Lots of inconvenient and uncomfortable truths in this one.
Original Show Pub Date: 15.Apr.2014
CATEGORY: EMPIRE — 16.APR.2014

Leid Stories
Smash the Duopoly—The Case for New Political Parties — We in America are free to choose our elected leaders, as long as we don't mind choosing from a field of preselected Democrats and Republicans. The GOP-Dem duopoly has had a stranglehold on Americans' political choices for way too long, says J. David Gillespie, author of Challengers to Duopoly: Why Third Parties Matter in American Two-Party Politics. Gillespie discusses how two-party politics became the norm; how fledgling parties are targeted for annihilation; how debates and ballot slots are rigorously controlled to exclude third-party persons; and why it's important that Americans engage in the formation of new parties that reflect their unique concerns.
Go to page | Download/listen 58:01
GP comment: The corruptagon that is the Republican-Democrat duopoly is far more vast than a mere agreement to share power and exclude others. However, breaking that hammerlock is one possible avenue to breaking open the power vault and starting to repair the damage these execrable traitors have done to democracy.
Original Show Pub Date: 09.Apr.2014
CATEGORY: HEALTH — 16.APR.2014

Corbett Report
SSRIs and Violent Behavior —
Professor of psychiatry Dr. David Healy discusses the issue of antidepressants and behavior modification, including the link between SSRIs and mass shootings. Healy resists the temptation to make a blanket statement that SSRIs cause crazy, violent behavior. But he does say that the statistical correlation is sufficient to suggest that SSRIs cause SOME people to go nuts in the worst sort of way, and that patients and families should be warned whenever these medications are prescribed.
Go to page | Download/listen 42:51
GP comment: SSRIs are one of the most overprescribed drugs. It seems inevitable that a drug designed to modify the central nervous system will occasionally have bizarre and tragic unintended side effects.
Original Show Pub Date: 10.Apr.2014
CATEGORY: COOL AND COSMIC — 16.APR.2014

Red Ice Radio
Chemtrails and the New Biology — Vincent Freeman is a molecular biologist and artificial intelligence scientist working to identify and expose covert geo-engineering and bio-engineering. Freeman discusses a biological pathogen that has been linked to chemtrails. He explains the biological evidence that this is a "cross-domain bacterium"—certainly genetically engineered, and possibly also employing nanotechnology. He explains where the pathogen is being found, how widespread it is, and what the likely ramifications of it are.
Go to page | Download/listen 56:43
GP comment: Interesting, but mostly to be filed under "more research needed."
Original Show Pub Date: 04.Apr.2014
CATEGORY: EMPIRE, ENERGY, HISTORY — 15.APR.2014

Unwelcome Guests
The Supranational Deep State —
Charlotte Dennett recounts how her research into the life of her deceased father, a high-level CIA agent, helped her understand how the world works. Studying information obtained using FOIA requests and interviewing people from her father's life, Dennett could see how oil fields and projected pipeline routes in the Middle East, North Africa, and Central Asia were the very locations that Western nations continually seem to find reasons to foster regime change, engage in military operations, and set up military bases. She concluded that access to energy is the dominant factor in why foreign powers incessantly exploit local religious, ethnic, and political rivalries to achieve the larger strategic goal of securing access to energy reserves.
Go to page | Download/listen 59:36
GP comment: Yup. No other explanation passes the smell test.
Original Show Pub Date: 05.Apr.2014
CATEGORY: CLIMATE, HISTORY — 15.APR.2014

Against the Grain
In the 17th Century, a Different Climate Crisis but the Same Old Elites — In the 1600s, the world faced a global climate crisis—an extended period of cooling known as the Little Ice Age—which severely depressed agricultural output. Most rulers of the time took the opportunity not to help their populations adapt to the problem but as an opportunity to purge internal enemies and harvest the wealth of other lands. Historian Geoffrey Parker discusses the lessons of the 17th century, where elites—with the exception of Tokugawa Japan—responded to the crisis with wars and scapegoating.
Go to page | Download/listen 54:41
GP comment: Well, given that bankster types have been around since about that time, it's no surprise.
Original Show Pub Date: 01.Apr.2014
CATEGORY: HEALTH, FOOD, PESTICIDES — 15.APR.2014

Living on Earth
Study Links Pesticides and Lowered Intelligence —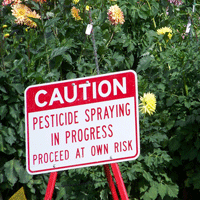 Studies conducted in the Salinas Valley and New York City have found that the effects of pesticides on development in children can be similar to those of lead, including lower IQs and slower mobility. Journalist Susan Freinkel discusses the findings.
Go to page | Download/listen 6:27
GP comment: Freinkel soft-pedals on her recommendations. Forget that "wash the pesticides off" nonsense—washing reduces but does not eliminate pesticide residue. Buy organic, or grow 'em yourself. And for heaven's sake, if you are still using lawn chemicals or "Turfbuilder" type products, STOP!
Original Show Pub Date: 11.Apr.2014
CATEGORY: COOL AND COSMIC — 15.APR.2014

Beyond 50
Moving Back Toward Wholeness—Soul and Non-Ordinary States — Ukiah Marcus talks about the healing process for the soul, holotropic breathwork, and working with non-ordinary states of consciousness. Many of us have forgotten our innate sense of wholeness, but our soul's directive is always pulling us back toward it, whether to reclaim or to integrate. Find out what kinds of experiences you may have in these non-ordinary states and the major life shifts that can happen.
Go to page | Download/listen 37:51
GP comment: Might work for some people.
Original Show Pub Date: 28.Mar.2014
CATEGORY: NUCLEAR — 14.APR.2014

TUC Radio
Radiation and Ways to Monitor It —
This clip opens with a collage of nuclear tidbits: First we hear the seminal song Radioactivity by Kraftwerk; then a summary of Marie Curie's fascination with, and tragic death from, radioactive substances; then comedian Dick Gregory offering that radiation is worse than hunger and war: "Because I can feel hunger. I can see war... I cannot see radiation. I cannot smell radiation. I cannot hear radiation. I look around one day and I am dead." ~~ The majority of the clip centers on Geiger counter builder Dan Sythe and the SafeCast network that has been set up to monitor Fukushima radiation.
Go to page | Download/listen 30:00
GP comment: I rail against stupid, insensitive humans quite a bit. Here we get to hear about some humans that are quite the opposite.
Original Show Pub Date: 02.Apr.2014
CATEGORY: COLLAPSE, RESILIENCE — 14.APR.2014

C-Realm Podcast
The Ultimate Metric of Doom — Sustainability prepper Orren Whiddon explains how the original Limits to Growth study put him on his life-long course of learning about energy/ecological limits and adapting his life to them—even if the modern world around him did not have much interest in joining him (at least not yet). Whiddon argues that the level of peak human population will be the ultimate metric of our civilization's undoing. In the meantime, sterile phrases like "peak population" mask the abyss of human suffering that will occur as we descend back to a sustainable level of people on the planet.
Go to page | Download/listen 1:00:00
GP comment: Just as the ecological footprint connects population and lifestyle to planetary destruction, that equation can be reserved, and we can see that as planetary constraints descend, lifestyles will degrade for many people before the actual number of them begins to fall.
Original Show Pub Date: 09.Apr.2014
CATEGORY: ENVIRONMENT — 14.APR.2014

Sea Change Radio
Hurricane Sandy's Lessons in Coastal Resilience —
As major weather-related calamities like Hurricane Sandy are teaching us, decisions around where buildings are built and vegetation is planted are important, especially as they relate to the encroaching coastline and other impacts of climate change. Meera Subramanian discusses post-Sandy restoration efforts that draw upon engineering insights from a hundred years ago.
Go to page | Download/listen 30:00
GP comment: People shouldn't build where natural has a tendency to thrash. But they still do.
Original Show Pub Date: 01.Apr.2014
CATEGORY: PRIVACY — 14.APR.2014

Uprising
Big Data and the Future of Corporate Surveillance — These days, little surprises us when we hear of a new way in which the National Security Agency has been spying on us. But while anger at government surveillance unites much of the left and right, we often don't stop and think about corporate surveillance—the myriad ways in which corporations track our habits online and, increasingly, in the real world, too. Catherine Crump of the ACLU discusses life in the fish-bowl world of "Big Data."
Go to page | Download/listen 15:18
GP comment: It's up to each of us to find the balance point where the service provided is not worth making our data public. An BTW—from a legal standpoint, if you give your info to a corporation, you give it to the government, too.
Original Show Pub Date: 31.Mar.2014
CATEGORY: ENVIRONMENT (POLLUTION) — 12.APR.2014

Making Contact
Sounding the Alarm—Noise Pollution —
Noise pollution is a growing problem. On this edition, we hear three stories about noise pollution: how it affects marine mammals; how it affects people near airports; how it feels to be in a remote area with only natural sounds.
Go to page | Download/listen 30:00
GP comment: Noise is one of those things that can subtly wears your nerves down when you're awake and keep you from getting proper deep sleep at night, thus slowly degrading your health.
Original Show Pub Date: 02.Apr.2014
CATEGORY: EMPIRE — 12.APR.2014

The Keiser Report
Where is the Next Generation of Protesters? — Max Keiser and Stacy Herbert discuss an article in The Guardian that examines why young people are not protesting against a system that clearly does not have their best interests in mind. The young people point out that the interconnection between corporations and government, combined with the restrictive policies that cause police to deal with any protest as if it were a riot, make protest a risky proposition, from a short-term safety standpoint and from a career standpoint.
Watch | Download/listen 12:33
GP comment: For now, at least, the youngsters are somewhat exaggerating the risk of protest and free speech. Beyond that, though, why is it the younger generation's responsibility to fix this mess? It's the previous two generations that abandoned good citizenship in favor of the perks of empire. Step up, people.
Original Show Pub Date: 10.Apr.2014
CATEGORY: MUSIC — 12.APR.2014

NPR
The Coming Robot Army Just Wants To Rock —
British electronic musician Tom Jenkinson, better known as Squarepusher, was approached by a group of Japanese roboticists last year with a pitch he calls "the ultimate 12-year-old-boy fantasy." The team explained that they had constructed a band of mechanical musicians with superhuman abilities: a dreadlocked bot with 78 fingers that could play two guitars at once, an octopus-like drummer with 22 arms, a laser-shooting keyboard player. They were called the Z-Machines. All they needed were songs.
Go to page | Download/listen 7:05
GP comment: There are some interesting insights here about how preconceptions can influence whether we appreciate a musical piece. More generally, robotic music probably won't be a thing, but then again I would have said that about the Blue Man Group, too.
Original Show Pub Date: 06.Apr.2014
CATEGORY: AGRICULTURE — 12.APR.2014

Peak Prosperity
A Model for Profitable Micro-Farming — We are all awakening to the realities of a future defined by declining net energy, concerns about food security, community resilience, and reliable income. Small-scale farming usually quickly surfaces as a pursuit that could help address all of these. Yet most dismiss the idea of becoming farmers themselves; mainly because of lack of prior experience, coupled with lack of capital. Enter Jean-Martin Fortier and his wife, Maude-Helene. They are a thirtysomething couple who have been farming successfully for the past decade. In fact, they've been micro-farming—their entire growing operations happen on just an acre and half of land. And they make a fine living at it.
Go to page | Download/listen 34:15
GP comment: It can be done, IF you develop the right skills, have a high level of persistence, and have access to a customer base willing to pay something other than Walmart prices.
Original Show Pub Date: 29.Mar.2014
MORE AUDIO
See all most recent audio