MOST RECENT AUDIO view by topic
CATEGORY: ENVIRONMENT — 18.DEC.2014

NPR
New York Moves to Ban Fracking — Officials in New York have announced that the state will ban hydraulic fracturing within its borders. The move follows years of efforts by environmentalists, who cite dangers like earthquakes and potential contamination of New York's renowned pristine water supply.
Go to page | Download/listen 3:14
GP comment: This report is rather superficial but adequately conveys the excellent news that a major state is going to ban this odious practice.
Original Show Pub Date: 18.Dec.2014
CATEGORY: FINANCIAL, ENERGY — 18.DEC.2014

KunstlerCast
Chris Martenson on Wall Street Games and Fracking Bombs —
Chris Martenson guides us through the swamps of financial lingo so we might all develop a clearer notion of the jargon used in financial sectors of the chatter-sphere. Topics include credit default swaps, derivatives, margin calls, shorting and going long. Martenson also talks about the disinformation that comes out of the Fed; and he explains how the financialization of the fracking-based oil/gas industry could eventually cause a spark that lights off a financial wildfire.
Go to page | Download/listen 46:33
GP comment: A lot of esoteric financial trading techniques are discussed here, but it's important evidence of just how insane the Wall Street games are. If we do not rid ourselves this parasitic "over-layer," we will never solve any of the other problems that plague us.
Original Show Pub Date: 04.Dec.2014
CATEGORY: HEALTH — 18.DEC.2014

One Radio Network
Functional Diagnostic Nutrition for Solving Health Mysteries —
Reed Davis talks about his "functional diagnostic nutrition" approach to solving health mysteries. When allopathic doctors fail, this Columbo of health problems steps in and doggedly pursues the solution. Topics include ... things you need to clean up, no matter what problems you're having; getting out of the cycle of 'trial and error'; choosing a probiotic—the more diverse the friendly flora in the gut, the better; hormones and bone density; the effects of stress on hormones; things to do at home to detoxify daily.
Go to page | Download/listen 1:02:24
GP comment: Very good. Functional medicine is the only sane approach to chronic health issues.
Original Show Pub Date: 09.Dec.2014
CATEGORY: FUNNY — 18.DEC.2014

Radio Parallax
Classic Comedy Bits — Clip 1 has several classic comedy bits: Abbott and Costello's "Who's On First"; Monty Python's "Argument Clinic"; Tom Lehrer's "Periodic Table"; and a very funny string of jokes from Rodney Dangerfield. With the exception of the lame "Immigrants" bit from National Lampoon Radio Hour, clip 1 is must-listening. ~~ In clip 2, the highlight is George Carlin's unparalleled stream-of-consciousness in "Modern Man," which starts at 2:00. At the other end of the quality spectrum is "Perry Shriner Court Appointed Lawyer," again from National Lampoon Radio Hour, and again lame. But also decent in clip 2 are Stan Freeburg's "Banana Boat Song" bit and Tom Lehrer's acerbic "National Brotherhood Week."
Go to page A | Download/listen A 20:56
Go to page B | Download/listen B 24:41
GP comment: "Argument Clinic" is near the top of my Python favs list. And I had forgotten just how brilliant "Who's On First" is.
Original Show Pub Date: 27.Nov.2014
CATEGORY: ENVIRONMENT — 17.DEC.2014

Living on Earth
AGs Driving Environmental Politics at State Level —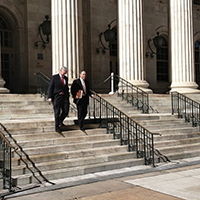 US Attorneys General are not usually big players in national policy-making, but in recent years that's changed. Democrat AGs have previously teamed with environmental groups to move on issues that were stalled at the national level; now Republican AGs are allying with fossil fuel companies to challenge federal environmental regulations in court. Political scientist Paul Nolette discusses this development.
Go to page | Download/listen 13:40
GP comment: To put this in context, the Republicans are excelling at selling out on environmental issues and the Democrats are excelling at selling out on Wall Street issues. They are Scylla and Charybdis and we are a Greek tragedy.
Original Show Pub Date: 12.Dec.2014 ~~ Original story title: Republican AGs Fight Environmental Regulations
CATEGORY: FINANCIAL, EMPIRE — 17.DEC.2014

Moyers and Company
Democrats Bow Down to Wall Street —
Bill Moyers talks to outspoken veteran journalist John R. MacArthur, president and publisher of Harper's Magazine, about the problems with the Obama-backed Trans-Pacific Partnership being negotiated in secret. They also conclude that the Wall Street sellout means working people can no longer count on the Democrats to look out for their interests.
Watch | Download/listen 25:25
GP comment: Just as Republicans are the tool of the oil-industrial-polluter-warfare complex, Democrats are the tool of the Wall Street bankster-parasites. Not that either party really objects to the other's agenda on those terms. Sure—it's fight, fight, fight when it comes to social issues, but when it comes to the bankster-dominated corporatocracy, there is one rule that both parties adhere to without exception: Don't fuck with the money.
Original Show Pub Date: 12.Dec.2014
CATEGORY: AGRICULTURE, CHEMICALS — 17.DEC.2014

Food Sleuth Radio
Pesticides—Beware the Drifter — Attorney Amanda Heyman's job is providing legal counsel for independent farmers and food businesses. Here she discusses the legal aspects of pesticide drift, GMOs, organics, and "natural" labeling.
Go to page | Download/listen 28:15
GP comment: Pesticide drift may sound like a boring technical topic, of limited interest to anyone but farmers. But it affects a wide variety of issues, from air quality for residences around non-organic farms to the integrity of organic foods.
Original Show Pub Date: 20.Nov.2014
CATEGORY: ENVIRONMENT — 16.DEC.2014

Radio EcoShock
Catastrophic Failure of the Planet—Satire or SITREP? —
Joseph D'Lacey writes eco-apocalyptic/horror fiction as a way of exploring the way in which the human condition is broken. Here he discusses his fictional post-apocalypse books, which include the Black Dawn series, which extrapolates from our real-life era when corporations are literally sucking the earth dry of its high quality resources; and Meat, where a combination of powerful corporations and organized religion completely control the food supply, with living standards for animal welfare and human rights falling by the wayside. ~~ Then Stanford's Mary Kang explains the data on leaking methane from abandoned gas wells. ~~ A clip from the fictional show "The Newsroom" has an EPA scientist going non-linear, predicting absolute climate doom, with no possibility of escape. Real-life climate scientist Michael Mann gives his take on our climate prospects.
Go to page | Download/listen 1:00:00
GP comment: Given humans' demonstrated inability to elevate their actions above their parochial interests, I think the "we're screwed" conclusion of the fictional EPA official will prove more likely than the hopium-based "we can still take meaningful action" assertion expressed by Michael Mann. That said, Alex Smith does a nice job at the end mediating the two extremes and adding more scientific—and psychological—context.
Original Show Pub Date: 10.Dec.2014 ~~ Original story title: Eco Horror ... Is "The Newsroom" Climate Doom for Real?
CATEGORY: HEALTH — 16.DEC.2014

Beyond 50
Breathe, Move, Eat Well ... and Reduce Stress — Wellness guru Mark Lesley talks about the difference between regular "bad stress" and toxic "super-stress." He offers dozens of tips and techniques for reducing stress, from taking a "wellness inventory" to getting the body moving and improving nutrition.
Go to page | Download/listen 31:02
GP comment: Plenty of good stress-reduction tips here, for sure, though I was hoping for more than a superficial treatment of the biochemistry of "super-stress."
Original Show Pub Date: 12.Dec.2014
CATEGORY: EMPIRE — 15.DEC.2014

CounterSpin
CIA Torture Report Lands with a Dull Thud — Baher Azmy, legal director at the Center for Constitutional Rights, discusses the recently released Senate report on CIA torture. Topics include the nature of the torture (worse than has been admitted to by the CIA); the lack of repercussions for those who directed the torture strategy; the US torture activities in light of international treaties; the media response to the report; the general lack of accountability of the CIA to the normal power structures of government.
Go to page | Download/listen 9:49
GP comment: The report on CIA toture is a classic rendition of the "mistakes were made" gambit—criticize past behavior without exacting punishment. What's amazing is the ferocious denunciation of even a no-impact report like this by the pro-torture lunatics and their allies in the mainstream media.
Original Show Pub Date: 12.Dec.2014
CATEGORY: HEALTH — 15.DEC.2014

Fresh Air
Girls Hitting Puberty Earlier, But Why? —
Many girls are beginning puberty at an early age, developing breasts and pubic hair sooner than girls of previous generations. Two doctors have written a book called The New Puberty that looks at the percentage of girls who are going through early puberty, the environmental, biological and socioeconomic factors that influence when puberty begins, and whether early puberty is linked with an increased risk of breast cancer. Authors Julianna Deardorff and Louise Greenspan explain.
Go to page | Download/listen 35:59
GP comment: This starts off with an interesting discussion of the science of possible factors in why girls are starting puberty sooner than they used to, but about half-way in it devolves into a generic discussion of parenting topics.
Original Show Pub Date: 02.Dec.2014 ~~ Original story title: How Girls Are Developing Earlier In An Age Of New Puberty
CATEGORY: FINANCIAL — 15.DEC.2014

Keiser Report
A Debt Meteor is Headed for Planet Earth — Max Keiser explains why negative interest rates are state-sponsored confiscation and how centripetal force is creating the conditions for a financial blow-up. Whereas TPTB think exponential debt growth is a lever with which they can move the economy, Max thinks it's a meteor that will wipe us out. ~~ In the second half, crowdfunding pioneer Simon Dixon of "Bank to the Future" addresses Max's question: Can crowd-funding and crypto-currencies combine with a grassroots movement to rip out the dark heart of the kleptocractic financier class?
Watch | Download/listen 25:42
GP comment: Rip away, please!
Original Show Pub Date: 13.Dec.2014
CATEGORY: HISTORY, INTERNET — 12.DEC.2014

Fresh Air
A Short History of Personal Computers and the Internet — As told by Walter Isaacson, the story of how the digital age came to be involves a cast of more than 40 people, ranging from a 19th century English countess
to a WWII codebreaker to California hippies. In his book The Innovators, Isaacson profiles many of those characters, focusing on how their collaborations helped bring us into the digital age.
Go to page | Download/listen 38:08
GP comment: Many familiar names and milestones, but generally well told, with some interesting nooks and crannies.
Original Show Pub Date: 06.Oct.2014 ~~ Original story title: How The Cold War And George Orwell Helped Make The Internet What It Is
CATEGORY: ENVIRONMENT — 12.DEC.2014

NPR
Sloppy Fracking Practices Result In Large Methane Leaks — Faulty equipment and maintenance procedures in natural gas operations can inadvertently release large quantities of methane, new research reveals. Scientists say most of the problem can be pinned on a relatively small number of "clunker" wells.
Go to page | Download/listen 3:19
GP comment: The report implies that just fixing the low-hanging fruit will eliminate the majority of the methane leaks. That sounds like a "see, things aren't so bad" result, just as one might expect from an industry-funded study. But even if the study's conclusion is correct, and even if the worst of the leaks are fixed, methane is such a potent greenhouse gas that the remainder would still be an issue.
Original Show Pub Date: 09.Dec.2014
CATEGORY: EMPIRE — 12.DEC.2014

9/11 Wake-Up Call
JFK, the Deep State, and the Darkening Shadow — Author Andrew Kreig talks about the JFK assassination plot as a pivotal point for the shadow government operating in the US—it proved that they could do big things with no consequences.
Go to page | Download/listen 29:48
GP comment: Yes, exactly right. This is why it's the conspiracy refusniks who are the nut-jobs. If the bankster-CIA cabal will kill a president, what won't they do?
Original Show Pub Date: 26.Nov.2014
CATEGORY: ENVIRONMENT, CORPORATIONS — 10.DEC.2014

CounterSpin
30 Years Since Bhopal, Justice May Finally Be Getting Started —
It was 30 years ago that a gas leak at the Union Carbide pesticide plant in Bhopal, India, killed thousands of people and injured tens of thousands more. But if you think of Bhopal as a tragedy from the '80s, you're missing the point: It was a crime and it's far from over. Amitabh Pal of the Progressive talks about the ongoing disaster of Bhopal and the potential progress finally being made to clean up the area and properly compensate victims.
Go to page | Download/listen 10:14
GP comment: It's important to remember that Bhopal was not an unavoidable accident, it was a manifestation of corporate pennypinching on maintenance and upgrades at an industrial facility that handled deadly reagents. It's extremely rare that we put corporate executives or board members on trial for such failures, but that should change. Their personal fortunes are made by reaping the revenue from such operations in good times; their liberty and wealth should be at risk when it goes wrong due to their mismanagement.
Original Show Pub Date: 05.Dec.2014
CATEGORY: ENVIRONMENT, CORPORATIONS — 10.DEC.2014

Democracy Now
The US Role in Illegally Logging Peru's Forests — More than half of Peru is still covered by tropical rainforest—an area the size of Texas—which plays a crucial ecosystem role and is a significant carbon sink. A new report documents how more than 20 US companies have imported millions of dollars in illegal wood from the Peruvian Amazon since 2008. Guest is Julia Urrunaga, Peru programs director for the Environmental Investigation Agency and author of the new report, "The Laundering Machine: How Fraud and Corruption in Peru's Concession System Are Destroying the Future of Its Forests."
Watch | Download/listen 6:59
GP comment: You can see why these logs are coveted—they're huge compared to the re-growth trees available for lumbering in the US. Nonetheless, this is just another example of how most people in the West are fine with not asking too many questions about where wonderful (but illegally sourced) products come from.
Original Show Pub Date: 08.Dec.2014
CATEGORY: EMPIRE — 10.DEC.2014

Corbett Report
Gladio B and the Battle For Eurasia — Operation Gladio B—the continuation of the old NATO Gladio program—comprises a tangled web of covert operatives, billionaire Imams, drug running, prison breaks, and terror strikes. Its goal: the destabilization of Central Asia and the Caucasus to the advantage of the Western powers, especially the US. In this presentation, James Corbett lifts the lid on Gladio B, discussing the evidence, the key players, and the secret battle for the Eurasian heartland.
Watch | Download/listen 50:00
GP comment: A rather eye-glazing level of detail is necessary to understanding Gladio B, but Corbett does his best to wade through it without getting us lost in the skunkworks.
Original Show Pub Date: 02.Dec.2014
CATEGORY: AGRICULTURE, FOOD, GMOs — 09.DEC.2014

Food Sleuth Radio
The Seed Underground—A Growing Revolution to Save Food —
Janisse Ray discusses the threat to seed sovereignty posed by multinationals like Monsanto, which are endeavoring to lock up the food-related profit stream from field to fork by owning the means of production. She explains how activism and seed saving both play a role in the fight.
Go to page | Download/listen 28:15
GP comment: A simple solution would be to pass a constitutional amendment banning patents on life forms. Um, did I say simple?
Original Show Pub Date: 13.Nov.2014
CATEGORY: ENVIRONMENT, CORPORATIONS — 09.DEC.2014

Living on Earth
Coal Baron Indicted in Mine Disaster — In 2010, in one of the deadliest mine accidents in US history, an explosion at the Upper Big Branch
Coal mine in West Virginia killed 29 miners. Now Don Blankenship, the CEO of mining company Massey Energy, has been indicted on federal charges, which accuse him of directing company policies that were contrary to mining regulations and laws and that contributed to the disaster. Law professor Patrick McGinley talks about the case.
Go to page | Download/listen 6:47
GP comment: Couldn't have happened to a more bastardy bastard.
Original Show Pub Date: 05.Dec.2014
CATEGORY: FINANCIAL — 09.DEC.2014

It's Our Money
It's Not Nice (for Financial Systems) to Ignore Mother Nature! — Ignoring natural laws and limits puts you at certain peril, even when you're talking about economies and financial systems. So says Jamie Brown Hansen, an international researcher who studies bio-mimicry to understand how economic sustainability can be derived and adapted from ancient systems of nature. If financial systems (such as capitalism) don't conform to those laws, they ultimately die.
Go to page | Download/listen 56:57
GP comment: Ah, the charming, naive brilliance of the young. The people currently running the financial system don't want it to be stable, efficient, and sustainable. They have fought hard to devise a system of "managed instability" that allows them to profit from both the ups and downs in the seemingly chaotic cycles, which are in fact just meta-manipulations. Don't expect any change in their goals or the system until we take it from them. This point is thankfully addressed here in the excellent epilog by Gwen Halsted of the Public Banking Institute.
Original Show Pub Date: 03.Dec.2014 ~~ Original story title: Better Listen to Your Mother
CATEGORY: MEDIA — 08.DEC.2014

On The Media
The Con Artists Take the Media — In October 2014, when the news was All Ebola All the Time, you could scarcely avoid the media presence of Sal Pain, the Chief Safety Officer of Bio-Recovery, the company that won the emergency bid from the city of New York to decontaminate the apartment of Dr. Craig Spencer. But BuzzFeed's Investigative Team took a look into Sal Pain's past and discovered he wasn't who he claimed to be. Alex Campbell talks about this and other cases of con artists using the media to help create the illusion of credentials.
Go to page | Download/listen 10:43
GP comment: Yes, the media should better investigate those they give a platform to. But realize that the mainstream media is not there to inform people; they are there to push their buttons. In their world, minor lapses in credibility are unimportant compared to keeping viewers off-balance and engaged.
Original Show Pub Date: 05.Dec.2014
CATEGORY: EMPIRE — 08.DEC.2014

Peak Prosperity
Dmitry Orlov: Russia's Patience Is Wearing Thin — Having lived in the former USSR before immigrating to the US, Dmitry Orlov has an invaluable perspective on US-Russian geopolitics, as well as the recent wrangling over Ukraine. It's more important than ever to cut through the propaganda to learn what we can about the most feverish geopolitical tensions in recent memory. Topics include ... the amateurishness of Western leadership; attitudes of the masses outside the US; the US leadership facing new rules imposed by reality and the BRICs; as Western anti-Putin propaganda grows, so does Putin's popularity within Russia.
Go to page | Download/listen 51:09
GP comment: Must-listening. Orlov offers a clear-eyed assessment of the game in the Ukraine and the general nonsense the US calls foreign policy.
Original Show Pub Date: 29.Nov.2014
CATEGORY: HISTORY — 08.DEC.2014

Radio Parallax
The JFK Assassination: Cop Inconsistencies and the Oswald Frame — This clip offers numerous tidbits from a recent JFK Assassination symposium, all indicating more troubling inconsistencies in the behavior of police and other officials at and around the scene of the JFK murder. Topics include .... Why rust in barrel of the supposed murder weapon means it was never fired; other ballistics inconsistencies; why the official timeline of the cops hot on the trail of fugitive Oswald does not compute; the oddity of so much background information on Oswald being provided in press releases almost immediately after his arrest.
Go to page | Download/listen 14:28
GP comment: The more evidence like this that we see, the more amazing it is that the conspiracy could have been covered up at the time.
Original Show Pub Date: 20.Nov.2014
MORE AUDIO
See all most recent audio