POLLUTION VIDEOS
FUNNY
CHINA CELEBRATES ITS STATUS AS WORLD'S NUMBER ONE AIR POLLUTER


Now that the Beijing Olympics are over, China can get back to polluting properly! Enjoy this great dead-pan video satire on the subject, which uses the angle that politicians will try to put a happy face on just about any bad news. Funny stuff from The Onion. Go there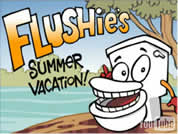 FLUSHIE'S SUMMER VACATION

— A witty animation that rakes the muck on the troublesome level of sewage contamination in US waterways and the outrageous lack of action or even attention to the problem by the folks who run things. From American Rivers and Mark Fiore via YouTube. Go there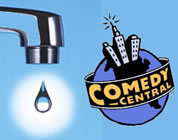 AMERICA'S WATER POLICY IS A BELLY FLOP


A couple of informative and funny videos about water issues in the United States; from The Daily Show and Colbert Nation. Watch funny water supply video.


ANIMAL COMMENT


Another good one from Flash-master Mark Fiore; this time acerbically addressing the horrors we direct towards our oceans and their inhabitants. Go there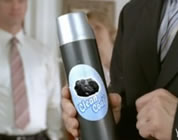 "CLEAN COAL" AIR FRESHENER


This short, funny bit of video satire takes on the loosey-goosey term "clean coal," which the coal industry and its political allies love to pretend is "what we're doing with coal today" rather than "a theoretically possible approach to coal that is completely unproven." In fact, not only are there are no "clean coal" plants operating in the US today, there are none even planned. Repeat after me: "There is no such thing as clean coal." Watch funny clean coal video.


POLLUTION VIDEOS
SERIOUS
NATURE'S WATER SECURITY SERVICES


As human population grows, so does its need for fresh water. But as we pump fossil aquifers towards exhaustion and pollute rivers, lakes, and groundwater sources to the point of toxicity, water is becoming a problem. This animated water security video makes the case. Watch water security video.

(6:45)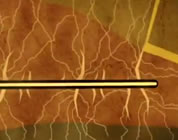 THE SKY IS PINK


Josh Fox's film Gasland brought to public attention the rampant groundwater contamination associated with natural-gas fracking. The movie also stirred up the industry, which implemented a "create confusion about the facts" campaign. In The Sky is Pink, Fox explains what's been happening. Watch fracking video.

(18:34)




GLOOP


This is a nice little video about the rise of plastics in our modern way of living. What started out as a product panacea in the end turns out to be a nightmarish pollution problem. Watch plastic pollution video.


TAR SANDS OIL — HEART OF ENVIRONMENTAL DARKNESS


What happens when pristine ecosystems and habitats meet environmental devastation on a scale the planet has never seen before? That experiment is fully underway in the tar sands oil production areas of Canada. See a slide-show review of the situation in this video on tar sands environmental destruction.


POISONED WATERS


Using the Chesapeake Bay and Puget Sound as case studies, Frontline explores the question of why, almost 40 years after the passage of the Clean Water Act, our waters are still troubled. Watch water pollution video.


Radio EcoShock

Oil Companies Know Tar Sands Pipelines Will Break — 24 Apr 2013 — John Bolenbaugh, an insider who recognized the lies of the corporations and government regulators that manage the pipeline systems now being used to carry tar sands slurries, decided he had to fight with every thing he had—literally. He exposes the duplicity of those who run the show and tells his story of fighting back.
Go to page | Download/Listen 26:43

Political Analysis

Criminalizing Dissent—Corporations Increasingly Using Legal Cover to Quash Challenges to Pollution — 07 May 2013— Dan Howells of Greenpeace USA discusses the dirty legal maneuvers oil companies and other polluters are taking to suppress protests and other forms of free speech when they threaten company bottom lines. Also discussed is the wave of oil companies suspending plans to drill in the Arctic.
Go to page | Download/Listen 55:51

CounterSpin

The Worst Part of BP's Gulf Spill Cover-Up? It Worked. — 03 May 2013 — Mark Hertsgaard discusses BP's use of Corexit during the 2010 Gulf oil disaster. It was not about improving the environmental disposition of the oil, but rather about hiding the extent of the spill from public eyes. Worse, they lied to cleanup workers, hiding the health hazards of using Corexit without protective gear.
Page to download full show | Download/listen to this segment 9:34

MORE

Get more audio clips on pollution in Grinning Planet's biweekly downloadable audio news feed.