Literature Cartoon
We weave classic literature, cartoons, literary allusion, and jokes into a funny story set.
REVISED
"CHILDREN'S
LITERATURE"
CLASSICS:

Two A.M. in the city. An unsuspecting garbanzo was about to die. The beanstalker was in the mood for hummus—again.
"Win, place, or show?" Shere Khan mused, hesitating. The right bet might buy him a ticket out of this stinkin' rotten jungle. But had the panther mob put the fix on today's sloth exacta?...
"A fly's head on a human body?" said the spider to the fly. "Ooch! Would that be covered under health insurance?"
He had teased her 20 years ago when she wet the bed. Now she was back—angry, insane, and making her way toward his sleeping form with a warm bowl of water....
Jack "Charlottes" Webb
— arachnophobic cop
"This is the city. Los Angeles, California. Teeming with people, crawling with spiders. Big ones and little ones, all out to do bad spider things. An arachnid nightmare... My partner's Gannon. My name is Friday. I carry insecticide."

---

In the realm of "soda classics," one intriguing tale stands out: Coke Classic was ostensibly introduced as part of a revised strategy to help Coca-Cola recover from the fiasco known as New Coke. Or... was it really part of a cost-cutting/world-domination plan all along? Find out in the 'Coke Classic' sidebar to our King Corn movie review.

Also available is this classic tale of deceit and denial:
Stupid Global Warming Idiots...

Or see more funny cartoons or funny literature quotes
ADVERTISEMENT
"I am the literary equivalent of a Big Mac and Fries."

"My main reason for adopting literature as a profession was that, as the author is never seen by his clients, he need not dress respectably."

"In literature as in love, we are astonished at what is chosen by others."

AMAZON PURCHASES FROM HERE HELP SUPPORT THIS FREE SITE. THANKS!

Search Amazon.com for more...
FREE AUDIO CLIPS

Hey, we don't pick
the Google ads! – GP
CLICKS ON OUR ADS AND PURCHASES VIA OUR AMAZON LINKS HELP SUPPORT THIS FREE SITE... THANKS!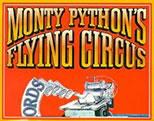 MONTY PYTHON - BOOK SHOP
This is one of Python's better bits, with John Cleese as the owner of a book shop full of classical literature—just not any of the specific titles this particular customer wants...

Amazon options:
-- MP3 clip
-- On CD collection

Free options:
-- Transcript

Or see more ...
Funny Multimedia
LITERARY HEROES
MEET PROG ROCK
Robin Hood and William Tell
And Ivanhoe and Lancelot,
They don't envy me...
Whether it's these lyrics from Electric Light Orchestra's "Can't Get It Out of My Head" or other songs, references to classic literature and classical music blended nicely in much of ELO's early work. This song is one of their best (and biggest) early hits and originally appeared on Eldorado, one of those great concepty rock albums that were in vogue in the 1970s.

Amazon options:
-- Hear clip or download MP3
-- Check out CD