Federal Budget Cartoon
Funny--government budgeting/spending is no joke, but this federal budget cartoon is.
FEDERAL BUDGET MATH:

Item added
to budget
Higher deficit
"But we kept our commitment not to raise taxes."
Item deleted
from budget
Lower deficit
Exists only in theory
Post-It note
on top of actual
budget document
No apparent change in deficit
Makes everyone happy... except those who have a clue

U.S. GOVERNMENT REPRESENTATIVES AND THEIR SPENDING SKILLS:
As long as our elected bozos are going to tax, borrow, spend and spend and spend... maybe we should insist that they solve some problems along the way—like energy shortfalls, global climate change, pollution, and the trade deficit. See our floor speech on the subject: Global Warming and Tax Shifting ...
ADVERTISEMENT
"The budget is like a mythical bean bag. Congress votes mythical beans into it, then reaches in and tries to pull real ones out."

— Will Rodgers

"The defense budget is more than a piggy bank for people who want to get busy beating swords into pork barrels."

— George H. W. Bush (41st US president)

"It's clearly a budget. It's got a lot of numbers in it."

— George W. Bush (43rd US president)

"After the government takes enough to balance the budget, the taxpayer has the job of budgeting the balance."

— Unknown
FREE AUDIO CLIPS

Hey, we don't pick
the Google ads! – GP
CLICKS ON OUR ADS AND PURCHASES VIA OUR AMAZON LINKS HELP SUPPORT THIS FREE SITE... THANKS!
"A billion here, a billion there—sooner or later it adds up to real money."
– Senator Everett Dirksen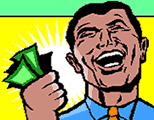 With events in the real world of finance whirling crazily into distinctly unfunny territory, the best we can do is advise you to put one hand on your wallet and the other hand on the Laugh button. Funny audio from The Onion.

-- Treasury Releases Doubloons
-- Federal Reserve - Butterflies
-- Stock Market On Boron
-- Stocks Plunge - Spider
Or see more ...
Funny Audio & Video
View on Amazon.com:
View on Amazon.com: