There's an old joke about how you can tell when a lawyer is lying—his lips move. Can the same thing be applied to politicians? Oops—most politicians ARE lawyers!
Is the public's increasing apathy towards politics partly due to the perception that politicians can't be trusted to give it to us straight?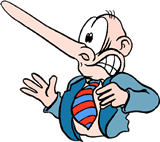 Have many of us become so jaded that we assume it's normal for politicians to lie? Where does "spin" end and outright lying begin? Is silence on an important issue the same as lying about it?
Today's Eco-Logical is the second of a series of articles about tough issues and the failure of our politicians to discuss them with us in a frank and thorough manner.
Global warming may be the number one issue on which politicians lie. The scientific facts of global warming and its predicted adverse impacts are accepted by the vast majority of climate scientists. Opponents of taking action on the issue are using a few scientists who still
have doubts—or who find financial advantage in having doubts—to try to keep global warming in the "no clear evidence" category as long as they can. But there IS clear evidence of a long-term warming trend, and the consequences of continued inaction may indeed be globally catastrophic. (See the GP article The Data on Global Warming is Conclusive for more on the evidence and likely impacts.)
Unfortunately, those who call global warming the "greatest hoax of all time" are not alone in the Global Warming Liars Club. Even those politicians who are courageous enough to fight for action on the issue are not telling us the whole truth.
The Kyoto Protocol, whose implementation was rejected by the US Senate 94-0, would have required the US and other industrialized countries to reduce greenhouse gas emissions to 5% below 1990 levels by 2012. Given the amount that emissions have grown since 1990, that may seem like a daunting challenge. But the problem is really much worse than that, and it causes all but the bravest politicians to lie.
The Kyoto treaty, while a step in the right direction, is vastly insufficient to reverse the climate change trend. The global reduction of greenhouse-gas emissions probably needs to be more like 50% to have the desired effect, and it needs to happen sooner rather than later. Even tougher is the fact that developing countries claim the current problem has mostly been caused by industrialized nations and that their developing economies should not have to be constrained to their current low levels of fossil-fuel use.
Given the seeming hopelessness of the challenge and the level of sacrifice that would appear to be required of the US to be part of a truly effective global solution, it's easy enough to understand why most politicians would rather hide from the issue in general or cast doubt on it, and why even the politicians who do publicly support action on global warming are loath to discuss the whole truth.
But the potential effects of global warming, such as increased bad-weather events, coastal inundation, and—most seriously of all—disruption of global food production, are all likely parts of the future that will be faced by our children and successive generations if we don't fix the problem. The challenge to finding solutions is one of leadership—leadership that will devise programs to:
replace our CO2-producing cars and power plants with clean technologies;
reduce sources of methane (another leading greenhouse gas) by confronting the issue of large-scale animal farming operations;
eliminate chemicals that cause global warming and replace them with non-problematic alternatives;
devise innovative programs to reduce the loss of forests (which serve as "carbon sinks," thus keeping substantial amounts of CO2 from getting into the atmosphere).
Politicians and technologists will be needed to devise and implement solutions to global warming, and we consumers will have to be supportive with our dollars and our votes. But to get there, politicians must lead, not lie.
We saved the world from waves of Nazi stormtroopers, from hordes of Red Communists, and from the very ugly, unfriendly aliens in "Independence Day." Surely we can also save it from a few kazillion tiny greenhouse gas molecules!
Related articles and resources:
More articles and resources on....