While shopping the other day, it occurred to us that the container of bean dip with the label "Certified Lip-Smackin' Gut-Crackin' Good!" might not be our best choice. Labels that are really advertising claims aside, there are myriad labels applied to food products these days, and it's often hard to know what they mean or whether they're truthful.
Sales of organic food in the US have grown nearly 20% during each of the last 6 years, and the 2002 release of the USDA's organic label

added official weight to organic as a highly desirable class of food. Organic food has been shown to have more nutritional content, and children who eat mostly organic diets have been shown to have significantly lower levels of pesticides in their bodies.
The "USDA Organic" label is the gold standard of organic labeling. There are also many certifiers who have their own labels, and they are generally trustworthy. (For example, "Oregon Tilth" is one of the better known examples of certifier labels.) But there are labels other than organic that get applied to fruits, vegetables, and other products in your food market, and it's important to know what they mean.
Below, we describe each type of label in general; then we list examples of that type of label, with links where you can get more information.
While organic food may have more notoriety, food that is grown biodynamically is really the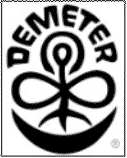 king of the hill when it comes to maximizing nutritional quality and earth-friendly farming practices. It features a holistic approach, focusing on soil health, including the use of studiously prepared organic fertilizers; it's mindful of universal energy patterns as well as plant biology; and it encourages a consumer connection with farmers.
Example:
Chemical pesticides are generally toxic to you, farmers, soil on farms, and the surrounding environment. While the USDA organic standard prohibits their use, conventional American farmers still apply hundreds of millions of pounds of chemical pesticides to the non-organic food you eat each year. However, there are some conventional farmers who are trying to minimize their pesticide use and avoid the most toxic chemical pesticides altogether. Some of the labels to look for here are "No chemical pesticides used" or simply "No pesticides used."

Labels that mention "Integrated Pest Management" (IPM) imply that the grower used least-toxic methods, though there is no standard regarding the rigor of IPM programs (i.e. there's no way to know how much a grower really reduced his pesticide use). Similarly, "Pesticide-Tested" labels imply nothing about the grower's methods, only that pesticide residues on the product are below some set limit.

Example:



Should farmers be able to make a living growing food for you? That seems reasonable, but market forces and corporate pressure to keep the prices of raw goods as low as possible often put the squeeze on small farmers, especially in developing countries, sometimes driving small farmers out of business completely.
In the long run, losing our small farmers will turn out to be a big problem for food production, and not just a simple matter of the marketplace weeding out lower-efficiency producers.

Fair trade programs recognize this problem and try to establish price floors and marketing programs so that small farmers can get a fair price for their products. The United States and European Union subsidize their big farmers with billions each year (with your tax money, no less!). Fair trade programs help level the playing field.

Examples:





As pests become resistant to pesticides and as farm chemicals further degrade natural soil quality, industrial farming will ultimately fail. (For more details on this, see our article The Environmental Cost and Unsustainability of Industrial Agriculture.)
Sustainable farming, true to the literal meaning of the concept, tries to practice farming in a way that avoids these problems and can be practiced sustainably—i.e. forever—not only by reducing or eliminating the use of chemicals, but also by nurturing the soil using natural methods. A sustainable agriculture label, if true to its underlying meaning, is a step up from simple reduction of pesticide use.

Some programs, such as the one run by the Rainforest Alliance, also focus importance on maintenance of original ecosystems. For instance, coffee and chocolate can be grown without cutting down rainforest areas (though many non-certified versions are not). Other certifiers incorporate fair trade, workers' rights, or "sustainable communities" concepts into the requirements for their label.

Examples:






A genetically modified organism, or GMO, is one that has had its DNA artificially altered.
(For an overview of the problems with GMOs, see our article, Genetically Engineered Crops—The Scary Sequel to "The Green Revolution".) GMOs are specifically excluded from certified-organic products, but many products feature a generic "no GMO" claim in addition to any other labels they may bear. Many certified labels include a "no GMOs" pledge as part of their standards.
Example:
Labels are an important way for producers to tell you about the characteristics of their products. There are plenty of sham labels out there that you should avoid, and becoming familiar with the labels that really mean something will help you do that. We want to make sure that the only thing in your shopping cart with a "Spoiled Rotten" label on it is your kid!
Resources:
More articles and resources: