IF NOAH WERE ALIVE TODAY, WHAT HE
WOULD TAKE ON THE ARK:
• A planet-sized roll of Bounty

• His big-screen and a Blockbuster store

• Eric Burdon and all the other Animals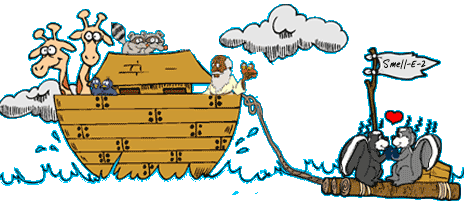 Jonah Whales
— Biological Hill, Washington
"I would recommend Noah take a copy of the Scientific American article, 'Plankton—For When You've Gotten REALLY Hungry.'"

---

What does Christianity REALLY tell us about preserving species? Flood the screen with the next page

ALSO AVAILABLE:
- The other cartoon from this double issue: The Mystery of Science
- More jokes/cartoons in general: Go to list
"Here Comes the Flood"
– Peter Gabriel, from Shaking the Tree: 16 Golden Greats

Lord, here comes the flood;
We'll say goodbye to flesh and blood.
If again, the seas are silent, and any still alive,
It'll be those who gave their island to survive.
Drink up, dreamers, you're running dry.

REVIEW: This Peter Gabriel best-of CD is awash in great songs. It has his early solo classics, like "Solsbury Hill," "Shock The Monkey" and "Games Without Frontiers." It has haunting, poignant songs like "Mercy Street," "Red Rain" and "Don't Give Up." It has dramatic pieces like "San Jacinto," "Here Comes The Flood" and "Biko." And—oops—I almost forgot—it has Gabriel's two mega-hits: "Big Time" and "Sledgehammer" too! There isn't a single floater on the entire CD!

For reviews, to hear clips, or to get purchase info,
click here to go to Amazon.com

AMAZON PURCHASES FROM HERE HELP SUPPORT THIS FREE SITE. THANKS!

Search Amazon.com for more...
ADVERTISEMENT
Hey, we don't pick
the Google ads! – GP
CLICKS ON OUR ADS AND PURCHASES VIA OUR AMAZON LINKS HELP SUPPORT THIS FREE SITE... THANKS!