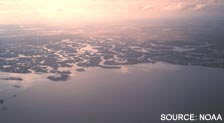 Will New Orleans sink into the sea like the mythical Atlantis? Will mermaids be lifting their shirts to get strings of beads? Not likely, but over the last 50 years, the state of Louisiana has been losing more than 40 square miles of coastal wetlands each year. And since the wetlands act as a storm buffer, their disappearance will leave New Orleans more exposed to the effects of big hurricanes.
The factors that cause wetlands loss can be both natural and man-made. Human factors in the Louisiana case include:
dredging of canals to keep them clear for shipping and to run oil and gas pipelines;
construction of levees, usually for flood control; and
withdrawal of oil and gas from the ground.
The first two items on the above list are by far the biggest cause of the disappearing lands along the Louisiana coast. Long ago, the natural flow of the Mississippi River brought huge loads of river mud and silt from upstream waters. The suspended dirt was deposited where the river meets the Gulf of Mexico to form a rich delta. Changing the water's natural flow patterns did help with flood control all along the Mississippi but it robbed the delta of its regular ration of replenishing silt. Encroachment of salt water into areas that were previously fresh-water marshes has killed (and continues to kill) fresh-water plants whose roots once anchored the land in place. This has led to further rapid erosion.
Decades of water-flow disruption, as well as some natural land subsidence in the area, have led to Louisiana's serious loss of coastal wetlands. This unfortunate phenomenon is
a prime example of unintended consequences. What was originally done to prevent flooding and bring economic prosperity to Mississippi River communities now threatens catastrophe in an entire region.
Louisiana's stated approach to correcting the problem is along the lines of trying to restore the natural balance of things, which seems like the right direction, but it remains to be seen whether the approach will be successful—or whether anyone will be able to muster the political muscle necessary to bring together the many competing interests or come up with enough money to implement the very costly restoration plan. For the sake of the people and critters of Louisiana, we hope so.
Now, while we can still enjoy it, back to our bowl of Cajun-Crawdaddy Corn Flakes. And hey—where are those mermaids?