HERE COMES THE SUN
CROSSING THE SOLAR-PANEL COST BARRIER
Sierra Club Radio — 10 Apr 2010
After decades of lagging, solar PV is starting to make economic sense. Tom Rooney, CEO of SPG Solar, one of the nation's largest solar integrators, reviews some of the important factors that are improving the cost-effectiveness of solar panels that generate electricity at the home scale and at the industrial scale.
Go to page | Download/Listen 14:36
Related GP pages:
Article: Home Solar Energy
Books: Solar Energy Books

All Things Considered (NPR)
Unintended Consequences Of Credit Card Act — 15 Apr 2010 — Under the so-called Card Act, credit card companies will have a harder time raising or imposing fees. Nonetheless, they will do so. Consumers need to start reading the fine print.
Go to page | Download/Listen 4:31
Psychologist For Priests Saw Abusers Reinstated — 15 Apr 2010 — For years, the Catholic Church has quietly sent priests accused of sexual transgressions to psychiatric centers. Dr. Leslie Lothstein, who has treated more than 300 Catholic priests, says many of his patients have sexual problems. And, he says, the church sometimes sends pedophilic priests back into situations that involve children.
Go to page | Download/Listen 5:46

The Real News
Kyrgyzstan's Second "Tulip Revolution" — 16 Apr 2010 — F. William Engdahl discusses the chaotic situation in Kyrgyzstan. It is most definitely a pawn on the grand chessboard.
Watch | Download/Listen 9:06

CounterSpin
Genetically Engineered Foods — The Debate is Over? — 16 Apr 2010 — A New York Times report gives the impression that the debate about genetically engineered foods is largely over and that, despite some caveats and critics' warnings, GE crops are good for the environment and the economy. One of those critics, Ben Lilliston of the Institute for Agriculture and Trade Policy, says not so fast.
Download/listen to this segment 9:48
Related book (on Amazon):
Genetic Roulette: The Documented Health Risks of Genetically Engineered Foods

Democracy Now
US Vet: "This Is How These Soldiers Were Trained to Act" — 12 Apr 2010 — A veteran of the military unit that was subsequently involved in the 2007 Baghdad helicopter shooting says the disturbing incident is part of a much larger problem.
Watch | Download/Listen 17:10
Matt Taibbi: Looting Main Street — 12 Apr 2010 — Journalist Matt Taibbi details how the nation's biggest banks have been ripping off American cities with predatory deals.
Watch | Download/Listen 9:31
The Health Effects of Water Contamination from Fracking — 14 Apr 2010 — The Environmental Protection Agency has begun a review of how the drilling process known as hydraulic fracturing, or "fracking," can affect drinking water quality. World-renowned scientist Dr. Theo Colborn discusses the health effects of water contamination from fracking.
Watch | Download/Listen 10:33
Referenced DVD:
Split Estate (film's web site)

Flashpoints
US Tax Dollars, the Military, and the Black Box — 13 Apr 2010 — How much US tax money really goes to fund military operations and the "black budget." Probably much more than is officially on the books and admitted to, says Catherine Austin-Fitts. ~~ Other segments include coal mining disasters related to intentional flouting of mining regs; and scandals related to the Catholic Church, child molestation, and the 20th-century genocide of native peoples.
Go to page | Download/Listen 59:50
Referenced book:
Jeff Biggers: Reckoning at Eagle Creek

Food Chain Radio
How Organic is Organic? — 10 Apr 2010 — As agribusiness has moved into the surging market for organic food, they've tried to fatten their bottom line by skirting the spirit and intent of the organic standards. The good news, says "organic godfather" Fred Kirschenmann, is that the USDA appears to be on the verge of closing some of the worst loopholes.
Go to page | Download/Listen 42:32

Agroinnovations
Michael Shuman: The Small-Mart Revolution — 05 & 12 Apr 2010 — In part 1, Michael Shuman discusses the economic development policies of various levels of government around the United States (which is typically to favor large, non-local business at the expense of small, localized businesses). In part 2, Shuman discusses strategies for buying local, opportunities for local entrepreneurs, the prospects for relocalizing capital markets, and strategies for policy making.
PART 1: Download/Listen 33:00
PART 2: Download/Listen 34:29
Michael Shuman book:
The Small-Mart Revolution

One Radio Network
NOTE: You need free One Radio Network account to listen/download their MP3s.
Andrew Gause: Are the Central Banks and Their Owners Stealing the Productive Wealth of Nations? — 14 Apr 2010 — Segments include... How The Powers That Be keep their back-room schemes rolling and their parasitic revenue streams flowing ~~ JP Morgan Chase's highly profitable last quarter ~~ How the big banks and feds cook the books
Audio no longer available from host site. 1:01:57
How Chemicals in Food and Products Show Up in Our Bodies — 12 Apr 2010 — Bruce Lourie, author of Slow Death by Rubber Duck, talks about how the pesticide residues in foods and toxic chemicals in everyday products affect our health. He gives a lot of good detail on how his team tested products on themselves and how exposure drove changes in blood levels of chemicals.
Download/Listen 1:03:03
Referenced book:
-- Slow Death by Rubber Duck: The Secret Danger of Everyday Things
Related GP articles:
-- Plastic Food Containers
-- Pesticide Residues in Food
-- Mercury in Fish

Morning Edition (NPR)
Black Lung: The Quiet Deaths Outside The Coal Mines — 16 Apr 2010 — Getting coal out of the earth generates enormous quantities of coal dust. It clings to clothes, skin, and faces. Coal dust also seeps into lungs; and as it collects there, scar tissue forms, hardens, and ultimately reduces lung performance, making breathing more difficult. Recently, black lung rates have risen. But why?
Go to page | Download/Listen 4:56

Fresh Air
Can We Cool The Planet Through Geoengineering? — 15 Apr 2010 — Geoengineering is envisioned by some as the only practical way we will ever truly get control of the earth's climate. A sample approach would be to launch tiny particles into the stratosphere to reflect sunlight, thus reducing warming. Jeff Goodell examines the science, pros, and cons behind tinkering with the biosphere.
Go to page | Download/Listen 27:09
Jeff Goodell book:
How to Cool the Planet

Radio EcoShock
Back to the Land! — 16 Apr 2010 — The increasing average age of farmers, a threatened food system, and a desire for good fresh food are driving a new wave of local growers. Severine Fleming of Greenhorns talks about young farmers. Sharon Astyk tells us all how. Learn about Community Supported Agriculture (CSAs), organic volunteers ("WWOOFING"), city farming, and more.
Download/Listen 1:00:00
Get more Radio EcoShock here

Survival Podcast
Dealing With Violent Confrontations — 14 Apr 2010 — Jack Spirko outlines some of the strategic thinking that one should apply to potentially violent situations. One thing is for sure: Violence does not happen like it's portrayed on television and in movies.
Go to page | Download/Listen 1:12:51
Reducing Your Tax Footprint — 15 Apr 2010 — What is a tax footprint? What are some of the hidden taxes we pay? Ways to reduce our tax foot print and improve household resilience include: using less grid electricity in our home by installing alternative energy and insulating better; growing more of our own food, and brewing our own beer or wine; driving a fuel-efficient vehicle....
Go to page | Download/Listen ~1:00:00
Related GP articles:
The Resilient Household

Financial Sense NewsHour
Dr. Lawrence Parks: Collapse of the Dollar — 10 Apr 2010 — Larry Parks, director of the Foundation of the Advancement of Monetary Education, says that everyone involved in running our the monetary system, from central bankers to elected politicians, is either lying or delusional about our fiat-based money system, which is by mathematical necessity heading for massive failure. He points out that the devaluation process, when it finally happens, can happen very fast.
Download/Listen 58:00

More FSN audio here
McAlvany Podcast

Europe and the Euro—From Inception to Today — 14 Apr 2010 — Otmar Issing was one of the architects of the European Monetary Union. He offers his (somewhat technical) perspective on where things stand today with the Euro vs. other currencies and on the troubles in Spain, Greece, and elsewhere.
Go to page | Download/Listen 31:52

Referenced book:
The Birth of the Euro
(by Otmar Issing)

COOL & CLASSIC...


LEARNING FROM THE ANCIENTS

EconTalk
The Death and Life of the Great American School System — 12 Apr 2010 — Diane Ravitch argues that the two most popular education reform movements—accountability programs like No Child Left Behind and school choice initiatives like Charter Schools—have had unintended consequences that have done great harm to the current generation of students. What reforms might make things better?
Go to page | Download/Listen 1:00:27
Referenced book:
The Death and Life of the Great American School System: How Testing and Choice Are Undermining Education (Amazon page)

Financial Sense NewsHour

Jeff Christian: CFTC Remarks Were Taken Out of Context — 10 Apr 2010 — Jeffrey Christian clarifies the controversial comments he made before the Commodity Futures Trading Commission. He says his remarks were taken out of context.
Download/Listen 41:50
(GP comment: Christian attempts to explain that things are really a-ok in the metals markets, but this stream of Wall Street-speak shows us how much of a casino the derivatives markets are. New mantra: "Too complex to understand is too complex to exist.")
Nick Barisheff: The Bullion IS in the Vaults — 10 Apr 2010 — More refutation of the assertions about malfeasance in the precious-metals industry.
Download/Listen 13:11

More FSN audio here

King World News
Jim Rickards: No Honest Way to Pay the Debt — 14 Apr 2010 — Rickards gives his perspective on commodities-market manipulations. He also discusses the impossibility of the US paying off its debt—unless it's in inflated dollars—as well as monetary standards based on precious metals.
Go to page | Download/Listen 30:46

Terra Verde
Shipping Pollution — 09 Apr 2010 — Standard shipping fuel causes 1800 times more sulfur air pollution than the fuel we put in our cars. What solutions are available to reduce pollution from shipping, and why is it taking so long to implement them?
Go to page | Download/Listen 29:55

Natural News / Health Ranger Report
Jesse Ventura: American Conspiracies — 09 Apr 2010 — Jesse Ventura—former Navy Seal, former Governor of Minnesota, current patriot—says our last best hope is to shun corporate media and learn the truth through books and well researched internet sources; to recognize the ridiculousness of trading civil liberties for security; and to abandon the bought-off Democrat-Republican duopoly and vote for anyone but them.
Download/Listen 44:50

More Health Ranger audio here

Bill Moyers Journal
America's Long War in Afghanistan — 09 Apr 2010 — Historian, international relations expert, and former US Army Colonel Andrew J. Bacevich explains why it's time to bring America's long war in Afghanistan—the longest war in its history—to a close.
Watch | Download/Listen 20:19

Peak Moment
The Crash Course—Exponential Growth Meets Reality — 09 Apr 2010 — Chris Martenson reviews the history and status of his Crash Course, which explores in detail the intersection between exponential growth in the debt-based money supply and limited resources, especially oil.
No longer available from host site.
Two Beers With Steve
Free Markets, Bouncing Babes, And Net Neutrality — 09 Apr 2010 — Stefan Molyneux of Freedomain Radio gives his philosophy on the problem with economic solutions that are "violent" in nature, the free market, and the ills of big government and top-down control. He also asserts that the free market is perfectly capable of ensuring that the internet continues providing a fair medium through which information can be exchanged, uncensored.
Audio no longer available from host site.

On The Media
Copyright's Wrong Turn — 09 Apr 2010 — England's Statute of Anne could be called the Magna Carta of copyright. Born 300 years ago, for the first time in history it conferred upon authors certain rights to their works. Unfortunately, says Duke Law School professor James Boyle, modern copyright law has strayed far from the original intent of that ancient approach.
Go to page | Download/Listen 7:29

C-Realm Podcast
The Light of Doom — 14 Apr 2010 — Segments include... The chasm that often occurs between a spouse who is peak oil-aware and one who is in denial ~~ The legitimacy of shamanism and mind-expanding substances in the exploration of our role on the planet ~~ Whether there is a certain nobility in trying to sustain the unsustainable
Go to page | Download/Listen 1:00:00

Energy Stew
Marc Newkirk: The Quantum Nature of Consciousness — 08 Apr 2010 — Once we understand the quantum nature of consciousness, we can work with it to understand more about ourselves and all of life and to advance our civilization. Physics, metaphysics, and spirituality are all converging to help us discover our true nature.
Download/Listen 29:19

Coast To Coast
2012 and Metaphysical Evolution — 05 Apr 2010 — As we head into 2012, which prophecies of calamity track with current facts and theories? What are the scientific and astrological interpretations of 2012, and how does that relate to metaphysical evolution?
PART 1: Download/Listen 1:00:00
PART 2: Download/Listen 1:00:00
Notes:
(1) MP3s above are mirrors of KSFO's full-hour MP3's and contain news and commercials. The meaty portions typically run from 10:00-29:00 and 38:00-58:00.
(2) You can see Coast To Coast pages for this interview or a list of latest shows.

A Better World
Sean David Morton: Predictions — 31 Mar 2010 — Mr. Morton's predictions cover April 2010 through Dec 2012. (GP comment: This is a rather strange mix of good "coming transformation" stuff and right-wing agitprop, so take it for what it's worth.)
Audio no longer available from host site.

GrammarGirl
#210: Pronouns and Antecedents — Avoid the three most common errors for "I" vs. "me", "we" vs. "us", etc; as well as how to make sure readers know what words like "it" refer to in context.
Go to page | Download/Listen 7:33
#211: Top Ten Grammar Myths — Learn subtle distinctions between "i.e." and "e.g."; the tricky cases for "a" vs "an"; and when you can end a sentence with a preposition.
Go to page | Download/Listen 6:40
#216: Between," "Compared to," and "Compared with" — Learn how to properly use phrases like "ranging from" as well as "comparison" words and phrases.
Go to page | Download/Listen 6:26
Referenced book:
The Grammar Devotional

Quirks and Quarks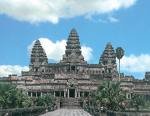 Wat Was Up With Angkor? — 10 Apr 2010 — The ancient city of Angkor was the seat of the Khmer empire that dominated Southeast Asia for centuries. Its mysterious decline in the 14th and 15th centuries has puzzled historians. But new work reconstructing the climate of the region may suggest part of the solution to that mystery.
Go to page | Download/Listen 8:58

Living On Earth
Comic Relief for Climate Change — 09 Apr 2010 — Satire, slapstick, and global warming? British author Ian McEwan has set his new comedic novel in the realm of climate science.
Go to page | Download/Listen 10:38

On The Media
Take My Joke, Please — 09 Apr 2010 — When it comes to copyright law, the world of comedy is an untamed and sometimes violent frontier. Comedians don't copyright their jokes; instead, they rely on an informal system of intellectual property enforcement. How does that system work?
Go to page | Download/Listen 11:26
AD CLICKS AND AMAZON PURCHASES FROM HERE HELP SUPPORT THIS FREE SITE. THANKS!
Search Amazon.com ....