WEB OF DEBT
THE SHOCKING TRUTH ABOUT OUR MONEY SYSTEM—AND HOW WE CAN BREAK FREE

Two Beers With Steve — 22 Sep 2009
Ellen Brown, author of Web of Debt, provides an excellent tour through the reality of the financial crisis. Among her points:
The debt-based money system has been run by the banksters since before the days when the American colonists rebelled against the Bank of England.
The reason the US government and the Federal Reserve are madly printing money is because the Big Pile O' Debt in the "shadow banking system" has imploded, presenting a huge problem for our Ponzi-style monetary system.
Collapse of the whole system has not yet been prevented because the root problems have not been addressed.
The only real solution is to move to state-run banks; that is, the profits from money creation must be taken back from the private banks and used for public benefit.
Audio no longer available from host site.
More Ellen Brown Stuff:
-- Blog: Web Of Debt Blog
-- Book: Web of Debt: The Shocking Truth About Our Money System and How We Can Break Free
Related GP article:
-- Causes of the Financial Crisis

Radio EcoShock
Geoengineering — 25 Sep 2009 — Alex thinks we may soon way bye-bye to blue skies, as poltroonish politicians and worried scientists begin looking at "Plan B" for avoiding catastrophic climate disruption—engaging in planet-level schemes to geo-engineer the climate. Big fossil fuel companies and climate deniers have suddenly jumped on board the idea, so you KNOW it must be the right thing to do, eh?
Download/Listen 1:00:00

CounterSpin
"Predatory Lending" Vs. "Subprime Lending" — 25 Sep 2009 — Segments include... (1) C-Spin's weekly unwinding of journalistic hoo-hah ~~ (2) Joseph Romm explains how some of the obstacles to climate change solutions stem from inept media coverage ~~ (3) A look at the language of the mortgage crisis — "predatory lending" vs. "subprime lending", which respectively spotlight bad lenders vs. bad borrowers.
Download/Listen 28:00

Democracy Now
G-20 – Bankers' Bingo! — 25 Sep 2009 — After headlines... Lori Wallach boils down the G-20 meeting to one thing: it's working people vs. the banksters ~~ A historian and labor organizer reports on the G-20 protests and puts them in context of Pittsburgh's history as a once-great labor town ~~ Wangari Maathai discusses the latest report on climate change, which predicts that global temps will rise to more than three times the "safe" level, even if we were to implement to most rigorous of the currently proposed climate solutions ~~ An analysis of the UN Security Council's resolution aimed at shoring up the international commitment to limiting the spread of nuclear weapons
Go to page | Download/Listen 1:00:00

Free Speech Radio News
Iran Reveals Another Nuclear Facility — 25 Sep 2009 — Iran has revealed to the International Atomic Energy Agency's secret nuclear site. President Obama expressed his displeasure with the news. The IAEA is still trying to determine what, if any, violations took place. (Probably none. Under the terms of the international nuclear non-proliferation treaty, Iran has the right to pursue peaceful nuclear power. --GP)
Go to page | Download/Listen 4:19

On The Media
Mr. Newspaper Goes To Washington — 25 Sep 2009 — Washington is paying attention to the newspaper crisis. The president has even weighed in. But some worry that any government help would create a conflict of interest. Senator Ben Cardin (D-MD), sponsor of The Newspaper Revitalization Act, and Jim Moroney, publisher of The Dallas Morning News discuss what role, if any, the government should play in saving newspapers.
Go to page | Download/Listen 8:55
State Secrets Still Pretty Secret — 25 Sep 2009 — The "state secrets" privilege allows the government to ask judges to dismiss trials for national security reasons. Civil libertarians say the government abuses the privilege in order to avoid lawsuits. The Obama Administration has proposed reforms to the privilege, but lawyer and professor Jonathan Turley says the reforms don't go far enough.
Go to page | Download/Listen 6:19
True Enough — 25 Sep 2009 — Documentaries are supposed to represent the truth. But who decides what the truth is exactly? Patricia Aufderheide, professor and documentarian, explains a new effort to interview documentary filmmakers anonymously about their ethical lapses. She hopes that by understanding the extent of the problem the documentary community can come to some consensus on where the truth lies.
Go to page | Download/Listen 9:09

Living On Earth
Vanishing Aspens — 25 Sep 2009 — Scientists believe climate-change-driven drought is responsible for the rapid and widespread death of aspen trees in the Rocky Mountains. Unless conditions reverse, the decline is predicted to continue.
Go to page | Download/Listen 5:45
Green Intelligence — 25 Sep 2009 — Professor John Wargo discusses his new book, Green Intelligence: Creating Environments that Protect Human Health. It's a guide to chemical risks in our environment and efforts to protect us from these risks.
Go to page | Download/Listen 6:51

PBS News Hour
Brazil's Lula Fingers "Blue-Eyed Bankers" in Financial Crisis — 24 Sep 2009 — Brazil's President Lula comments that this is the first financial global crisis that started in the developed countries, not the developing countries. He also comments on issues related to Brazil's Amazon region. In the second part of the segment, economist Joseph Stiglitz says our current approach to running the economy is ineffective and hopelessly off-target.
Audio no longer available from host site.
HERE'S TO... THE PEASANT PARTY!
THE ONLY POLITICAL ALTERNATIVE IN FEUDAL ECONOMICS
Max Keiser - The Truth About Markets
12 Sep 2009
Max and Stacy discuss the likely triggers for the next phase of the financial collapse, and then propose that the only way to get around the electoral offerings from the "Goldman Sachs Party" and the "JP Morgan Party" (Democrats and Republicans) will be to support a candidate from the "The Peasant Party". It's offered humorously, but the reality of our bank-dominated political system is anything but funny.
No longer available.
Related GP articles:
-- Plutocracy/Democracy
-- Direct Democracy
Related movie:
-- V for Vendetta
Related GP cartoons:
-- The Birthday Party
-- Campaign Slogans Cartoon

Free Speech Radio News
Headline News — 18 Sep 2009 — Stories include... Court rules limits on non-profit political contributions unconstitutional ~~ New FCC members affirm support for low-power FM ~~ Yemen calls for probe into deadly military air strike that hit refugee camp ~~ Thousands to march in Argentina to demand the return of disappeared human rights witness
Go to page | Download/Listen 6:21
California Woman Revolts Against Her Creditors — 18 Sep 2009 — Frustrated by casino finance, trillions in bank bailouts, and a newly jacked-up 30 percent rate on her Bank of America credit card, California resident Anne Minch decided to stop paying her credit card debt earlier this month . She made her intentions public on a YouTube video.
Go to page | Download/Listen 7:02
Receding Ice Shelf Threatens Alaskan Arctic — 18 Sep 2009 — The National Snow and Ice Data Center recently revealed that Arctic summer ice in 2009 was the third lowest year on record. This has serious implications for walruses and other wildlife in that area.
Go to page | Download/Listen 3:16
Obama Administration Shelves Plans for Missile Defense Shield — 17 Sep 2009 — The Obama administration has shelved plans to build a controversial missile defense shield in Eastern Europe.
Go to page | Download/Listen 6:11

KunstlerCast
#80: White and Green Rooftops — 17 Sep 2009 — The US Energy Secretary is advocating that people make their rooftops white in order to save on summertime energy use, which reduces emissions of CO2 and other pollutants from coal-fired power plants. James Howard Kunstler reacts to this idea and also addresses the topic of rooftop gardens, or "green" roofs.
Go to page | Download/Listen 18:29

On The Media
Calling All Leakers — 18 Sep 2009 — This week, Joint Chiefs of Staff chairman Adm. Mike Mullen raised the possibility that even more U.S. troops would be needed for the war in Afghanistan. That news, as well as recent disheartening reports from Afghanistan, has many pundits making comparisons to the Vietnam quagmire. Daniel Ellsberg, the legendary leaker of the Pentagon Papers in the Vietnam era, says the analogy is a good one, and that the government is hiding information that could worsen our opinion of continued engagement in Afghanistan.
Go to page | Download/Listen 7:29
The Seeds of a Story — 18 Sep 2009 — In the last two weeks, conservative blogs helped drive real-world change. First, Van Jones, the president's Green Jobs adviser, resigned. Then, non-profit ACORN lost funding amid embarrassing revelations. In both cases, most traditional media outlets lagged in telling the story. Partisan sources are increasingly setting the news agenda. What does that means for the news consumer?
Go to page | Download/Listen 6:23

One Radio Network
The End is Not Near — In the 16 September show, Currency historian and general smart-guy Andrew Gause gives his take on the coming resets in Alt-A and Option-ARM mortgages, the latest on gold and silver, and the chances for the US dollar vs. a new world currency. In the previous week's segment, more good discussions on similar topics.
Audio no longer available from host site.

Living On Earth
Hold on Coal — 18 Sep 2009 — The US EPA has announced it will be taking a closer look at 79 mountain-top-removal coal mining sites. If they don't pass Clean Water Act standards, they could be restrained permanently.
Go to page | Download/Listen 5:31
The Steel City Builds Green — 18 Sep 2009 — The G-20 will discuss climate change in Pittsburgh, Pennsylvania, a seemingly unlikely host given its struggle to keep its economy growing and its air clean. But the city's recent clean-tech revitalization is showing the world you don't have to pollute to create jobs.
Go to page | Download/Listen 9:24
Tiny Diatoms Give Big Boost to Solar — 18 Sep 2009 — Diatoms are tiny organisms that live in "glass houses." Scientists have figured out how to apply them to a new kind of solar cell that can produce electricity even on cloudy days.
Go to page | Download/Listen 2:11
Truck Farm — 18 Sep 2009 — Gardens can be grown virtually anywhere, and two creative New York City farmers are proving it—growing vegetables out of the back of a 1986 Dodge pickup truck.
Go to page | Download/Listen 7:07

Bill Moyers Journal
Conservatism; Unions — 18 Sep 2009 — (1) Is true conservatism dead? (2) What is the state of organized labor?
Go to page | Download/Listen 54:00
Sierra Club Radio

National Parks Special — 12 Sep 2009 — (1) Filmmaker Ken Burns discusses his new documentary series, The National Parks: America's Best Idea ~~ (2) Journalist Joan Hamilton talks about her recent article, Parks As Arks.
Go to page | Download/Listen 27:00

The Gary Null Show

The Shadow Effect — 15 Sep 2009 — Guest host Mitchell Rabin talks with Debbie Ford about the factors preventing us from finding inner peace. Ford is creator of the movie The Shadow Effect.
Go to page | Download/Listen 56:18

Bloomberg - On The Economy

Marc Faber Interview — 10 Sep 2009 — Marc Faber discusses the foibles of Fed chairmen, government wonks, and private economists, asserting that for the last 30 years, the US drive towards the "consumer economy" has been a disaster, and that for the last decade, all economic policies have been geared toward helping speculators at the expense of the middle class. Faber's most recent book is Tomorrow's Gold: Asia's Age of Discovery.
Go to page | Download/Listen 31:30
WHY IS DR. WALLSTREET IN CHARGE OF THE HEALTH CARE SYSTEM?

Media Matters — 06 Sep 2009
Doctors know that parasites are not good for the human body. How is it, then, that politicians can't see that financial parasites are not good for the US health care system? Wendell Potter, a former public-relations head for a major health insurance company, provides a penetrating view inside the messy interior of the health care debate.
Go to page | Download/Listen 58:30
Related movie:
-- Sicko
Related books:
-- The Healing of America: A Global Quest for Better, Cheaper, and Fairer Health Care
-- A Plan for a Single-Payer Health Care System: The Best Health Care in the World
Related GP articles:
-- Understanding Plutocracy and Its Effect on Your Health and the Environment
-- Pollution and Health – Human Effects and Costs

Free Speech Radio News
Headline News — 11 Sep 2009 — Stories include... Ugandan ethnic riots leave 9 dead ~~ Lebanese political crisis deepens as PM resigns; rocket fire into Israel resumes ~~ Activists file suit over G20 protest permits ~~ Gitmo lawyers say military commissions continue despite executive order
Go to page | Download/Listen 5:59

Food Chain Radio
Mark on the Beast V — 05 Sep 2009 — The US government tells us the National Animal Identification System (NAIS) will improve food safety, but others say it is merely another way for government to help agribusiness to shut down small farmers and hobbyists.
Go to page | Download/Listen 42:47
KunstlerCast

#79: Packin' for France – Is Now A Good Time to Leave the U.S. for Good? — 10 Sep 2009 — James Howard Kunstler responds to a listener question about the ins and outs of ditching the increasingly Brave-New-World-ish United States for a more survivable region of the planet, say France.
Go to page | Download/Listen 30:07

Peak Moment

The Waking-Up Syndrome — 10 Sep 2009 — Eco-psychologist Sarah Edwards, PhD, explains the stages people often go through when they first face the implications of climate change and resource depletion. She outlines various aspects—denial, anxiety, awakening, despair—as well as eventual acceptance. Differentiating the phenomenon from the normal grief process, Sarah emphasizes how we can face these feelings and free our energy for positive, practical action in our personal lives and in our community.
Watch video | Download/Listen 27:00

Living On Earth
REDD Path to a Green Planet — 11 Sep 2009 — Preserving the tropical rainforest is one of the fastest, cheapest ways to mitigate climate change AND preserve biodiversity.
Go to page | Download/Listen 19:10
California Air Officials Nix Polluting Dairy Energy — 11 Sep 2009 — Some dairy farmers are investing in machines that turn gases from cow poop into usable energy. But some California farmers are getting into trouble with air pollution officials.
Go to page | Download/Listen 7:48

Guns and Butter
Fiscal Collapse — 02 Sep 2009 — Michel Chossudovsky points out the lunacy of the government's decision to prioritize the bailout of huge, risk-loving, predatory financial institutions ahead of the need for better public infrastructure, more investment in the means of industrial production, and improving our lagging education levels.
Go to page | Download/Listen 59:00
Dress Rehearsal For Debt Peonage — 26 Aug 2009 — Michael Hudson blasts the corruption and insanity of the finance-dominated economic and political system, asserting that we are headed for a world run by oligarchs, with a much greater wealth gap and "debt peonage" for the non-rich.
Go to page | Download/Listen 59:00

Democracy Now
Controversy Around Massive Swine Flu Vaccination Plan — 03 Sep 2009 — Segments include... Controversy around massive swine flu vaccination plan at NY elementary schools ~~ Fiji Water tied to military junta ~~ Natural gas drilling, hydraulic fracturing, and water contamination ~~ Doctors' role in CIA waterboarding may amount to "human experimentation"
Go to page | Download/Listen 1:00:00

Living On Earth
Hormone-Mimicking Chemicals — 04 Sep 2009 — Two stories on hormone-mimicking chemicals like BPA and Atrazine, which can be bad for human health even in tiny doses. But regulatory agencies like the EPA and the FDA only look at traditional high-dose toxicity tests when considering regulation.
Low Dose Makes the Poison: Go to page | Download/Listen 7:13
EPA's Chemical Delay: Go to page | Download/Listen 6:28

Free Speech Radio News
CDC Releases Latest Swine Flu Figures — 03 Sep 2009 — Thirty-six children have died from Swine Flu, according to data released today by the Centers for Disease Control. However, in almost all fatal cases, there was a severe underlying illness, an underlying disability, or a bacterial infection.
Go to page | Download/Listen 2:21
NATO Airstrike Kills 90 in Afghanistan; US General Ponders Troop Surge — 04 Sep 2009 — A military surge in Afghanistan could be on its way, just as a NATO airstrike killed up to 90 people in northern Afghanistan. The Obama Administration is evaluating General Stanley McChrystal's assessment of the situation there.
Go to page | Download/Listen 4:21

Bill Moyers Journal
Corporations and Political Influence — 04 Sep 2009 — Next week, the Supreme Court reconvenes early for a special hearing on the constitutionality of campaign finance limits for corporations. Bill Moyers explores this critical topic with two experts.
Go to page | Download/Listen 53:23

CounterSpin
Bailed Out CEOs Still Flooded with Compensation — 04 Sep 2009 — Segments include... C-Spin's weekly unwinding of journalistic hoo-hah ~~ A new report says the top executives at the biggest bailout banks laid off more than a hundred thousand workers but still managed to take home bigger paychecks than executives in less-troubled industries ~~ Four years later, New Orleans is still dealing with the aftermath of Hurricane Katrina, but the corporate media don't seem to care much anymore
Download/Listen 28:00

Media Matters
The End of Literacy and the Triumph of Spectacle — 30 Aug 2009 — Chris Hedges explains the phenomenon of our post-literate mentality and the delusion that permeates all levels of American society. Hedges is author of Empire of Illusion: The End of Literacy and the Triumph of Spectacle. (NOTE: The first 5 minutes is a repeat of the Aug 28 Media Minutes segment.)
Go to page | Download/Listen 1:00:00

KunstlerCast
Litter and Pollution — 03 Aug 2009 — James Howard Kunstler says one reason why American cities are so dirty is because we do not have a firm agreement about how to treat the public realm in this country. He also talks about how constricting oil supplies will influence large-scale pollution from mega-corporations in the future.
Go to page | Download/Listen 40:10
Radio EcoShock

When the Great Correction Comes — 04 Sep 2009 — Oil analyst Jan Lundberg talks about the coming energy shock, climate disruption, and the toll these "twin hammers of inevitability" will take on our economies and lives. But Jan goes positive, offering ways to get out and up ~~ Then, Alex asks "When will the human race go extinct?" Is that a contest, an extreme joke, or serious science? Contribute your own "doom date"
Download/Listen 1:00:00

COOL & CLASSIC


STRATOSPHERIC CONCERNS

Sierra Club Radio
Full Show — 01 Sep 2009 — Segments include... Filmmaker Robert Stone talks about his new documentary, Earth Days, about the advent of the environmental movement ~~ Vice Admiral Lee Gunn of the American Security Project discusses how climate change impacts our national security ~~ Some of New Orleans is rebuilding green
Go to page | Download/Listen 27:00

Bloomberg - On The Economy
Ron Paul on The Fed, US Health Care — 01 Sep 2009 — Congressman Ron Paul discusses the need to eventually take back control of our money from the bank-owned Federal Reserve. He also puts his doctor's hat on and explains his views on US healthcare reform.
Go to page | Download/Listen 30:40

If you find Grinning Planet's feed of MP3/audio news valuable... so might others — please forward to a friend
THIS MONTH'S
VIDEO SPOTLIGHT PICKS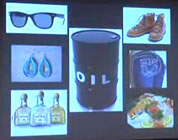 RESOURCES, BIOLOGY, PSYCHOLOGY, AND THE END OF GROWTH


When we get down to first principles in economics, biology, energy, and human behavior, we see that constraints on resources, environment, and debt capacity pose an imminent threat to the economic juggernaut that has brought unparalleled prosperity to so many. Watch peak oil / end of growth video.

(50:49)




THIS MONTH'S
VIDEO SPOTLIGHT PICKS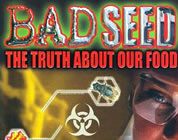 MONSANTO OR MON

SATAN

O?
The documentary Bad Seed—The Truth About Our Food explains the dangers of genetically modified food and the dirty tactics used by GMO corporations and their government henchmen to keep their products on the shelves (and out of the news). If you weren't convinced GM crops were bad before, you will be after this. Watch video on genetically modified food.

(1 hour)




THIS MONTH'S
FUNNY PROGRESSIVE MULTIMEDIA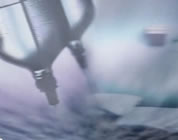 HOMEOPATHIC EMERGENCY!


When one is suffering from systemic imbalance, homeopathy may be just what the alternative doctor ordered. But what can it do when it comes to traumatic injury? Watch funny homeopathy video.

(2:33)




THIS MONTH'S
FUNNY PROGRESSIVE MULTIMEDIA
STORE WARS


This is an excellent animated cartoon that spoofs Star Wars as it promotes better agriculture and food. It's stuffed full of great Star Wars food puns, with some fun visual humor too. We must fight the dark side of the farm! Watch funny video on organic vs. industrial agriculture.

(5:50)




THIS MONTH'S
FUNNY ANIMATION/VIDEO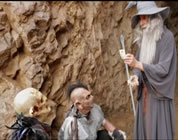 GANDALF STREET MAGIC


Gandalf roams the city streets amazing people (and familiar characters) with magic tricks. Watch funny Gandalf video.

(2:46)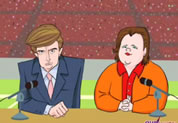 SUPERBOWL HALF-TIME SHOW — CENSORED!


A classic cartoon animation/parody of Donald Trump and Rosie O'Donnell as half-time commentators from football's Superbowl past. The spectacle, the celebrities, the glamour, the inhumanity! Watch funny halftime video.

(2:43)