On The Media
29 May 2009 — Of Lab Rats and Men — In a recent court case, drug manufacturer Merck introduced supporting evidence from a peer-reviewed article from a scientific journal. Stunningly, it

turned out the entire journal was paid for by Merck and its peer-review status was a fraud. How deep do such scientific deceptions run in the world of Big Pharma?
Go to page | Download/Listen 6:45

Radio EcoShock
29 May 2009 — Your Food Security — As industrial agriculture gets hit by the combination punch-kick-chop of oil depletion, climate disruption, and the economic splat, we can expect the food system to have problems. Robin Wheeler, author of Food Security for the Faint of Heart: Keeping Your Larder Full in Lean Times, talks about the family food supply.
Download/Listen 1:00:00
NOW

29 May 2009 — Green Jobs - Hope or Hype? — Many analysts think the jobs of the future will be green jobs, and President Obama has promised to create 5 million green-collar jobs over the next 10 years. Van Jones, who has been appointed special advisor for Green Jobs, Enterprise, and Innovation, discusses the potential for new careers and cleaner power for Americans.
Go to page | Download/Listen 26:00

Democracy Now

29 May 2009 — North Korea: The Unnecessary Hot Spot — After the headline news .... (1) Bruce Cumings discusses why the latest North Korean provocations stem from missed US opportunities for demilitarization. ~~ (2) West Virginians have stepped up their protests as the EPA OKs new mountaintop removal mining. ~~ (3) Baffling case: The founder of a charity for needy Palestinians has been sentenced to lengthy terms despite no links to violence.
Go to page | Download/Listen 1:00:00

Living On Earth

29 May 2009 — Full Show — Including... Latest climate change bill to help promote CO2 sequestration through preserving forests ~~ Real forests vs. GMO forests ~~ Oil company crimes range from failing to clean up spills to possible murder ~~ Kids proving to be a powerful force on climate change
Go to page | Download/Listen 52:00

On The Media
29 May 2009 — Bondage for Big Bond Bozos? — With regard to the monumentally lousy job bond-rating companies did in the run-up to the economic meltdown, are they legally exposed or protected by free-speech laws?
Go to page | Download/Listen 12:56
22 May 2009 — Dawn of the Dead Malls — (1) Retail expert Howard Davidowitz says American consumerism is never coming back, that 200,000 stores will close. ~~ (2) Michelle Holdsworth, co-author of the new book Globesity, A Planet Out of Control?, says overweight humans add to the greenhouse gas problem (among others). 3. Cecile Andrews talks about the new Simplicity Movement—perfect for tough times. 4. Host Alex Smith offer tips for "beginning canning"—eat better and cheaper by storing the harvest.
Download/Listen 1:00:00

Reality Report
19 May 2009 — Radical Simplicity — As the economy shrinks so does our consumption. Do we view this as a bad thing or an opportunity? In this interview, guests Jim Merkel and Peter Lawrence explain how they chose to earn less money and live more simply. Merkel is author of Radical Simplicity:&nbsp Small Footprints on a Finite Earth; Lawrence is author of The Happy Minimalist:&nbsp Financial Independence, Good Health, and a Better Planet for Us All.
Go to page | Download/Listen 55:01
Crop To Cuisine

21 May 2009 — Mmmm... Slow Money — Woody Tasch, founder of the Slow Money Alliance and author of Inquiries into the Nature of Slow Money, connects the dots between two outdated and broken systems: the economic system and our food system. (2) Master Gardener Carol O'meara comments on the gardening season getting into full swing.
Go to page | Download/Listen 53:29

Bill Moyers Journal

22 May 2009 — Broken System Hurting Ordinary Americans — (1) Bill Moyers speaks with advocate Donna Smith about how our broken system is hurting ordinary Americans. ~~ (2) Washington's abuzz about health care, but why isn't a single-payer plan one of the options? Two physician-advocates discuss the political and logistical feasibility of health care reform. ~~ (3) Bill Moyers essay on Memorial Day.
Go to page | Download/Listen 53:24

CounterSpin

22 May 2009 — Whole Show — Featuring... (1) C-Spin's weekly unwinding of journalistic hoo-hah ~~ (2) Some environmentalists say the climate change legislation making its way through Congress may do more harm than good. ~~ (3) The mainstream media seem strangely silent on the emerging story that highly-placed, on-the-record sources are saying top Bush officials instructed interrogators to torture detainees, not for national security reasons, but to obtain statements to justify the Iraq War.
Download/Listen 28:00

On The Media
22 May 2009 — Delete All — This week a federal court ruled against transparency in a case involving lost White House emails. The case involved emails from the Bush Administration, but is the Obama Administration really living up to its promise of improved transparency?
Go to page | Download/Listen 7:35
22 May 2009 — Virulent Attack on Health Care Plan — A multimillion dollar ad campaign has been launched to sink Obama's health care plan—which has yet to be announced! Parallels to the 1994 fight over health care abound.
Go to page | Download/Listen 7:07

Free Speech Radio News
21 May 2009 — Headline News — Including... Consumer effects of Chrysler and GM bankruptcy explored ~~ UAW reaches tentative agreement with GM ~~ Five Alabama police fired after tape reveals beating of unconscious man
Go to page | Download/Listen 5:01
22 May 2009 — Northwest Frontier Province Reacts to Bombing, Threats By Taliban — In Pakistan today, a bomb blast on a popular street killed up to 15 people and injured dozens more. Meanwhile, Taliban militants have issued a threat, warning residents not to wear European-style clothing.
Go to page | Download/Listen 3:54
21 May 2009 — Obama Announces Possibility of Indefinite Detention for GITMO Detainees — Facing increased pressure from Congress on Guantanamo Bay, President Obama reiterated that the notorious detention facility will be closed. But Obama also included the possibility of indefinite detention for some of the detainees.
Go to page | Download/Listen 4:14
21 May 2009 — US Plan for Pakistan Aid — Following Secretary of State Hillary Clinton's announcement that the US will give more than a $100 million in humanitarian aid to Pakistan, Senators stressed the new strategy for Pakistan and Afghanistan should focus on assistance rather than troops.
Go to page | Download/Listen 3:46
21 May 2009 — Guatemala's President Says Right-Wing Wants to Strip Him of Power — Was Guatemala's president involved in the killing of a lawyer and two prominent businessmen? Or is it a scheme by the right-wing elites to keep themselves in power?
Go to page | Download/Listen 5:14

KunstlerCast
21 May 2009 — Hot Rails to the Hell of Urban Shrinkage — Two episodes from the fabulously cranky Mr. Kunstler....
#63: Obama's High Speed Rail Corridors
Go to page | Download/Listen 25:05
#64: Contraction of the Cities + Urban Chickens
Go to page | Download/Listen 25:59

Living On Earth
22 May 2009 — Full Show — Including... US Representative Ed Markey on the climate change and clean energy bill in Congress ~~ MIT's "climate change roulette wheel" ~~ Florida municipal utility creates solar boom ~~ New mileage and emissions standards ~~ US education system ill-equipped to teach green workforce skills
Go to page | Download/Listen 52:00
May 2009 — The Dark Side of Vaccines — While the theory of vaccination has some merit, modern vaccine practices are surprisingly harmful. Dr. Sherri Tenpenny, author of Saying No to Vaccines, lists some of the troublesome substances in vaccines, how they can make us sick, and why Big Pharma is so keen to make sure we all keep getting our shots.
Go to page | Download/Listen 38:28

Bill Moyers Journal
15 May 2009 — The Pakistan Problem + Sustainable Economy — (1) Is the worsening disorder in Pakistan really as bad as press reports lead us to believe? (2) Daniel Goleman outlines how better educated consumers can help build a sustainable economy.
Go to page | Download/Listen 54:00

Democracy Now
15 May 2009 — Fire the Boss! — After headlines, a string of stories related to workers restarting factories after the failed management has vamoosed.
Go to page | Download/Listen 1:00:00

Living On Earth
15 May 2009 — Full Show — Including... Clean, safe e-waste recycling in Mexico ~~ Obama: slow go on Endangered Species Act ~~ Hydrogen fuel-cell cars getting left in the dust ~~ Influential climate scientists diss coal
Go to page | Download/Listen 52:00

On The Media
15 May 2009 — To Release or Not to Release — The Obama Administration had declined to release new photos of detainee abuse in Iraq and Afghanistan, stating that doing so would jeopardize the safety of US troops. New Yorker writer Jane Mayer says the photos are crucial evidence that should be made public. Mayer is author of The Dark Side: The Inside Story of How The War on Terror Turned into a War on American Ideals.
Go to page | Download/Listen 6:57
15 May 2009 — Cleaning Up the Language — Back during the Bush II administration, Grinning Planet pointed out that politicians routinely use environmental doublespeak to put a happy face on a sad policy. Is the Obama administration now up to the same thing?
Go to page | Download/Listen 6:54
Crop To Cuisine

14 May 2009 — Art Eggertsen Interview — Food activist, humanitarian, and animal welfare advocate Art Eggertsen discusses the future of food, animal welfare, health, and a new sustainable community called Entelechy.
Go to page | Download/Listen 54:46

Max Keiser - The Truth About Markets

09 May 2009 — Submerging Economies — Mad Max and his savvy sidekick Stacy discuss a potpourri of economic and political news, including shock jocks getting a taste of irony; shocking police shakedowns in Texas; how the ruling elites plunder us, and are laughing at us as they do it; how the big banks get high profits with low risk.
No longer available.

Radio EcoShock
15 May 2009 — Off the Climate Cliff? or Green Cities? — Climate scientist Bill Hare says we must stop burning fossil fuels altogether within 20 years or we will wreck the climate. Not much time to transition. ~~ Plus... Portland mayor Sam Adams on "What makes a sustainable city?"
Download/Listen 1:00:00

Free Speech Radio News
15 May 2009 — Headline News — Including... General Motors gives closure notices to 1,100 of its dealerships ~~ Pakistan relaxes curfew, triggering another wave of refugees ~~ South Asian nations promise to protect "Coral Triangle"
Go to page | Download/Listen 5:06
15 May 2009 — Peruvians Protest Against Free Trade — In April, a group of indigenous activists in Peru began demonstrating against the free-trade agreement with the United States, claiming the agreement transfers their land and resource rights to oil, mining, logging and agricultural companies. The peaceful protests have prompted Peru's president to declare a state of emergency.
Go to page | Download/Listen 3:54
14 May 2009 — Party of One — Commentator Mumia Abu-Jamal observes that while legions of Democratic and Republican faithful fight each other, the 100 elites in the US senate show surprising alignment.
Go to page | Download/Listen 2:19
13 May 2009 — Former FBI Interrogator Testifies That Torture Does Not Work — A former FBI interrogator told a Senate panel that harsh interrogation techniques don't work and that he was able to obtain critical information from detainees without using controversial torture techniques.
Go to page | Download/Listen 3:43

On The Media
15 May 2009 — To Release or Not to Release — The Obama Administration had declined to release new photos of detainee abuse in Iraq and Afghanistan, stating that doing so would jeopardize the safety of US troops. New Yorker writer Jane Mayer says the photos are crucial evidence that should be made public. Mayer is author of The Dark Side: The Inside Story of How The War on Terror Turned into a War on American Ideals.
Go to page | Download/Listen 6:57
15 May 2009 — Cleaning Up the Language — Back during the Bush II administration, Grinning Planet pointed out that politicians routinely use environmental doublespeak to put a happy face on a sad policy. Is the Obama administration now up to the same thing?
Go to page | Download/Listen 6:54
Free Speech Radio News

07 May 2009 — House Passes New Mortgage Lending Act — Homeowners and borrowers have moved one step closer to getting more protection from predatory lending. A bill passed in the US House of Representatives today would make it more difficult for home buyers to get pushed into loans they won't be able to afford in the long run. But the new regulations could mean smaller lenders may go out of business.
Go to page | Download/Listen 3:17

06 May 2009 — Israel Issues More Demolition Orders for Palestinian Homes — Palestinians make up about 30 percent of the residents in Jerusalem's old city area. Despite a UN call for Israel to end demolitions, the Israeli Jerusalem Municipality issued more demolition orders this week.
Go to page | Download/Listen 2:00

Living On Earth
08 May 2009 — Full Show — Including... NOAA chief sees need to help Americans plan for climate challenges ~~ UN plans to end global use of DDT by 2020 ~~ In Brazil, a novel approach to helping jaguars ~~ What the 800-million-dollar boost for biofuels will mean for farmers, consumers, and the planet
Go to page | Download/Listen 52:00

Radio EcoShock
08 May 2009 — Healing the Earth, Healing Ourselves — (1) What next, now that non-violence has failed the Earth? Back to the land? New media? Is there any reason for hope? (2) 15 minutes of new testimony from Al Gore, April 24th 2009.
Download/Listen 1:00:00
26 Apr 2009 — Bad Money — Host Bob McChesney interviews Kevin Phillips, author of Bad Money – Reckless Finance, Failed Politics and the Global Crisis of American Capitalism about the roots of the financial crisis and the sad state of US politics.
Go to page | Download/Listen 59:43

Living On Earth
01 May 2009 — Farming the Flu — A look at intensive, industrial-scale livestock operations as incubators for pathogen mutations such as the H1N1 2009 flu.
Go to page | Download/Listen 7:52
01 May 2009 2009 — Green Report Card — LOE looks at the green highlights of President Barack Obama's first 100 days in the White House.
Go to page | Download/Listen 6:06
01 May 2009 2009 — Leave it to Beaver — Writer Mark Lender reflects on the American Beaver as a skilled and agile engineer.
Go to page | Download/Listen 4:18
01 May 2009 2009 — The Floating World — Author and oceanographer Curtis Ebbesmeyer explains ocean currents and the weird stuff riding them.
Go to page | Download/Listen 7:57

Democracy Now
01 May 2009 — Whole Show — Including... Headline news ~~ Ralph Nader provides insights on the Chrysler bailout/bankruptcy situation ~~ Matt Rothschild recounts some of the progressive movement's finest moments over the last half-century ~~ Alfred McCoy adds historical context to the issue of Obama opposing legal action on Bush-era torture
Go to page | Download/Listen 1:00:00
Guns and Butter

29 Apr 2009 — Dateline Havana — Reporter Reese Erlich, author of the book Dateline Havana: The Real Story of US Policy and the Future of Cuba, discusses the true history of US relations with Cuba, present day realities on the island, and options and challenges facing Cuba.
Go to page | Download/Listen 59:53

KunstlerCast

30 Apr 2009 — #62: Swine Flu and Pirates — Several bloggers have noted some similarities between current headlines and the scenario in James Howard Kunstler's novel World Made By Hand, in which a severe economic downturn is followed by a deadly Mexican flu epidemic. Additionally, a few years ago, Kunstler took some heat from critics for a chapter in his classic non-fiction work The Long Emergency that addressed the potential threat of Asian pirates in the Pacific Northwest. Now that piracy, pandemics, and the economy are all headline news, some people are going "hmmmm"...
Go to page | Download/Listen 23:04

Max Keiser / The Truth About Markets

25 Apr 2009 — US vs. Europe – Surveillance, Media, Protests, and Revolution — Max and Stacy discuss the differences between the US, Britain, and France on subjects like Big Brother surveillance, media, protests, and revolution, and then move on to discuss China's increasing accumulation of gold and whether this is a key milestone in a coming global abandonment of the US dollar as the global reserve currency.
No longer available.

On The Media
01 May 2009 — Stop, Drop and Roll — While some news outlets have been trying to put the H1N1 flu virus in perspective, others just can't resist a good panic story. They've been contacting New York University Sociology Professor Eric Klinenberg asking him to talk about the widespread panic in reaction to the flu. Only problem, there is no widespread panic. Klinenberg explains.
Go to page | Download/Listen 7:25

If you find Grinning Planet's feed of MP3/audio news valuable... so might others — please forward to a friend
THIS MONTH'S
VIDEO SPOTLIGHT PICKS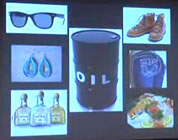 RESOURCES, BIOLOGY, PSYCHOLOGY, AND THE END OF GROWTH


When we get down to first principles in economics, biology, energy, and human behavior, we see that constraints on resources, environment, and debt capacity pose an imminent threat to the economic juggernaut that has brought unparalleled prosperity to so many. Watch peak oil / end of growth video.

(50:49)




THIS MONTH'S
VIDEO SPOTLIGHT PICKS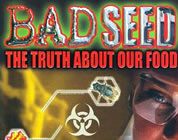 MONSANTO OR MON

SATAN

O?
The documentary Bad Seed—The Truth About Our Food explains the dangers of genetically modified food and the dirty tactics used by GMO corporations and their government henchmen to keep their products on the shelves (and out of the news). If you weren't convinced GM crops were bad before, you will be after this. Watch video on genetically modified food.

(1 hour)




THIS MONTH'S
FUNNY PROGRESSIVE MULTIMEDIA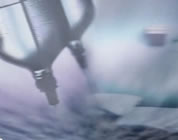 HOMEOPATHIC EMERGENCY!


When one is suffering from systemic imbalance, homeopathy may be just what the alternative doctor ordered. But what can it do when it comes to traumatic injury? Watch funny homeopathy video.

(2:33)




THIS MONTH'S
FUNNY PROGRESSIVE MULTIMEDIA
STORE WARS


This is an excellent animated cartoon that spoofs Star Wars as it promotes better agriculture and food. It's stuffed full of great Star Wars food puns, with some fun visual humor too. We must fight the dark side of the farm! Watch funny video on organic vs. industrial agriculture.

(5:50)




THIS MONTH'S
FUNNY ANIMATION/VIDEO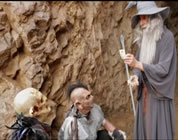 GANDALF STREET MAGIC


Gandalf roams the city streets amazing people (and familiar characters) with magic tricks. Watch funny Gandalf video.

(2:46)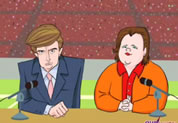 SUPERBOWL HALF-TIME SHOW — CENSORED!


A classic cartoon animation/parody of Donald Trump and Rosie O'Donnell as half-time commentators from football's Superbowl past. The spectacle, the celebrities, the glamour, the inhumanity! Watch funny halftime video.

(2:43)