This page houses our latest funny, clean, cool animations as well as informative videos about a variety of topics. We also have funny cool videos from a variety of top sources. Also thrown in to round out the mix are song, artist, and album pointers; movie and book reviews; and the occasional surprise!
| | |
| --- | --- |
| | |
THE STORY OF COSMETICS


Another excellent piece from Annie Leonard's "story of" series, this time taking on personal care products. Unless you check your labels carefully—and avoid products with ingredients you can't recognize or even pronounce—the shampoo, makeup, and other products on your shelves are almost sure to contain a variety of toxics. Watch chemicals in cosmetics video.


ENVIRONMENTAL ANIMATED SHORT FILMS


A selection of the best environmental animated short films from recent one-minute film contests held by Friends of the Earth. Watch environmental animated shorts.



FUNNY VIDEOS ABOUT DIETING


There's no need to be starved for humor—feast on these four funny diet videos.


FUNNY OIL LEAK VIDEOS


The oil that has leaked into the Gulf of Mexico continues to threaten coastal ecosystems and inhabitants. It is a tragedy of enormous proportions. But that has not stopped some clever humorists from doing a slew of funny oil leak videos. Watch funny videos related to the gulf oil disaster.


FUNNY VIDEOS ABOUT ADVERTISING


Three funny ones: The new GooglePhone injects targeted audio ads; truth in advertising; and the Advertising Standards Authority takes on God's message. Watch funny advertising videos.


EVERYTHING NUCLEAR


This 42-minute film reviews some of the lesser-known historical foibles of nuclear power generation and addresses some of the standard nuclear-industry myths and lies. Watch nuclear energy myths/facts video.

| | |
| --- | --- |
| | |
FOUR ACRES AND INDEPENDENCE — A SELF-SUFFICIENT FARMSTEAD


This tour of a small homestead provides insight into clearing land; dealing with drainage, streams, and ponds; small-farm animal issues; cultivating mushroom logs; container gardening; food preservation, including a cool food dehydrator; putting free or already-available materials to good use. Excellent! Watch homesteading video.


LITTLE GREEN MAN / THE PETRO PEOPLE


Even before the disaster in the Gulf of Mexico, there are some pretty interesting observations that can be made about we, the people of the petroleum era. Funny stuff from Mark Fiore. Watch funny oil video/animation.



GRAHAM NASH –
"PRISON SONG"
And here's a song to sing
For every man inside;
If he can hear you sing,
It's an open door.
There's not a rich man there
Who couldn't pay his way
And buy the freedom that's a
High price for the poor.
A classic from Graham Nash. Hear/see "Prison Song" music video with lyrics.



AN ATOMIC BOMB TO STOP THE GULF OIL LEAK (?)


Top Kill failed to halt the Gulf oil leak. Relief wells are being prepared, but the government is already looking at the possibility of using nuclear bombs on the leak. Crazy? Maybe, but this wouldn't be the first time for such an approach, as this Russian nuke-the-leak video shows. We wonder, though, whether 5,000 feet of water or the different geologic characteristics would make a difference. Hmmm....


SPILL, BABY, SPILL


About.com has collected a great sampling of editorial cartoons about the disastrous oil spill in the Gulf of Mexico. See them on About.com



MUSIC VIDEOS ABOUT OIL


It's about fear, and control
Of those barrels of black gold.
Why are we still so dependent on oil, despite decades of awareness of the pitfalls of such a strategy? To help ponder the question, Grinning Planet has lined up half-a-dozen 'oil' music videos.


FREE AUDIO CLIPS

| | |
| --- | --- |
| | |
(GOOGLE) EARTH TO MTR MINING ADVOCATES!


This video shows some examples of how you can use Google Earth/Maps to see the scale of destruction from mountaintop removal (MTR) coal mining. We add two bonus videos: The short film Black Mountain Story and a 10-minute debate on MTR coal mining. Watch mountaintop removal mining videos.


ROB LITTLE ON CARPOOLING AND PLASTIC BOTTLES


Two videos from funnyman Rob Little that subtly get the point across about choosing new ways to be green. The first video focuses on the pros and cons of carpooling, the second on reducing the use of plastic water bottles. Watch... funny carpooling video ...or... funny plastic bottle video.


KING TUT - STEVE MARTIN


Steve Martin does his classic "King Tut" song/skit from Saturday Night Live in 1979.
Now if I'd known,
They'd line up just to see him,
I'd've taken all my money,
And bought me a museum! Watch funny ancient egypt video.


MISCONCEPTIONS ABOUT 2012 AND THE MAYAN CALENDAR


2012 scholar Carl Johan Calleman says the Mayans did not predict a 2012 apocalypse but rather a transition to a new age in which the changing alignment of cosmic energies creates a new template for human consciousness—and that will be a good thing. Watch 2012 transformation video.


SCIENCE CAT-FIGHT: CLIMATE CHANGE


Do abnormally cold winters or unseasonably warm springs say anything about global warming? Not really, but Stephen Colbert, in his inimitable satirical way, invites two scientists to debate the issue. Watch funny climate change video.


BUY, BUY AMERICAN PIE


A funny parody song by the Capitol Steps about problems with Chinese products that are imported to the United States. Watch funny chinese products video.

| | |
| --- | --- |
| | |
EDIBLE LANDSCAPING IN THE CITY


"Garden Girl" Patti Moreno provides tips on in-city gardening and gives ideas on how to have less lawn and more "edible landscaping." Specific topics include raised beds, blueberry bushes, and more. Watch urban gardening videos.


THE ANIMALS SAVE THE PLANET


This is a string of 11 cute, funny, claymation-style animations from the Animal Planet network in which an assortment of animals find themselves in enlightening scenarios. Watch funny 'save the planet' videos.


POULETRY IN MOTION


Our fine-feathered friends—to get you clucking, we offer a clutch of funny chicken videos ... including a Law & Order parody and a great bit from Whose Line Is It Anyway... Watch funny chicken videos.


THE MATRIX OF ILLUSION


Physics tells us matter and energy are intimately related. Quantum physics tells us it's all energy, and that all energy in the universe is connected. Meta- physics tells us that our perception of the manifestations of this energy-based reality is no more "real" than a child thinking little people are actually inside a television set. Weird and mind-expanding! Watch metaphysics video.


THE STORY OF BOTTLED WATER


An excellent review of the issues surrounding bottled water. The humorous graphics make this animated report easy to swallow! Watch funny bottled water video.


PRESIDENTIAL REUNION


President Obama is visited in the night by a gang of former US presidents, all giving advice on how to reign in the big banks. VERY funny. Watch funny president video.


| | |
| --- | --- |
| | |
MOVIES TO MOVE YOU


Our eco movies page has a couple dozen new movies about peak oil, mining, the food system, creative activism, and other green topics. Some are fiction, some are documentaries. Titles include ...

Two Angry Moms

~~

Avatar

~~

CoLLapse

~~

Fresh

~~

Addicted to Plastic

~~

Coal Country

~~

The Yes Men Fix The World

... See all most recent eco movies.


FUNNY ENVIRONMENTAL COMMERCIALS


We offer a selection of the best funny environmental commercials and ads from the last few years, including from recent Superbowls. Watch funny environmental commercials.


ARE POLITICIANS FAILING OUR LOBBYISTS?


An excellent video satire from The Onion that turns the problem of lobbyists' influence on Congress on its head. Watch funny lobbyists video.


"THE ALIENS THING"


Both intuitively and intellectually, most people accept that we are likely not alone in the universe—that there is not only intelligent extraterrestrial life, but that alien visits to earth have occurred and still are occurring. Well, perhaps it's time we all started being more open with the conversation about "the aliens thing." A good place to start is Project Camelot's recent conference in Los Angeles. Watch alien contact videos.

(Also available as MP3 downloads.)




SOURCES WARN MILEY CYRUS WILL BE DEPLETED BY 2013


This funny video from the Onion Newsroom takes aim at the pop-culture machine using a resource depletion angle—quite clever. Watch funny pop star video.


TOTALLY SPACED OUT


In space, can anyone hear you laugh? We don't know, but let's try it out with these six short, funny audio clips about space and NASA. Clips include "Mischievous Raccoon Wreaks Havoc On International Space Station" and "City Places Orange Traffic Cones Around Space-Time Portal." Go to page with funny audio on space and nasa.

| | |
| --- | --- |
| | |
DAVID SUZUKI – BUILDING GREEN


Part of Suzuki's TV series The Nature of Things, this episode looks at a variety of green building techniques, showing that living green is all about innovation, not deprivation. Watch green building video.


COAL COMFORT


Stephen Colbert interviews Margaret Palmer, the lead author of a Science journal paper that blasts mountaintop removal mining. Colbert must have had a methane fire in his funny bone—he is hilarious here. Watch funny coal mining video.



MONTY PYTHON –
FLYING LESSONS
This flight trainer offers a completely different kind of flying lessons. Silly but funny. Watch funny flying video.


FROM THE ILLUMINATI TO INFINITE LOVE AND THE HUMAN AWAKENING


Deep thinker David Icke believes we can break through the manipulations of The Powers That Be by recognizing our true nature—infinite consciousness. We can create positive change in our personal situations as we head towards the coming transformation of ourselves, our way of thinking, and our way of living. Watch David Icke's transformation videos.



HOME SWEET HOME


A short and sweet, cool little animated cartoon that silently shows us the benefits of alternative energy and healthier choices. Watch funny earth animation.


TAKE ON ME – THE LITERAL VERSION


The 1980s song "Take On Me" was a #1 hit for the band A-Ha, due in part to the smash success of its very creative music video. Here's a spoof of that video, replacing the original lyrics with words that literally describe each scene. Surprisingly cool and funny. Watch funny music video.

| | |
| --- | --- |
| | |
FROM PASTURE TO PLATE


This interactive graphic outlines the complicated, energy-intensive path taken by the components of a typical steak dinner. From Michael Pollan and News 21.

Item no longer available.





THE STORY OF CAP AND TRADE


This is a very good summary of what "cap and trade" is, why it could be a solution for climate change, but how the current cap-and-trade approach is really just a giveaway to big business and won't fix the climate problem. All done with a humorous touch from the 'Story of Stuff' folks. Watch funny global warming video.



UNCORKING A FEW NEW YEARS' VIDEO CHEERS


Three fun and funny new year videos to toast your eyeballs. Out with the economic bubbles! In with the celebratory bubbly! Watch funny new years videos.



"CLIMATEGATE EMAILS" CONTROVERSY EXAMINED


From the top-rank journal Science to the quasi-neutral Associated Press to the right-wing magazine The Economist, those who actually take the time to read all of the leaked emails from the "ClimateGate scandal" conclude that they do NOT provide evidence the that scientists faked all their global warming data. See this good 8-minute climategate video.



SCIENCE + (3 x VIDEO) + FUNNY = YOU + LAUGHS


Three funny videos about science and everyday life: In video 1, Tim Lee talks explains the funny science of improved gas mileage, nuclear fission in a sports bar, and ionic reactions between rich athletes and bimbos. In videos 2 and 3, comedians Norm Goldblatt and Brian Malow turn a science lecture hall into a comedy club. Watch funny science videos.



DOCTOR WHO, YOU'RE NEEDED IN THE OFFICE


A couple of web-only nuggets for fans of "The Office" and "Doctor Who." First, a funny animated bit about the transitioning Doctors. Then, a three-clip special from The Office, as Kelly and Erin make a music video. Watch funny clips from 'The Office' and 'Doctor Who'.


| | |
| --- | --- |
| | |
SWINE FLU HYPE NOT SUPPORTED BY SWINE FLU STATS


These two video clips explain that the possible worst-case scenario for the H1N1 "swine" flu has not materialized, despite all the ongoing hype. Included in the second segment is a look into the murky behavior at the CDC as well as the vaccine industry's financial support for some of the leading vaccine cheerleaders. Watch swine flu hype video.



SHOP CLASS


The South Park kids get a funny lesson about the socio-educational importance of shop class.

Watch funny shop class video.


FRONTLINE: THE CARD GAME


This PBS/Frontline episode gives a good tour of the credit card industry's abusive consumer practices and extensive political lobbying. Also covered are checking-account overdraft fees and payday lenders. Watch credit card debt video.


CHILDREN, VIOLENT VIDEO GAMES, AND THE APOCALYPSE


Shopping for video games? Check out The Onion news-analysis team's satirical evaluation of whether violent video games are adequately preparing children for the apocalypse. Watch funny gaming video.

| | |
| --- | --- |
| | |
THE MONEY MASTERS


This documentary shows how the modern political power structure has its roots in the hidden manipulation and accumulation of gold and other forms of money. The methodology has evolved over the last three centuries, and nation after nation, including the United States, has fallen prey to a cabal of international central bankers intent on being masters of the world. Watch The Money Masters free online.



TIRED OF TRAFFIC


Well, we thought the solution to chronic traffic problems was more use of mass transit, for people to live closer to work, and tax shifting off of income and onto fuel. Silly us. Nothing so ambitious is necessary. This satirical video short from The Onion shows how a simple solution to the problem is right at hand. Watch funny traffic video.



DR. STEEL - ALIEN ILLUMINATI


A funny, clever spoof on the possibility that we humans are neither descended from monkeys nor from Adam and Eve; rather, we were cooked up in an alien genetics lab long ago (a theory that has been seriously proposed by a number of people!)... Watch funny aliens video.


THE NEW AMERICAN CENTURY


This marvelous documentary starts out as just another 9-11 conspiracy movie but quickly transitions to broader territory, showing that false-flag operations have been used by the US for over a century to ....

Read full review and/or watch The New American Century online for free.



SOLAR DIRTY, COAL CLEAN!


In this funny video/animation, Mark Fiore (satirically) explains the dangers of solar and wind energy and the advantages of "clean coal." Dirty is the new clean! Watch funny clean coal video.


BATMAN VS. JOKER ...
VS. ALIEN VS. PREDATOR
This 6-minute video starts as a typical head-to-head between Batman and The Joker, but the action soon veers into alien territory as some uninvited guests show up. This is surprisingly good! Watch cool batman video.

| | |
| --- | --- |
| | |
POST-CRASH INVESTMENT FOR A BETTER WORLD


Juff Mulgan gives an 18-minute talk on the need for our modern civilization to invest in social progress as well as technical progress. In his own wonky way, what he's really talking about is the coming transformation of our society from one based on predatory capitalism to a more cooperative, mutually beneficial, more sustainable economic system. Watch sustainable investing video.



ONE YEAR ANNIVERSARY OF THE FINANCIAL CRISIS


In (dis)honor of the one-year anniversary of the start of the still-fetid financial fiasco, Jon Stewart offers a sizzling analysis of the president's tepid speech on the subject. Stephen Colbert marvels at the latest Wall Street "innovations"... and jousts with Michael Moore regarding democracy vs. capitalism. Watch funny videos - financial crisis.



MEN'S BRAINS VS. WOMEN'S BRAINS


Mark Gungor gives a funny talk on the differences between men's brains and women's brains—and how that affects the way we deal with each other. Watch funny brain video.



THE WILD, WEIRD, "WOW!" WORLD OF WEB-BOT PREDICTIONS


"Web Bots" is the common name of a software system developed by Clif High to analyze language patterns on the internet to attempt to make predictions about future trends. Grinning Planet makes no claims about the likelihood of the predictions coming true, but the work and the man are very, very interesting. Read/hear the latest Web Bots predictions and Clif High audio interviews



"PARTS OF THE BRAIN" VIDEO


Pinky asks the Brain to explain the brain, which he does in a fun, mildly educational manner. Watch brain funny video.



ELVIS COSTELLO – ARMED FORCES


Elvis Costello's first two albums were a notable success, spawning hit singles and establishing Costello as one of the top emerging stars in the punk-turned-new-wave world that was blossoming in the late 1970s. As good as those first two albums were, however, the pinnacle was to be the third studio album, Armed Forces. Read Grinning Planet's full review of Elvis Costello's 'Armed Forces' album


| | |
| --- | --- |
| | |
GREEN MAGIC CARPET


Ray Anderson, who turned his carpet-manufacturing business green (and profitable!) thinks the old paradigm of capitalism as "a way to efficiently convert natural resources into pollution" is both silly and dangerous. Watch green business video.



THE MEATRIX - I, II, AND II-1/2


The Meatrix animation series riffs off the popular movie trilogy "The Matrix" to tell us about the ills of industrialized animal agriculture in a humorous and entertaining way. Watch The Meatrix.



THE COOPERS: CHURCH—GOODNESS GRACIOUS ME


A funny short clip of non-natives trying to cozy up to the Church of England. Watch funny church video.



E. O. WILSON – HEALING MOTHER EARTH


E.O. Wilson gives an excellent overview of the vast biodiversity on planet earth, the threats to species and ecosystems, and the relatively paltry amount it would take to protect the earth's biodiversity hot spots. Watch save the earth video.



RECYCLING ONIONS?


Two funny clips from The Onion on the subject of recycling: "Man Never Met Cardboard Box He Couldn't Flatten" ... and ... "Environment-Friendly Hollywood Achieves 91% Recycled Content." Go to recycling funny audio.



YOSHIMI BATTLES THE PINK ROBOTS


The Flaming Lips epic Yoshimi Battles The Pink Robots is a must-have for fans of concept albums, fans of songs about romantic sci-fi and the futuristic themes, and/or fans of melodic, light psychedelia with a pop flair. Read full review of Yoshimi Battles the Pink Robots.


| | |
| --- | --- |
| | |
CLAWING OUR WAY TO THE TRUTH ABOUT CAT FOOD


Is dry cat food really OK for cats? Are all wet cat foods the same from a nutritional standpoint? Find out in this good video. Watch cat food video.


AMERICA'S WATER POLICY IS A BELLY FLOP


A couple of informative and funny videos about water issues in the United States; from The Daily Show and Colbert Nation. Watch funny water supply video.



FUNNY JOB PROMOTION VIDEO/AUDIO


First, a funny commercial showing just how serious the competition has gotten for career advancement and job promotions. Then, a funny audio bit about how one temp worker is hoping to get ahead using a well honed skill. Watch job promotion video/audio.


POISONED WATERS


Using the Chesapeake Bay and Puget Sound as case studies, Frontline explores the question of why, almost 40 years after the passage of the Clean Water Act, our waters are still troubled. Watch water pollution video.


MONEY FOR NOTHING AND THE GENIUS OF GOLDMAN SACHS


A funny animation from Mark Fiore that takes high-parody pot-shots at the outrageousness of Goldman Sachs' continuing good fortune in spite of the ongoing economic meltdown that is trashing mainstreet and in spite of the fact that Goldman took billions in taxpayer dollars to keep from going out of business not that long ago. Watch funny goldman sachs video.


THE QUANTUM APOCALYPSE OF THE HOLOGRAPHIC UNIVERSE


This neat video explains how the universe—and the everyday world that envelopes us—are much different than our senses perceive. Even the act of us perceiving things is part of how it's all created! Watch this cool cosmic video.


| | |
| --- | --- |
| | |
A FARM FOR THE FUTURE


REVIEW: The premise of this 48-minute movie is that oil will soon peak, and that this will have enormous implications for agriculture. A Farm For the Future moves quickly past the framing of the problem to spend most of its time exploring how the food and farming issue can be solved.


OPTIONS:


- Watch video
- Read full GP review



THE TOWN OF ALLOPATH


This clever animation uses the metaphor of finding the wrong solution for traffic accidents to explain the core issue of what's wrong with standard Western (allopathic) medicine. Watch funny health care animation.


GENE SIMMONS' KISS-METIC SURGERY CENTER


Kiss star Gene Simmons is opening a plastic surgery center? Egad! Fairly funny ... and surprisingly clean! Watch funny plastic surgery video.



SHADOWS AND GHOULS


In this audio interview, Stuart Wilde discusses how people can deal with their personal "shadows," the ghoulish negative energies that try to hold each of us back, keep us in negativity, and limit our potential. From 'Journeys with Rebecca'...
Sorry, these MP3s are no longer available.


Stuart Wilde is the author of many books on self-help and realization of human potential, including ... Infinite Self ... The Art of Redemption ... and most recently Grace, Gaia, and the End of Days: An Alternative Way for the Advanced Soul.



ARE AMERICA'S RICH FALLING BEHIND THE SUPER-RICH?


This video short cleverly spoofs the typical debate about the gap between rich and poor by discussing "the growing gap between the rich and super-rich" — the haves and the have-mores...Watch funny video rich people.



STIMULATE THIS, BRO!


A funny video about summer jobs for stupid, corrupt politicians; i.e. the best summer jobs for them, given their dumb, insensitive, venal behavior. Watch funny summer jobs animation.


| | |
| --- | --- |
| | |
THE RIGHT WAY TO GET SUN


Getting "safe sun" is critical to overall health because it stimulates the skin to produce natural Vitamin D, an essential nutrient. This video goes over some new information about the best way to get sunshine as well as how to avoid "washing it off." (Really!) Watch safe sun video.


COAL – THE FUTURE IS LATER


A video satire on the coal industry's use of meaningless platitudes (and sometimes outright deceptions) in their ads. We're also reminded of the general public's blissful ignorance on the subject of energy. Watch funny coal video.


DISNEY VAULT


A funny animated slap at Disney for its rampant recycling of successful movies—"Stop me before I sequel again"—as well as the rather disturbing skeletons Uncle Walt had in his closet. Watch disney parody.


ESCAPE FROM SUBURBIA


REVIEW: This sequel extends the reach of the first film, The End of Suburbia, by emphasizing the questions that each of us should be asking ourselves: "When the Peak Oil poop hits the propeller, will I be able to weather the storm in my current locale, in my current house, doing what I'm doing now? If not, what do I do about it?"... Read full review of Escape From Suburbia

DISNEY'S GENETICALLY ENGINEERED CHILD STARS


A subtle but humorous video satire about how Disney is so successful at developing new talent. Watch disney satire.

| | |
| --- | --- |
| | |
HOW WE RE-GREW A RAINFOREST


By piecing together a complex ecological and societal puzzle, biologist Willie Smits has found a way to re-grow clearcut rainforest in Borneo, restoring the lush vegetation, saving orangutans, and providing a sustainable local economy. This is brilliant work. From TED Talks. Go there

Related GP articles:
Rainforest Destruction
Smart Wood and Paper



JOHN OLIVER ON ALTERNATIVE ENERGY


A funny 2-minute bit of standup from John Oliver on energy.

(PG warning: This bit has a razor edge, and there are a couple of expletives un-deleted, but it's funny enough to feature it....)



Watch funny energy video.


HERE COME DA JUDGE


Two funny audio clips from The Onion:
(1) Judge Orders God To Break Up Into Smaller Deities
(2) US Trades Alito To British Supreme Court In Six-Judge Deal

Objection overruled!

Hear here: funny audio about judges.



SPRAWLING FROM GRACE, DRIVEN TO MADNESS
Sprawling from Grace argues that it no longer matters whether our first choice is a transition back to walkable communities, expanded mass transit in cities, and rail-based transportation networks. Without cheap, abundant oil, it's our only choice. The film's focus on workable solutions saves Sprawling from Grace from being "just another peak oil movie."



SCHOOL HOUSE ROCK - "ENERGY"


A fun (if quaint) music video from School House Rock on sources of energy—and the need to conserve the limited energy that's available to us. Watch energy music video.


MONTY PYTHON – POOFY JUDGES


A short, funny Monty Python bit with two over-the-top-effeminate judges.

Watch funny judges video.

| | |
| --- | --- |
| | |
ROGER AND THE ROTTENTROLLS ... GET HOOKED ON GAMBLING


A cute stop-motion animation in which the daffy characters from the Rottentroll world get hooked on casino gambling. Mainly for kids but a few good lines for adults too. Watch funny gambling animation.

Related GP cartoon:
Signs You Have Gambling Fever



THE ORGANIC GARDENS OF HAVANA


This 8-minute clip from the BBC's "Around the World in 80 Gardens" shows how substantial amounts of local, organic food can be grown in urban settings. Cubans have achieved this in spite of—or, perhaps, thanks to—the technology limitations caused by US trade embargo that continued even after Cuba's former sponsor, the USSR, collapsed in the late 1980s. Via YouTube. Watch urban gardening video.

Related stuff:
-- GP movie review: The Power
of Community - How Cuba
Survived Peak Oil
-- Book: Food Not Lawns



BAILOUTS, BOOSTERS & BUNKERS


Stephen Colbert proves that he is the modern master of satire.... BAILOUTS: After this funny intro to the "AIG bonus" fiasco, Colbert moves on to a VERY funny segment in which the proposed solution for miscreant CEOs is to have them enter into mortal combat in a Thunderdome — with gleeful, screaming taxpayers as spectators.
BOOSTERS: These days, apparently, the best that free-marketeers can come up with is tired references to Ayn Rand's polemic Atlas Shrugged, which this Colbert piece shrugs off quite nicely.
BUNKERS: Hey, we actually think SOME the scenarios explored in Glenn Beck's "War Room" segments —catastrophic economic collapse, for instance—are not at all that far-fetched. (Video no longer available.)But you just have to love Colbert's satirical treatment of Beck's schtick—first with this War Room satire, then the Colbert Report's own "Doom Bunker".

| | |
| --- | --- |
| | |
"CLEAN COAL" AIR FRESHENER


This short, funny bit of video satire takes on the loosey-goosey term "clean coal," which the coal industry and its political allies love to pretend is "what we're doing with coal today" rather than "a theoretically possible approach to coal that is completely unproven." In fact, not only are there are no "clean coal" plants operating in the US today, there are none even planned. Repeat after me: "There is no such thing as clean coal." Watch funny clean coal video.

Related GP articles:
-- Six Major Air Pollutants
-- Water Pollution Causes



THE ABSENT-MINDED WAITER


An amusing, classic video short about a waiter who is absent-minded—or is his mind absent altogether?—featuring Steve Martin, Buck Henry, and Teri Garr. It gets off to a slow start, but there's a pretty good payoff at the end. Watch funny waiter video.

Related GP cartoons:
- Mob Restaurant Cartoon
- Bad Caterer Cartoon



THE GOOD LIFE


With today's financial tornadoes affecting average folks more and more, we're increasingly questioning "the system" and our role in it. This short animation uses a classic parable-style tale to look at the question, What does "enough" really mean? From Free Range Graphics and social-values business leader Mark Albion, who is author of More Than Money (subtitle: Questions Every MBA Needs to Answer: Redefining Risk and Reward for a Life of Purpose). Watch: The Good Life.

Related GP articles:
-- Overfishing
-- Coffee - Organic, Shade-
Grown, Fair Trade



THE ORACLE WITH MAX KEISER


"The Oracle" is a series of weird, witty, wonky—and often outright funny—video shows that Max Keiser did for the BBC in early 2009. Each show has a smart, smirky, spot-on approach to analyzing what's going on in the world of banks, bucks, bailouts, bandits, and bozos. See GoogleVideo for free episodes of The Oracle with Max Keiser. For other, more current Max Keiser video stuff, see his site's video page.

Sorry, no longer available.


Related GP cartoon:
Which "Phrases from the Future" Cause You the Most Distress?


| | |
| --- | --- |
| | |
SEA CHANGE


The planet's warming temperatures mean more for the oceans than just a rise in sea levels. This NOW segment reviews the evidence that suggests climate change is also affecting ocean currents and the chemistry of the seas, with potentially catastrophic results. There is also a neat little experiment they do that shows why global warming and the melting of the Arctic ice cap is such a big deal (and not just for polar bears!). Watch global warming/ocean effects video.

Related GP cartoon:
-- Global Warming Skeptics

Related GP articles:
-- Global Warming, Melting Ice
-- GP Comments on
The Day After Tomorrow



BIG THREE OWNER'S MANUAL


The Big Three US auto makers needed a bailout because they failed to correctly perceive ANY of the trends that now rule—peak oil and convulsing fuel prices; the public demand for hybrids and electric cars; and the stupidity of carrying large amounts of debt. On the other hand, if Detroit stops being Motor City, lots of hard-working guys and gals lose their livelihoods. Mark Fiore has some animated fun with the whole mess. Content no longer available from host site (MarkFiore.com)

Related GP cartoons:
Bumper Stickers on Hummers



THE COLLAPSE OF 2009 AND "THE GREATER DEPRESSION"


The New York Post dubbed Gerald Celente a modern-day Nostradamus, at least when it comes to economic trends. Celente has correctly predicted a lot of the things that are happening now in the economy and financial system, so it's worth considering what he has to say about 2009 and the years beyond. Gulp! – well, the title of this item says it all. But we still highly recommend that everyone listen to this Financial Sense audio interview with Celente from January 2009. Go there

Related GP articles:
-- GP's 2009 Trends/Predictions
-- Causes of the Financial Crisis



SCORING A PACK OF GANG SONGS


Why do a page of "gang" songs? Who knows. We go with the theme, that's all. No gangsta gunk here, though—just a neat little tour through the mean streets and back alleys of rock, pop, blues, and folk rock. Here are the first half dozen songs on our list of 20...

--

Pretenders:


"Back on the Chain Gang"
--

Tullycraft:


"Rumble With The Gang Debs"
--

Stray Cats:


"Rumble In Brighton"
--

Blondie:


"A Shark In Jets Clothing"
--

Spin Doctors:


"Laraby's Gang"
--

Brownsville Station:


"I'm The Leader Of The Gang"

See the full list and hear clips at GP's gang songs page


| | |
| --- | --- |
| | |
REVIEW: THE DAY THE EARTH STOOD STILL
We have largely ignored scientists' increasingly urgent warnings about the need to focus on problems that have the potential to kill the planet. The Day the Earth Stood Still serves up a powerful reminder that there are consequences to willful ignorance and inaction. There aren't a lot of surprises in the plot of this 2008 remake, but the action keeps your eyes on the screen and yields a surprisingly emotional impact.

Related GP cartoons:
- Main Problems for Aliens Trying
to Enslave Earth
- Signs Your Next-Door Neighbor
May Be a Martian



.

THIS IS YOUR BRAIN ON CONSCIOUSNESS


One thing is clear to us here at Grinning Planet—if modern civilization is going to eventually work through the unfolding multifaceted super-crisis and arrive on the other side with something like a workable society, we're going to need to shift our consciousness and paradigms from what they are now. One good way to start that process is for all of us to listen to more of the C-Realm Podcast, a weekly 1-hour audio show that weaves together topics like peak oil, permaculture, societal transformation, and future realities, all with a certain sensible mysticism found nowhere else in cyber-radio. A good starting place is Episode 131, in which host KMO interviews Albert Bates about exporting our cognitive capacity into cyberspace.

Related GP cartoon:
Visions of a High-Tech Future



FIRST THERE IS A MOUNTAIN,
THEN THERE IS NO MOUNTAIN,
THEN THERE IS ....
This is a really fine 5-minute animation that humorously takes on the serious topic of mountain-top removal mining and the disconnect between distant coal mining and how we just flip on a power switch in our homes. It's more targeted at kids, but I can tell you that this adult enjoyed it just fine! From Green Gorilla/ SustainLane and FreeRange Graphics. Go there

Related GP article:
Coal - Mining, Power Generation, and Problems




ARE WE GIVING THE ROBOTS THAT RUN OUR SOCIETY TOO MUCH POWER?
A very sharp clip that fast forwards a few years into the future, when robots may have accumulated a bit too much control over us. There's also a metaphor here for people's blithe acceptance of increasingly totalitarian states run by humans, but just on its roboty merits, this is very funny. From The Onion. Go there

Related GP cartoon:
Robot Cartoon / Bad Personal Care Products


| | |
| --- | --- |
| | |
THE CRASH COURSE


The Crash Course is a 20-part series of free video clips that explains what's going on with debt and the money system, but also relates the financial crisis to peaking energy supplies and resource scarcity. Chris Martenson does a masterful job of making dry but important concepts easily understandable. The animated graphs and other features, combined with the clear explanations in the voiceovers, make this one of the best presentations we've ever seen. We highly recommend it to anyone who wants to understand the financial meltdown in the larger context of debt and constrained energy supplies—and who wants to better understand the approaching storm. Go there



CLAP ON, CLAP OFF!


What gift do all corporate executives want most this year? The Clapper! Only this is the "Free-Market Clapper," and clapping results in huge piles of risk-free cash, whether they face boom or bust. For these big wigs, it's The Best Of Times and ...um... More Best of Times. "Please, sir, may I have some more?" Funny stuff from Mark Fiore. Go there



NATION'S WEALTHY CRUELLY DEPRIVED OF TRUE MEANING OF CHRISTMAS


Anytime someone compares low wages for working stiffs to ridiculous pay packages for CEOs, free-market flacks are quick to deride it as "class warfare." Of course, in reality, there is no class war. It's already over—and the rich won. But fret not: the poor still have an advantage in the fullness of their Christmas spirit, and all the high-tech toys and Tiffany baubles in the world can't touch that, right? Satire from The Onion. Go there


THE WHO —
"WON'T GET FOOLED AGAIN"
Meet the new boss—
Same as the old boss...
I'll tip my hat
To the new constitution,
Take a bow
For the new revolution,
Smile and grin
At the change all around me—
Pick up my guitar and play,
Just like yesterday;
Then I'll get on
my knees and pray
We don't get fooled again...

Will Obama be a true agent of change, or just the latest agent of fortune? Citizens, take heed... Read article




More Amazon options:
-- Song -- Hear/download MP3
-- Album -- MP3s
-- Album -- CD

| | |
| --- | --- |
| | |
FARMED SALMON EXPOSED


This 6-minute video from Farmed Salmon Exposed explains the importance of wild salmon to the ecosystems of the American/Canadian northwest and explains why open-cage salmon farming threatens this keystone species. You can help by choosing only wild-caught salmon in restaurants and markets. A second video on the subject, this one from the New York Times, is also worth seeing.
Related site:
- Seafood Watch Guide

Related GP articles:
- Farm-Raised Salmon Problems
- Keystone Species



THE GEORGE W. BUSH FREEDOM LIBERRY AND FAMILY FUN CENTER


Now that the 2008 election is over, what will become of that wascally White House wabbit? Well, in the manor of all former US presidents, striving to do good in the world after their tour of doodie in the White House is done, George W. Bush is planning something ...er... along those lines. Funny animation from Mark Fiore. No longer available from host site.

Related GP cartoons:
-- Things That Worry President
-- Failed Amusement Parks



HEINBERG ON HOW TO KEEP CIVILIZATION FROM GOING HINDENBERG


An excellent talk from top Peak Oil educator Richard Heinberg speaking at a Google Tech Talk. He outlines five axioms of sustainability that we must be aware of to avoid an eventual systemic collapse. Axiom 1: A society that continues to use resources unsustainably will collapse. Many more good points in the talk, with good graphs, etc. At Global Public Media. Go there
More Heinberg:
- Peak Everything (book)
- Peak Oil article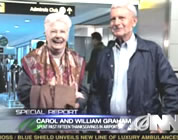 AMERICANS ENJOYING THANKSGIVING TRADITION OF SITTING AROUND AT AIRPORT


A short, amusing video clip showing that American Thanksgiving traditions are alive and well and living in ... the airport. Watch funny thanksgiving travel video.


| | |
| --- | --- |
| | |
RUPPERT-O-RAMA


Former LA police investigator Mike Ruppert has spent much of the last decade trying to alert us all to the dangers of peak oil and the dangerous criminal behavior exhibited by The Powers That Be. Those of us who have taken heed of his reports and predictions and have changed our lives to be more prepared for troubled times ahead are in his debt. If you are not yet familiar with Ruppert, below are some links to his current work and "greatest hits."

-- Current stuff: [1] From the Wilderness' Peak Oil Blog [2] The Shell Game (a novel by Steve Alten based partly on Ruppert's work)

-- Some excellent material from the 2004-2005 timeframe — all very interesting to re-experience, given what we now know about the housing bubble, how money works, peak oil, geopolitics, and 9/11. Ruppert's timelines are a little off, but he nails the trends and underlying machinations: [1] From The Wilderness (archive of old articles) [2] Crossing The Rubicon (book) [3] The Truth and Lies of 9/11 (GoogleVideo) [4] interview with Els Cooperrider (GPM audio)



FUNNY BAILOUT BUFFET


Humor does not stop just because our elected leaders are selling us down the river. Here at GP, we're gonna laugh all the way to the poorhouse. Join in the grunting and guffawing with a few funny 'net clips.

$1,000,000,000,000 Bailout -- A faux, deadpan-humor White House press conference on the bailout....from Funny Or Die.

The Daily Show -- An edgy but funny rant that blasts just about everybody associated with passing the bailout.

The Colbert Report -- More edgy, more funny: "Vladimir Putin's just jealous because America is winning the economic meltdown race."



BUSHISMS VIDEO REVIEW


Well, love him or hate him, he'll be gone soon—barring a total usurpation of constitutional authority—and we will all be deprived of the grand gaffes and gargantuan goofs that gush from his grinning gob. The next president is almost certain to bring a decline in entertainment (and embarrassment) value, so enjoy him while you can ... with this 1-minute review of some of Bush Jr.'s worst public speaking flubs. At Google Video. No longer available

Related GP cartoon:
Public Speaking Cartoon

Related GP article:
Environmental Doublespeak



CLIMATE TIME MACHINE


This very cool interactive tool lets you visualize Arctic ice melt, global CO2 emissions, and global temperatures over various timeframes. You can also see estimates of coastal inundation for various sea level rise amounts—all just by moving the slide control back and forth. Excellent! And scary! From NASA. Go there

Related GP article:
Global Warming vs. Climate Change



DRILL, BABY, DRILL!


A wild-eyed poke at the oil-drilling frenzy currently in vogue among our Washington officials. (Somehow they failed to get the memo that we can't drill our way out of our oil-addiction problem.) Funny stuff from animator Mark Fiore. Go there

Related GP pages:
-- Oil Spill Cartoon
-- Peak Oil/Energy Solutions


| | |
| --- | --- |
| | |
SUPER RICH: THE GREED GAME


The global financial crisis is due to a pyramid scam executed on the grandest scale. But many of the perpetrators of the scam are walking away from the mess with millions and billions. This 1-hour BBC documentary reveals how the super-rich schemed to make the con game work—and how they are now relaxing in ostentatious mansions, private jets, and posh vacation spots, with the rest of us picking up the bill. In the meantime, amidst ongoing multi-billion-dollar government bailouts, we ask: How can the current financial system be valid if it allows such things as companies that are "too big to be allowed to fail"?

Related GP article:
Plutocracy Effects


SCIENCE IDOL


Each year for the last several years, the Union of Concerned Scientists has held a cartoon contest to highlight the problem of Scientific Integrity---politicians ignoring, burying, and lying about scientific results that run counter to their policy preferences, as well as the problem of government muzzling scientists and colluding with the industries they're supposed to be regulating. Laugh and think ... by checking out the top dozen toons from the contest. Go there.

Related pages:
-- UCS Scientific Integrity section
-- GP Scientific Integrity cartoon



GOT (TOXIC) MILK?


rBGH is a bovine growth hormone that was very likely used on cows whose milk you've been consuming (unless you buy organic). For background, check out this two-part, 18-minute video report that documents the serious bovine and human health problems associated with rBGH-produced milk. The report also lays out the corrupt ties between Monsanto and the US Food and Drug Administration, and shows the extreme measures Monsanto has used to keep wary dairies in line and the public unaware of their toxic product.

In related news, ENN reported that Wal-Mart has bowed to consumer pressure and announced that they will start sourcing their milk only from cows not given rBGH. Ouch! Now Monsanto is selling their rBGH operation to drug maker Eli Lily, which does not mean that food-safety advocates' struggle against rBGH is over.


CHINA CELEBRATES ITS STATUS AS WORLD'S NUMBER ONE AIR POLLUTER


Now that the Beijing Olympics are over, China can get back to polluting properly! Enjoy this great dead-pan video satire on the subject, which uses the angle that politicians will try to put a happy face on just about any bad news. Funny stuff from The Onion. Go there

Related GP article:
Major Air Pollutants

Related GP cartoon:
Air Pollutants Cartoon


SUPERTRAMP —
"SCHOOL" ... AND THE CRIME OF THE CENTURY
After school is over,
You're playing in the park ...
"Don't be out too late,
Don't let it get too dark!"
They tell you not to hang around
And learn what life's about;
And grow up just like them,
Won't let you work it out,
And you're full of doubt ...
"School" is one of Supertramp's best songs, from one of their best albums. Other top songs include the title track, "Dreamer", "Hide In Your Shell", and "Bloody Well Right". See full GP review of Crime of the Century.

Amazon options:
--

SONG:

"School" ( MP3 )
--

ALBUM:

Crime of the Century
( CD | MP3 Album )

| | |
| --- | --- |
| | |
CHRIS NELDER ON PEAK OIL


Chris Nelder is co-author of the book Profit from the Peak (Amazon.com), and in this Financial Sense interview, he does touch on the investing angle of energy and oil depletion. But more importantly, he spends lots of time giving us an overview of where things stand on oil, discussing the merits of various propositions from politicians and pundits, and explaining that we're likely facing a very serious, almost unavoidable crisis. This is one of the best Peak Oil interviews we've heard lately. Go there. Go to audio page

Related GP articles:
-- Peak Oil FAQ
-- Peak Oil & Environment
-- Peak Oil Solutions



SMOKEY THE REGRETFUL


This Mark Fiore animation heads into the dense US forest policy, slashing through the tangled underbrush of issues, burning the deadwood that passes for forest managers, and smoking out the verminous politicos who let it all happen. Content no longer available from host site (Mark.Fiore.com)

Related GP cartoon:
Wood Joke/Cartoon

Related GP article:
Smarter Wood/Paper



YOU CAN'T WIN 'EM ALL


In this full-length episode from the first season of The Bob Newhart Show, a star pitcher for the Chicago Cubs baseball team publicly credits psychologist Bob Hartley with saving his career. The endorsement brings Bob a new player-patient ... with funny results. Free via Hulu.com. Go there

More Bob Newhart options on Amazon.com:
Comedy MP3s
Comedy CDs
TV shows on DVD

Related GP cartoon:
Psychologist Joke/Cartoon


| | |
| --- | --- |
| | |
HOMEGROWN REVOLUTION


Whether you want to be sure your food doesn't have E. Coli, pesticide residue, or franken-genes... or whether you'd like to lower your grocery store bill and make your family more resilient in the face of the coming food crisis ... or whether you're just tired of mowing ... Converting lawn areas to gardens is a great idea. For inspiration, more reasons to take the plunge, and tips on getting started, check out this 9-minute video on urban farming.



GORILLA IN THE GREENHOUSE


A fun 8-minute animation that entertains as it teaches kids about problems with plastic bags and other plastic trash. The kids do their own investigation of the "plastic problem," and with guidance from a guru gorilla, present solutions kids (and adults!) can be a part of. From SustainLane and FreeRange Graphics. Go there

Related GP article:
Water Pollution Causes

Related GP cartoon:
Rush Limbaugh, eco mad man



MORE COWBELL


This is the classic "more cowbell" bit from Saturday Night Live, with Christopher Walken as a music producer trying to get the moooost out of a hard-rock band. It's a wonder that Walken and the SNL players managed to pull off this funny parody without so much as cracking a smile. Watch funny rock music video.



CRUDE IMPACT

It's worse than you think—but it's not too late.



Crude Impact is straightforward and thorough introduction to Peak Oil and our incredibly deep dependence on petroleum products. For veteran peakists, the film will add some new background regarding the history of oil production, particularly the dirty dealings of major oil companies. There are also a few fresh faces that haven't appeared in many Peak Oil films before—Thom Hartmann, William Rees, Christopher Flavin, Michael Economides—and they help round out our thinking on the topic.

Related GP article:
Energy Peak & Relocalization



LORD PETRO


From Mark Fiore's animatorium, first came President Petro — an animated riff on the fact that whoever we elect in politics, OIL is our true leader. But we all know that ... um ... "energy corrupts, and absolute energy corrupts absolutely" ... and thus perhaps we might say that oil is actually our emperor. Fiore presents the concept in his new animation, Lord Petro. Videos no longer available from host site MarkFiore.com)

Related GP article:
Peak Oil and Environment



DON'T FEAR THE REAPER...
OR OTHER BOC MUSICAL MONSTERS
Over the decades, Blue Oyster Cult produced a number of musical spawn that clawed their way up the charts, including "Don't Fear The Reaper", which was the unlikely target of the "more cowbell" parody on SNL. Other great musical monsters in the BOC collection include the vampires in "I Love The Night" and "Nosferatu" ... the flying black horsemen in the eerily cool "Wings Wetted Down" ... and, of course, that inimitable city-destroyer, "Godzilla". Click the song titles to hear MP3 clips on Amazon.com, or try the Don't Fear the Reaper collection on CD, which is a decent quick overview of the band's career.

Related GP stuff:
BOC album reviews


| | |
| --- | --- |
| | |
GLENN BECK INTERVIEWS JAMES HOWARD KUNSTLER


Glenn Beck has a reputation as a bad-boy talking head with a flair for hyperbole and occasional outright stupidty, but he does fine in this interview with Peak Oil wag James Howard Kunstler, where they talk about our modern world's blind reliance on petroleum products and the gathering storm clouds related to shrinking oil supplies. From CNN.

Video no longer available.



Related items:
World Made By Hand
(GP review of Kunstler's novel)
CNBC interviews Matt Simmons
(May 2008, on oil supplies)
GP's Peak Oil Solutions
(what we should be doing)



MONTY PYTHON – BOOK SHOP


This is one of Python's better bits, with John Cleese as the owner of a book shop full of classical literature---just not any of the specific titles this particular customer wants...

Amazon options:
-- MP3 clip
-- On CD collection

Free options:
-- Transcript










THE VANISHING OF THE BEES


This video weaves together info and images on the mysterious, devastating collapse in honeybee populations. From the film Vanishing of the Bees via YouTube. Go there

The interviewees in the above clip seem to be in agreement with our own assessment of why the problem is happening, which we presented recently as part of our Crisis Affecting Agriculture article.














PETROTHEISM


This is an oldie but a goodie from animation ace Mark Fiore. Rising gas prices, public resistance to reality-based change, and our government's inane policies are all still factors today in our continuing worship of oil. No longer available from host site.

Related GP article:
Peak Oil - Energy Solutions

















LITERARY HEROES
MEET PROG ROCK
Robin Hood and William Tell
And Ivanhoe and Lancelot,
They don't envy me...
Whether it's these lyrics from Electric Light Orchestra's "Can't Get It Out of My Head" or other songs, references to classic literature and classical music blended nicely in much of ELO's early work. This song is one of their best (and biggest) early hits and originally appeared on Eldorado, one of those great concepty rock albums that were in vogue in the 1970s.

Amazon options:
-- Hear clip or download MP3
-- Check out CD

Related stuff:
-- Monty Python - Book Shop MP3
(at Amazon.com)


| | |
| --- | --- |
| | |
PLAYING WITH DANGEROUS PESTICIDES





Sorry... this item is no longer available.




JOLLY GREEN TITAN


TitanGreens is a YouTube video channel that features loads of short, informative, funny video clips, focusing on environmental news and info clips. The videos are quite well done and appropriate for adults or youngsters. Go there



COOL MOTHER SONG


Moms—and everyone—will laugh along with this breathtakingly funny musical performance of "what mothers say in a day." Very impressive! By Anita Renfroe, via YouTube.
Go there

Related GP cartoon:
Challenges for Working Moms

Recommended GP article:
Home Safety & Children



WORLD MADE BY HAND


James Howard Kunstler's novel World Made By Hand places us a couple of decades into the future, when today's globalized high-energy techno-industrialism is gone, replaced by a hyper-local, low-energy, low-tech existence—an uninvited, unwanted change borne of natural limits, pandemic losses of life, and the general ineptitude of today's leaders. Weather or not you're a Peak Oiler, World Made By Hand is a good book to try—it shows just how much things would change in a world without global supply chains keeping stores stocked using just-it-time delivery systems.

Read full GP

review of World Made By Hand



AMERICA DECIDES NETWORK


A very sharp animation from Mark Fiore satirizing the ridiculosity of the networks' campaign coverage, where "tough questions" are usually about as meaningful as the latest happenings on American Idol—Bread & Circuses Edition. No longer available from host site.

Related GP tirades:
Corporate Media
News Talk Shows









FOR A THOUSAND MOTHERS


"For A Thousand Mothers" is just one of ten top-notch songs from Jethro Tull's 1969 breakout album Stand Up, where Ian Anderson and the boys mastered the earthy progressive-rock sound they had experimented with on their first album. The 2001 reissue includes 4 bonus tracks. Hear MP3 clips or check out CD on amazon.com.

Related GP stuff:
Jethro Tull reviews

Or see other...
Album Reviews



| | |
| --- | --- |
| | |
KIDS SAVE THE PLANET IN 60 SECONDS


"Seven Big Ideas" is an animated short that in a mere minute presents a fun, quirky overview of planetary problems and solutions. Content no longer available from host site (climatecartoons.org)

Related:
- Meet the Greens web site
- 10 Threats to Planet



MONTY PYTHON -
AIRPLANE SKETCHES
In funny video sketch #1, Graham Chapman and John Cleese play airline pilots in the airplane cockpit, bored with the flight and intent on irritating their passengers with prank announcements. In the second sketch, Chapman and Cleese are confronted by Michael Palin as a hijacker—polite and logical to a fault.

Watch funny airplane videos


THE GORECAL


Whether it's his much-given talks on global warming; or his role in the resulting film, An Inconvenient Truth (the most successful theatre documentary of all time); or his funny appearance on Saturday Night Live (no longer available) or his winning appearance on 60 Minutes; or his latest book, The Assault on Reason ... Al Gore is an ex-non-president who knows how to land on his feet.

Related GP article:
Environmental Hypocrites



DARKNESS FALLS


GP Review: Imagine if the world lost 1/3 of its oil supply over the course of a single year. Life in our modern petroleum-powered society would undergo drastic and difficult changes. That is exactly what the world faces in Darkness Falls, an excellent, fast-paced novel by Kyle Mills...

Read Grinning Planet's full review of Darkness Falls

Related article:
Peak Oil Solutions



AIRPLANE! (THE MOVIE!)


Amazon.com Review: The quintessential movie spoof that spawned an entire genre of parody films, the original Airplane! still holds up as one of the brightest comedic gems of the '80s, not to mention of cinema itself (it ranked in the top 5 of Entertainment Weekly's list of the 100 funniest movies ever made). The humor may be low and obvious at times, but the jokes keep coming at a rapid-fire clip... Read full review or check out movie at Amazon.com

Related GP page:
Airplane Movie Quotes


MP3 DOWNLADS (ROCKIN' AD)
VIDEO DOWNLADS (EYEBALLIN' AD)
ADVERTISEMENT